No reasons to oppose euthanasia, surrogacy, Ko says
Taiwan People's Party (TPP) Chairman and presidential candidate Ko Wen-je (柯文哲) yesterday said he would seek to "gauge public opinion" on assisted suicide and surrogacy, despite "personally" supporting legalization.
At a news conference in Taipei, Ko said that he "could not think of any reasons to oppose" legalizing the two practices based on his experiences as a medical professional, which include serving as director of the National Taiwan University Hospital emergency room and the hospital's Department of Traumatology.
Asked by reporters if this meant the legalization of euthanasia and surrogacy — pregnancy by artificial insemination and carrying another person's baby — was a part of his election platform, Ko stopped short of officially endorsing the two policies, stating only that he would seek to "gauge public opinion."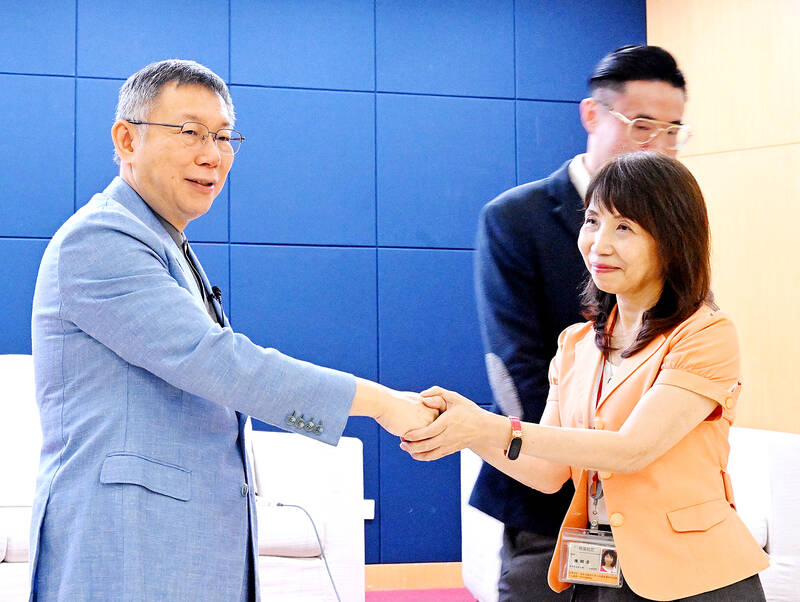 Taiwan People's Party (TPP) Chairman Ko Wen-je, left, shakes hands with former Taiwan Society head Chen Chao-tzu at a news conference in Taipei yesterday.
Photo: Chu Pei-hsiung, Taipei Times
When pressed further on the issue — and opposition from religious and human rights groups, in particular — Ko said legalization would be his "direction," adding that he would "try to persuade the opponents" of euthanasia and surrogacy.
Chen Chao-tzu (陳昭姿), a former head of the pro-independence Taiwan Society and long-time advocate of surrogacy, told the news conference she had been pushing for the legislation of surrogacy since 1996.
The surrogacy advocate claimed that a clique in the Democratic Progressive Party's (DPP) Department of Gender Equality had continually blocked bills to legalize the practice, resulting in reform languishing in the legislature for almost 30 years.
Chen said that this small group of self-appointed "feminists" opposes surrogacy to use women as "tools."
Surrogacy has also met with the objection of children welfare advocacy groups that champion adoption, Chen added.
Chen asked why the government encourages couples to have children amid the country's low birthrate, but has ignored couples who would do anything to have their own children through surrogacy.
In 2004, Premier Chen Chien-jen (陳建仁), then-health minister, held the first-ever "civic conference" in Taiwan to discuss surrogacy and arrived at the consensus to "not prohibit surrogacy, but only permit it with conditions," Chen Chao-tzu said.
Chen Chien-jen told her then that she could "expect progress" in six months, a promise that has to date been unfulfilled, she said, calling on Chen Chien-jen to launch a new initiative to legalize surrogacy in his more prominent role as premier.
Chen Chao-tzu told Ko that she would support Ko in the presidential election as long as Ko would include legalizing surrogacy as a component of his healthcare platform.
When reporters asked Ko whether Chen Chao-tzu's appearance at his news conference meant she had "ditched" Vice President William Lai (賴清德), the DPP's presidential candidate, in favor of himself, Ko said that people should not jump to conclusions and that there was no need to "politicize everything."
Ko said that he and Chen Chao-tzu had known each other for many years and that she recruited him to be the convener of former president Chen Shui-bian's (陳水扁) medical team, for which Chen Chao-tzu was the spokesperson.
It was due to this experience that he had the opportunity to campaign for and be elected Taipei mayor, Ko said.
Comments will be moderated. Keep comments relevant to the article. Remarks containing abusive and obscene language, personal attacks of any kind or promotion will be removed and the user banned. Final decision will be at the discretion of the Taipei Times.