Human rights activist Tsai Kun-lin dies at the age of 93
White Terror-era political prisoner and human rights activist Tsai Kun-lin (蔡焜霖) died on Sunday at the age of 93.
Photographer Chiu Wan-hsin (邱萬興) said he was committed to "continue telling the tragic story of [Tsai's life as] a political prisoner."
Tsai was arrested in 1950 by the then-Chinese Nationalist Party (KMT) regime for joining a "left-leaning" reading club in high school. He spent years imprisoned at a "labor reform" camp on Green Island (綠島) after he was found guilty of rebellion and treason.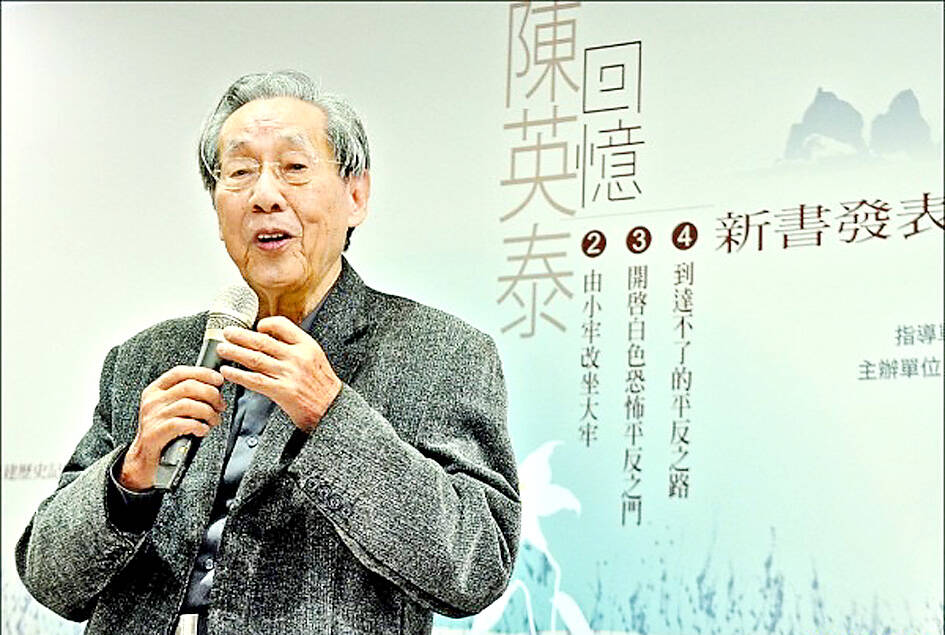 White Terror era political prisoner and human rights activist Tsai Kun-lin speaks at an event in an undated photograph.
Photo: Taipei Times
The Economist Intelligence Unit, a research group associated with The Economist magazine, last year described Tsai as a living witness to Taiwan's evolution from authoritarianism into a "full democracy."
Tsai's life was documented in a four-book Chinese-language graphic novel series titled Son of Formosa (來自清水的孩子) written by Yu Pei-yun (游珮芸) and illustrated by Chou Chien-hsin (周見信).
"Tsai was 30 years old when he was released from prison, and like many political prisoners at the time, his family never visited him while he was interned on Green Island," Chiu said.
"Prison was hard for Tsai, who did not even know his father had passed away until he was released," he said.
When he was younger, Tsai had a love of reading and singing, which made him a target of former president Chiang Kai-shek (蔣介石), who believed that the streets were full of spies and enemies, Chiu said.
Throughout his life, Tsai promoted democracy and human rights, Chiu said, adding that Tsai had attended an annual human rights-themed youth camp organized by the Dr Chen Wen-chen Memorial Foundation and Museum.
"Every stage of Tsai's life is closely related to major social changes in Taiwan. He is the epitome of Taiwan's modern history," Yu said.
"He was drafted by the Japanese army at the age of 15, was one of the first political prisoners on Green Island, witnessed Taiwan's economic miracle as one of the four Asian Tigers and saw the lifting of martial law," she said.
When KMT government was expelled from the UN, national attention shifted to baseball, which Tsai had also been deeply involved in, she said, citing his role in founding the Hongye Little League baseball team in Taitung.
"Tsai also made important contributions to other cultural undertakings in Taiwan, such as founding the children's magazine Prince (王子) and the women's magazine Bella (儂儂)," Yu said.
"And he was responsible for the planning of a fine arts museum, and the publication of Taiwan's first encyclopedia," she added.
During Taiwan's economic boom years Tsai helped design the advertisement for the country's first domestically produced automobile, she said.
Tsai's father committed suicide while Tsai was imprisoned, which left him with a sense of guilt and irreparable trauma, Slowork Publishing president and editor Huang Pei-shan (黃珮珊) said.
"Tsai only learned about his father's death after he was released, and he was never able to get over it," she said. "But I am happy that he could finally be reunited with his father in another world."
Comments will be moderated. Keep comments relevant to the article. Remarks containing abusive and obscene language, personal attacks of any kind or promotion will be removed and the user banned. Final decision will be at the discretion of the Taipei Times.