FEATURE: Parties battle for younger voters as elections loom
PRIORITIES: Young people are gravitating more toward the TPP's Ko Wen-je, who has focused on issues such as housing costs, rather than democracy or the China threat
From belting out pop songs to fielding hairstyle questions on Instagram, Taiwan's presidential hopefuls are increasingly turning their attention to young voters, who are expected to play a key role in the presidential and legislative elections on Jan. 13 next year.
The outcome of the closely watched vote is likely to set the tone for Taipei's tumultuous relationship with Beijing.
In 2020, just after democracy protests in Hong Kong, President Tsai Ing-wen (蔡英文) and her Democratic Progressive Party (DPP) won a landslide victory, partly because of high turnout among younger voters, according to analysts and voter surveys.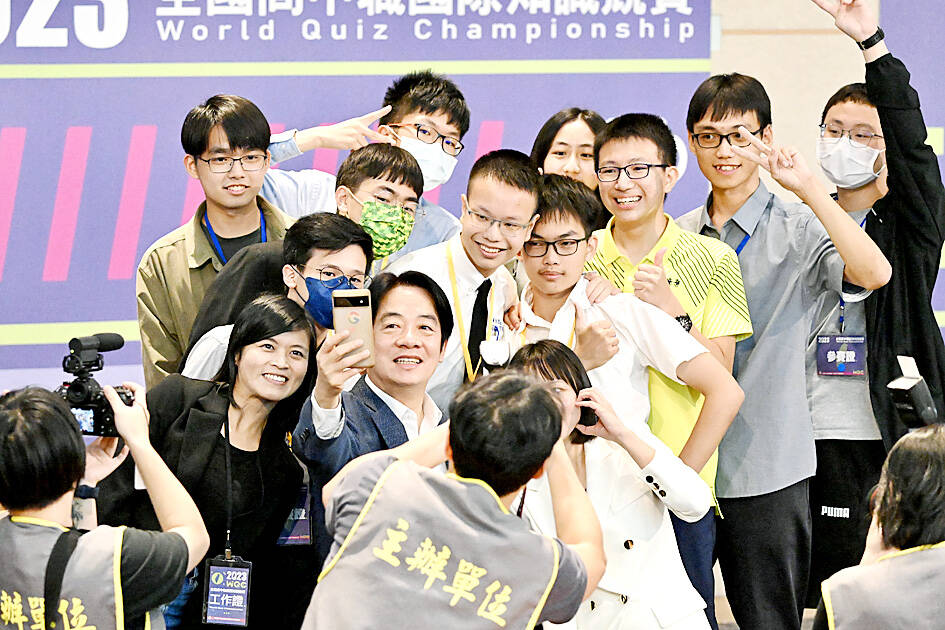 Vice President William Lai, center, takes a selfie with students at an awards ceremony for a high-school knowledge competition in Taipei on May 20.
Photo: George Tsorng, Taipei Times
The DPP is on track to retain power for a third term, with the party's candidate, Vice President William Lai (賴清德), 63, leading opinion polls.
Younger voters are again playing a role, but this time they are gravitating to a dark horse candidate who has become the DPP's closest challenger.
Taiwan People's Party (TPP) Chairman Ko Wen-je (柯文哲), a 64-year-old former Taipei mayor, has won over many younger voters with plain talk on issues such as high housing costs, rather than focusing on the China threat.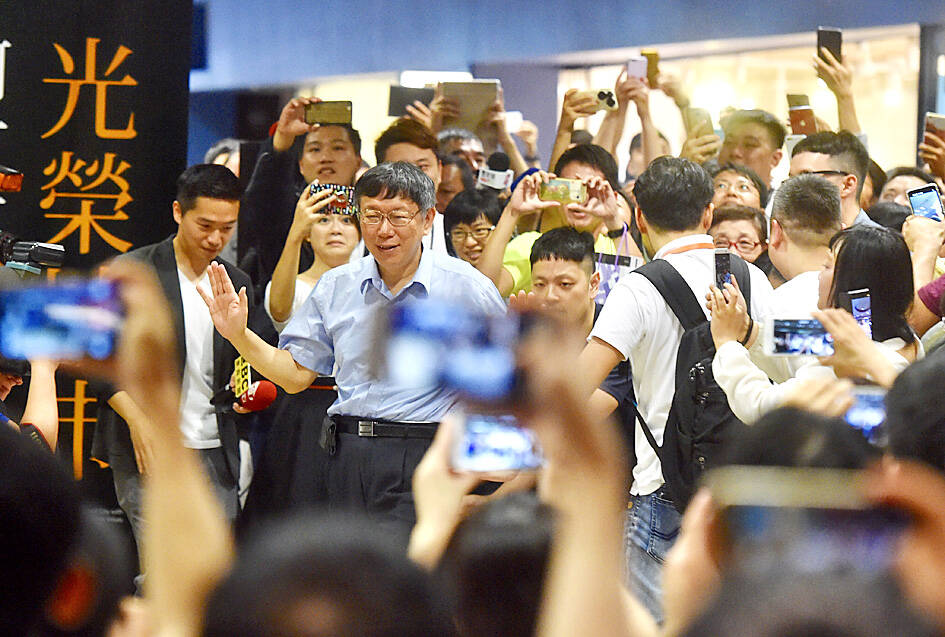 Then-Taipei mayor Ko Wen-je waves to his supporters during the launch of his book in Taipei on June 30, 2018.
Photo: Chien Jung-feng, Taipei Times
Young Taiwanese "cannot find good jobs, cannot afford to buy houses, do not dare to get married and do not want to have kids," Ko told a youth forum for last month. "Being innovative is Taiwan's only solution."
Known affectionately by his supporters as KP, Ko's non-traditional approach to politics — as seen in his energetic dance moves at a fundraising concert last month — has also endeared him to young voters fed up with how two parties have dominated the nation's politics.
While Ko of the small TPP lags Lai by 17 percentage points, he leads among voters younger than 40, a Taiwanese Public Opinion Foundation survey conducted in the middle of last month found.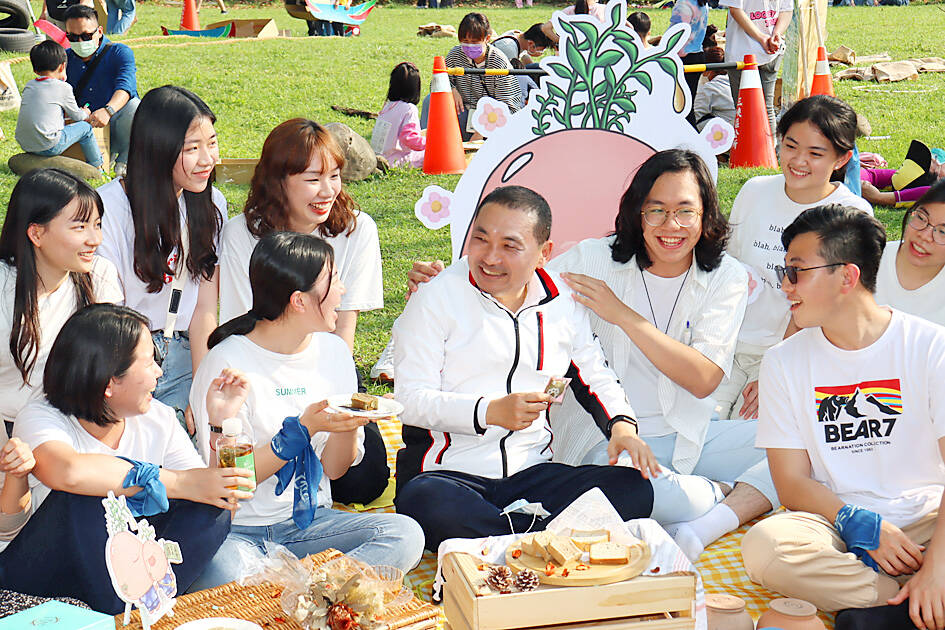 New Taipei City Mayor Hou You-yi, center, interacts with young people at an event in New Taipei City on March 19 last year.
Photo: Wong Yu-huang, Taipei Times
Lai and the DPP have framed the ballot as a choice between democracy and authoritarianism. The party's traditional rival, the Chinese Nationalist Party (KMT), has cast it as a "war or peace" election.
"My responsibility is to give hope to the young people. Only when the young people have hope does our country have hope," Lai told foreign media last week, when asked why young people were drifting from the DPP.
A late bid for the presidency announced last week by Terry Gou (郭台銘), 72, the billionaire founder of Hon Hai Precision Industry Co, has further energized the race to win over voters.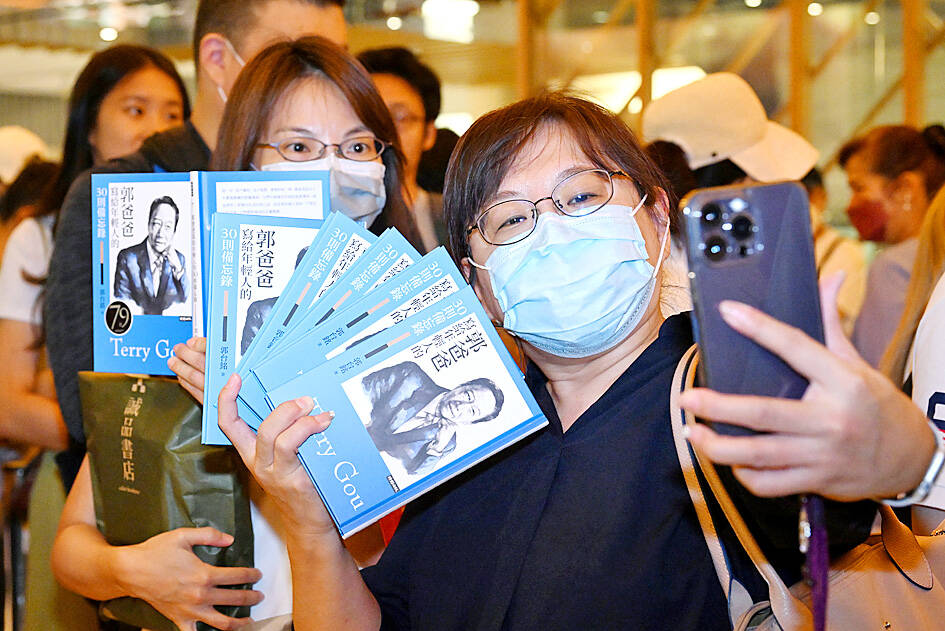 A person takes a selfie with copies of Hon Hai Precision Industry Co founder Terry Gou's book titled 30 Memos Written by Father Guo to Young People at the launch of his book in Taipei on Aug. 8.
Photo: Liao Chen-huei, Taipei Times
At third place in the polls, and trailing Ko and Lai in the under-40 cohort, is New Taipei City Mayor Hou You-yi (侯友宜) , 66, the KMT's candidate.
Capturing the youth vote is a perennial challenge for the former governing party, with only about 3 percent of its 300,000 members younger than 40, KMT official Ho Chih-yung (何志勇) said.
Over the past few months, the party has held programs for young people, including a model parliament and seminars on possible conflicts with China.
"Every four years, there are first-time voters coming out that could be the margin between victory and defeat," said Ho, who helped organize the events. "Every party is trying to get their support."
Focusing on such issues might not necessarily to win over would-be voters such as Zheng De-wei, 25, a graduate student who said his friends are more concerned about getting by in an economy set to grow at its slowest pace in eight years.
"The priority is to be able to make a living," said Zheng, who described himself as "politically neutral."
Although it might have a healthy lead in opinion polls, the DPP is acutely aware of the dangers of losing younger voters.
In an official review of its defeat in the local elections in November last year, where its China-focused campaign failed to mobilize voters more concerned with issues such as crime and pollution, the DPP said it must "deeply reflect" on why it had "lost the support of young people."
In a bid to win them back, Lai has ramped up social media campaigns.
At the end of last year, about 19 million of Taiwan's 23 million people were eligible to vote, with about one-third aged between 20 — the legal voting age — and 39, government data showed.
Although voting data is sparse, Chen Kuang-hui (陳光輝), a political science professor at National Chung Cheng University, and other political watchers pointed to a survey by the Central Election Commission showing that the turnout of those aged 30 or under rose 15 to 20 percent in 2020 compared with the previous two elections.
The turnout for people aged 31 to 40 increased 10 to 15 percent, the survey said.
"If young people who don't vote or infrequently vote at a certain moment come out to vote, they really could have a critical impact on the election," Chen said.
Comments will be moderated. Keep comments relevant to the article. Remarks containing abusive and obscene language, personal attacks of any kind or promotion will be removed and the user banned. Final decision will be at the discretion of the Taipei Times.