Marshall Islands' new ambassador vows to boost ties
'GROWING BOND': At a meeting with President Tsai Ing-wen, Anjanette Kattil also pledged to support the quest of Taiwanese to uphold their sovereignty
New Marshall Islands Ambassador to Taiwan Anjanette Kattil yesterday told President Tsai Ing-wen (蔡英文) at a meeting in Taipei that she would do her "utmost to further bilateral ties."
Kattil, who in June was appointed to replace Neijon Rema Edwards as ambassador, made the remark while presenting her credentials to Tsai at the Presidential Office.
"I began my tenure with heartfelt appreciation and gratitude for the longstanding friendship between our two peoples," Kattil said, adding that she anticipated she would "continue to witness additional evidence of our growing bond."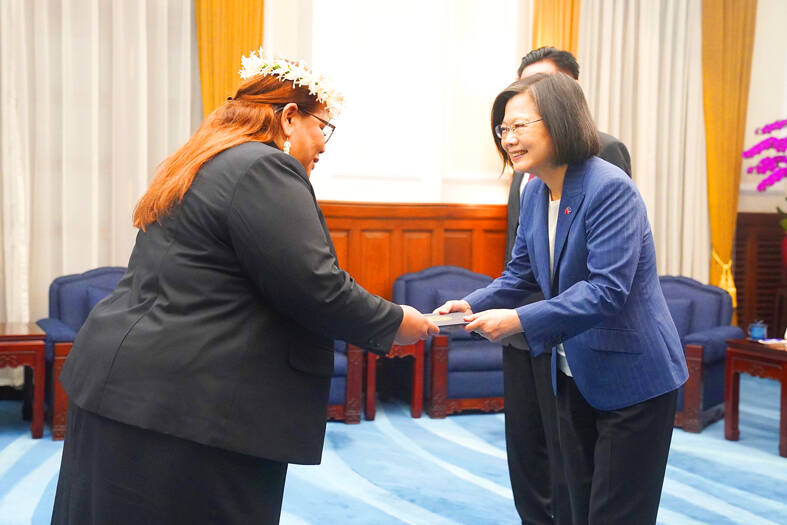 Marshall Islands Ambassador to Taiwan Anjanette Kattil, left, presents her credentials to President Tsai Ing-wen at the Presidential Office in Taipei yesterday.
Photo: CNA
The Marshall Islands remains grateful to Taiwan for its "staunch support and tremendous assistance" toward social and economic development in the Pacific island nation, Kattil said.
"We pledge our resolute support towards the people of Taiwan's quest to uphold Taiwan sovereignty and values of democracy, as well as your aspiration for Taiwan to finally take its rightful place among the international community of nations," she said.
Kattil served as deputy chief of mission at the Marshall Islands' embassy in Taipei from 2016 to 2019, and as the country's foreign affairs and trade secretary prior to being appointed as ambassador to Taiwan.
Kattil would concurrently serve as her country's nonresident ambassador to Cambodia, Indonesia, Malaysia, Philippines, Singapore and Vietnam, the Marshall Islands Journal reported.
Tsai expressed confidence that ties with the Marshall Islands would deepen further with Kattil as its envoy, saying she has a deep understanding of Taiwan.
"As Taiwan and the Marshall Islands are both maritime nations, we especially need to foster exchanges and cooperation on global warming, sea level rise and other pressing issues," Tsai said.
A joint declaration on climate change signed by Taiwan, the Marshall Islands, Nauru, Palau and Tuvalu last month was part of such efforts to "tackle the challenge of global warming together," Tsai added.
Aside from environmental issues, Taiwan and the Marshall Islands would continue to work in close partnership in the fields of medicine, agriculture and education, Tsai said.
The Marshall Islands is one of Taiwan's 13 diplomatic allies that are UN member states, maintaining ties since 1998.
Comments will be moderated. Keep comments relevant to the article. Remarks containing abusive and obscene language, personal attacks of any kind or promotion will be removed and the user banned. Final decision will be at the discretion of the Taipei Times.