Bureau rejects school's report after suicide
The Taichung Education Bureau on Tuesday rejected a high school's report finding that its staff members had not bullied a student who killed himself earlier this year, while promising to bring the case before a professional review committee.
An 11th-grade student at Taichung Municipal Feng Yuan Senior High School killed himself on Feb. 18.
His father said he had been singled out by school officials for months, and that they frequently searched his belongings or framed him for misdeeds he did not commit.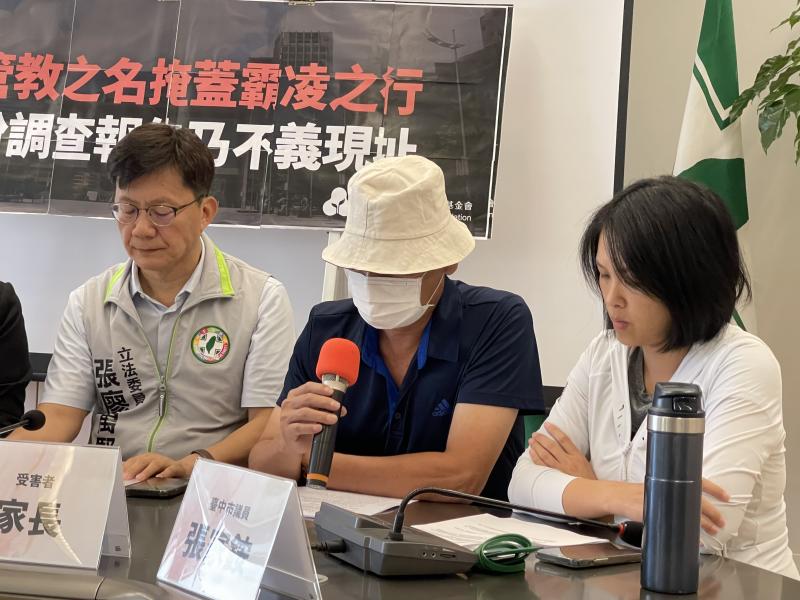 An 11th-grade student at Taichung Municipal Feng Yuan Senior High School killed himself on Feb 18. The student's father, center in hat, speaks at a news conference yesterday to castigate the school's report unfair and to ask for truth.
Photo: Su Meng-chuan, Taipei Times
After the boy's death, the bureau reassigned seven school staff members allegedly involved in the case to other positions pending an investigation, and suspended the school's director of student affairs for three months.
In April, the high school completed its first report on the case in which it concluded that four staff members — the director of student affairs, the chief military instructor and two safety instructors — had subjected the student to "improper discipline," causing him "physical and mental harm."
A second report, focusing on whether school staff members had bullied the student, was submitted to the bureau in June. The bureau rejected it and demanded revisions on the grounds that it lacked sufficient detail.
The school's revised report, submitted on Tuesday, found that its staff members' behavior toward the student did not constitute bullying.
The bureau said in a statement that the school's findings were "completely unacceptable."
It said it had previously explained to the school that the long-term improper disciplining of the student "already constitutes bullying," and should have been dealt with more strictly.
Despite having been found to have emotionally harmed the student through improper discipline, the director of student affairs only received a demerit, which was "not at all proportionate," it said.
The bureau said the school's report was "unable to stand up to public scrutiny."
On that basis, it would send the case to be reviewed by a professional teachers review committee to determine whether any of the staff members' actions merited suspension or dismissal, the bureau said.
However, Taichung Municipal Feng Yuan Senior High School principal Liao Min-le (廖敏樂) stood by the report, saying it was compiled by a committee that included students' parents, an expert on bullying and a lawyer, and was based on interviews with 10 teachers and students, and a questionnaire completed by more than 200 students.
Of the 22 demerits the student received, 16 were related to incidents in which other students were also punished, showing that he was not being singled out, Liao said.
Moreover, while the school's investigation found that its staff members had inappropriately disciplined the boy, causing him emotional stress, their actions did not meet the definition of bullying set out by the Ministry of Education, Liao said.
Under the ministry's Regulations Governing Prevention and Control of Bullying on Campuses, bullying is defined as any situation in which "a person or group of people use speech, writing, images, signs, physical gestures, electronic communications, the Internet or other means to directly or indirectly belittle, exclude, mistreat, harass or tease another person."
To meet the definition, the behavior must make its recipient feel they are "in an unfriendly or hostile environment, cause them to suffer physical, mental or financial damage, or affect their ability to carry out their studies in a normal manner," the regulations state.
Comments will be moderated. Keep comments relevant to the article. Remarks containing abusive and obscene language, personal attacks of any kind or promotion will be removed and the user banned. Final decision will be at the discretion of the Taipei Times.