Scuffle in Kinmen as Gou confronted
SWIMMING CHALLENGE: The Taiwan Statebuilding Party's Yang Pei-hua, holding a flotation device, told the Hon Hai founder to 'swim to China if you want to surrender'
A member of the Taiwan Statebuilding Party was involved in a scuffle in Kinmen County yesterday after she protested Hon Hai Precision Industry Co founder Terry Gou's (郭台銘) speech on "cross-strait peace."
Yang Pei-hua (楊佩樺), who is executive of the party's Kaohsiung chapter, accused Gou of "selling out Taiwan" and deceiving people into surrendering to China.
Gou had visited Kinmen's Taiwu Mountain (太武山) then addressed supporters at the Kinmen County Council, after which a video was played titled "Peace for Kinmen Proclamation."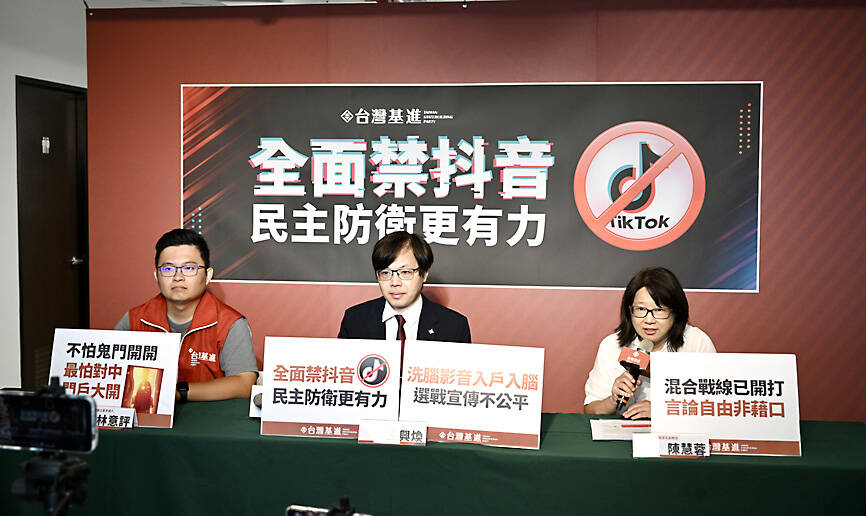 Taiwan Statebuilding Party Chairman Wang Hsing-huan attends a news conference in Taipei yesterday.
Photo: Lo Pei-te, Taipei Times
Gou said that Taiwan should sign a peace treaty with the Chinese government, adding: "Peace is our conviction... The real meaning of democracy and freedom can be manifested, only when we have peace."
"Instead of Chinese military aircraft and warships making incursions around Taiwan, people prefer treks across Taiwan of the goddess Matsu," he said.
As Gou finished his address, Yang shouted: "Do not sell out Taiwan."
"If you want to sell Taiwan and surrender to China, you can swim across to China," she said, holding up a pink flotation device.
Kinmen County is a few kilometers from China.
Yang told reporters at the news conference that "if Gou wants to surrender, he can swim the short distance from Kinmen to China."
"He should have presented his speech in Beijing to Chinese President Xi Jinping (習近平)," she said.
"Taiwanese, Kinmen residents included, do not need a proclamation of peace," she said. "Gou is misrepresenting the people of Taiwan."
Yang said that Gou has stated that "businesspeople have no homeland, we go where the market is."
"He has his vast enterprises in China, which continue to operate because he collaborates with Beijing in its united front work," Yang said.
Gou has just announced he plans to establish a Kinmen peace advocacy foundation, contributing US$20 million toward it, she said.
The foundation has "plans to set up media platforms, academic and cultural exchanges, and other programs that are part of Beijing's united front work," she added.
"Is Gou seeking to be elected Taiwan's president, or does he want to be 'governor of Taiwan province' under Chinese rule?" Yang asked.
Gou has not announced his candidacy in next year's presidential election.
Yang said that people had surrounded her, grabbed her arms and tried to push her away when she challenged Gou.
She was rough-handled by Gou's supporters and had scratch wounds on her arms, while several people threatedned her, she said.
She later sought medical treatment and filed a complaint with local police alleging assault and intimidation.
Separately, Taiwan Statebuilding Party officials called on the government to issue a blanket ban on Chinese-owned social media site TikTok, also known as Douyin.
China uses the app to carry out its "united front" work, which raises concerns for national security, they said.
Taiwan Statebuilding Party Chairman Wang Hsing-huan (王興煥) told a media briefing in Taipei that Chinese government agencies can access and control data and personal information on TikTok, prompting the US, Japan and European countries to enact laws to restrict its use, while India has banned it, along with 59 other Chinese social media and apps.
"Our legislators must also introduce rules to prohibit TikTok/Douyin in Taiwan," Wang said.
Chen Hui-jung (陳慧蓉), a professor of media studies, told the briefing that government agencies have banned the app, but education providers have not.
Taiwan is not doing enough to show the harmful effect the app has on students and the general public, or its insidious use as a Chinese propaganda tool, Chen said.
Comments will be moderated. Keep comments relevant to the article. Remarks containing abusive and obscene language, personal attacks of any kind or promotion will be removed and the user banned. Final decision will be at the discretion of the Taipei Times.