Japanese lawmaker registers gay marriage
A Japanese city assemblyman and his Taiwanese partner recently registered their marriage at a household registration office in Taipei, after Taiwan began allowing cross-national same-sex couples to marry earlier this year.
The Datong District (大同) Household Registration Office said that Takahama City Assemblyman Masahiro Shibaguchi, a member of the Japanese Communist Party, and his partner, Liu Ling-chun (劉靈均), married on Aug. 11.
The couple dressed simply for the occasion, an employee of the Datong office said on Monday.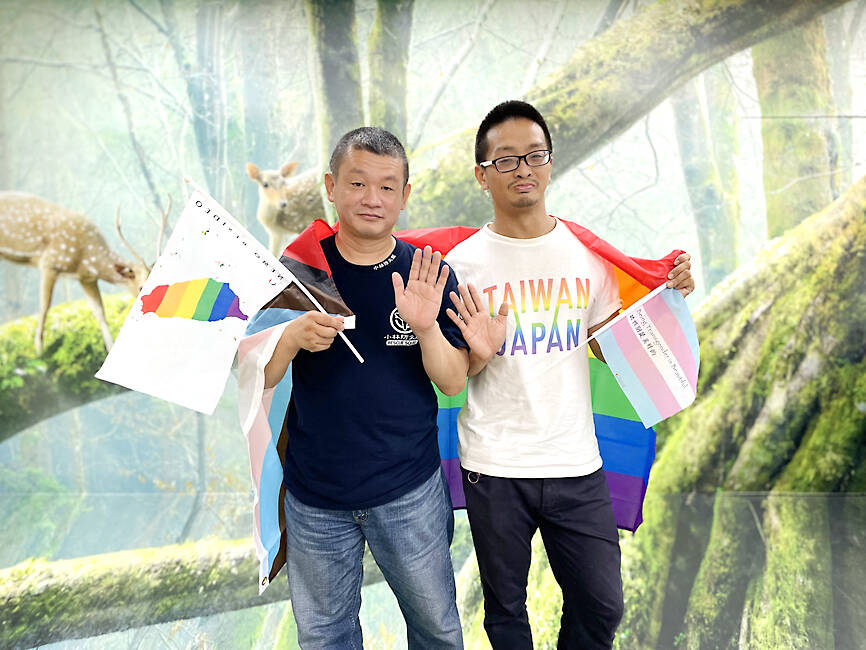 Takahama City Assemblyman Masahiro Shibaguchi, left, and husband, Liu Ling-chun, pose for a photograph on Aug. 11 in Taipei.
Photo: CNA
The employee, speaking on condition of anonymity, said that although the couple did not say much, they could see the affection between them, as the couple were constantly looking at each other and smiling.
At the office, staff loaned the couple a large rainbow flag so they could take a picture with it to mark the occasion, instead of the small flags they had come with, the employee said.
The Datong office wrote about the marriage on Facebook the same day, while the Taiwan Alliance to Promote Civil Partnership Rights wrote a Facebook post about it on Friday last week.
The alliance described Liu as a strong advocate of LGBTI rights in Japan, adding that as an assemblyman, Shibaguchi would promote the issue of equality in Takahama.
Shibaguchi was elected to the city assembly in April. Liu, who was born in Miaoli County and grew up in Taipei, has lived in Japan for many years. He is an adjunct lecturer at a university and also a gender movement advocate.
In 2019, Taiwan became the first country in Asia to legalize same-sex marriage, although at the time, same-sex couples in which one of the partners was Taiwanese and the other was from a country or region where same-sex marriage is outlawed were barred from marrying in Taiwan.
However, in January, the government began allowing cross-national same-sex marriages, with the Ministry of the Interior saying the previous rule was discriminatory and contradicted the law that guarantees same-sex marriage.
Liu said that since the legalization of same-sex marriage, he felt there was less discrimination against gay people in general in Taiwan.
For his partner, it is refreshing to see gay couples hold hands in public in Taiwan, Liu said.
He said that as the Japanese government does not recognize same-sex marriage, their registration in Taiwan does not guarantee him residency or spousal inheritance rights in Japan.
As an elected official, Shibaguchi does not intend to move to Taiwan, but would continue to contribute to the gay community in Japan, while sharing Taiwan's experience, Liu said.
Comments will be moderated. Keep comments relevant to the article. Remarks containing abusive and obscene language, personal attacks of any kind or promotion will be removed and the user banned. Final decision will be at the discretion of the Taipei Times.