Hou floats Kinmen economic pilot area
CONNECTIONS: Hou said he supported importing natural gas and electricity from China and a bridge to Xiamen, as long as it did not create a national security risk
New Taipei City Mayor Hou You-yi (侯友宜), the Chinese Nationalist Party's (KMT) presidential candidate, yesterday proposed transforming Kinmen County into a cross-strait economic pilot zone and transportation hub to help facilitate peaceful exchanges between Taiwan and China.
During a trip to Kinmen, which is less than 10km from southeast China, Hou said that turning the area into an economic pilot zone that offers tax incentives would help attract Chinese investment in to the county.
He said that if elected in January next year he would enhance the major ports in Kinmen and increase the frequency of flights in and out of the county to make the zone possible.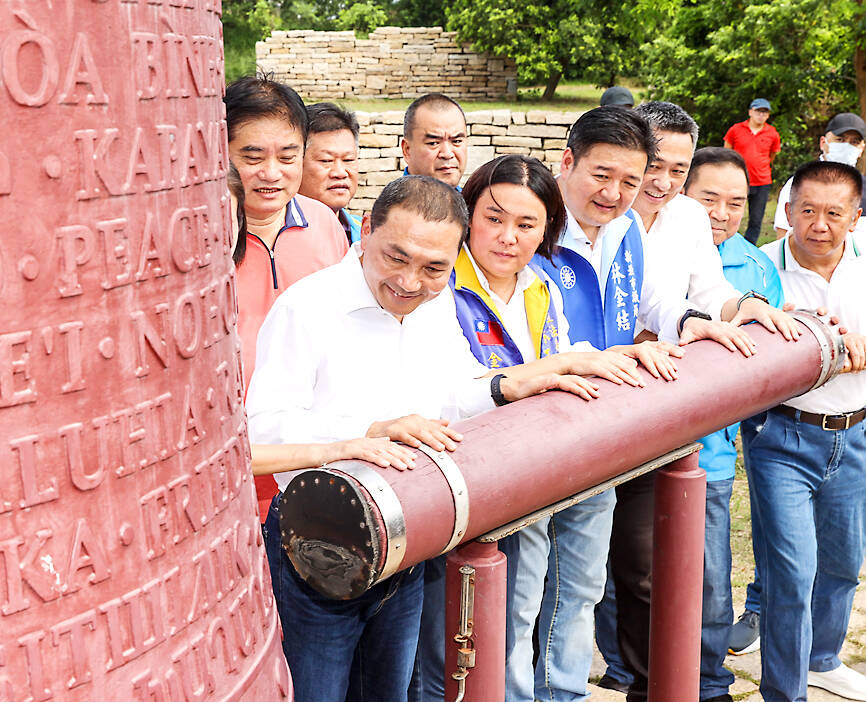 New Taipei City Mayor Hou You-yi, the Chinese Nationalist Party's presidential nominee, front left, and other party members sound the bell at the Kinmen Peace Memorial Park yesterday.
Photo: CNA
He also proposed that Kinmen become a medical and healthcare hub, not only to solve the longstanding problem of a lack of medical resources in the county, but also to make it a destination for Chinese medical tourists.
The KMT candidate said that Kinmen should import electricity and natural gas from China's Fujian Province to ensure supply, after it began importing water from Jinjiang, China, in 2018.
Regarding a proposal by some Kinmen residents to construct a bridge linking the county with Xiamen, China, Hou said that he is open to all opinions and respects the wishes of Kinmen residents who plan to hold a referendum on the issue.
He said that his support of a referendum and of importing electricity and natural gas from China are based on the condition that doing so would not negatively affect Taiwan's national security.
The proposal for a Kinmen-Xiamen bridge has previously been criticized by the Democratic Progressive Party (DPP) as posing a national security risk should China invade.
Hou arrived in Kinmen yesterday afternoon, a day before the 65th anniversary of the 823 Artillery Bombardment of the county, a key battle that marked the beginning of the Second Taiwan Strait Crisis.
On Aug. 23, 1958, nine years after the Republic of China (ROC) government retreated from China to Taiwan after losing the Chinese Civil War, Chinese communist forces attacked Kinmen. Over the next 44 days, 475,000 artillery shells were fired at the islands in an attempt to take them over.
In his news conference, Hou thanked Kinmen residents for standing on the front line of defending the ROC from invasion 65 years ago.
The country's prosperity and democracy would forever be indebted to them for their contributions, he said.
Hou reiterated his support for a version of the so-called "1992 consensus" that conforms with the Constitution, without elaborating.
He said that he would try to reopen dialogue with China on equal footing to prevent a cross-strait war, because "there can be no losers in peace and no victors in war."
The "1992 consensus" — a term that former Mainland Affairs Council chairman Su Chi (蘇起) in 2006 admitted making up in 2000 — refers to a tacit understanding between the KMT and the Chinese Communist Party that both sides of the Taiwan Strait acknowledge that there is "one China," with each side having its own interpretation of what "China" means.
Beijing shut down its official communication channel with Taiwan after the DPP, which has refused to accept the "1992 consensus," came to power in May 2016.
The DPP says it does accept the "1992 consensus" on the grounds that Beijing has never acknowledged the ROC's existence and that agreeing to the consensus implies acceptance of China's claim over Taiwan.
Comments will be moderated. Keep comments relevant to the article. Remarks containing abusive and obscene language, personal attacks of any kind or promotion will be removed and the user banned. Final decision will be at the discretion of the Taipei Times.