Costco ordered to recall cheese with carcinogen
ETHYLENE OXIDE: The FDA ordered the company to recall 2,120 packs of cheese imported from the US, of which 94 packs had been sold and five thrown away
Big-box retailer Costco has been ordered to recall a batch of packaged cheese slices that was found to contain a potentially cancer-inducing chemical, the Food and Drug Administration (FDA) said yesterday.
Ethylene oxide, a compound associated with lymphoma and leukemia, was detected by border authorities on Monday last week during an inspection of packages of four types of cheese slices made by US dairy product vendor Sonoma Creamery, FDA Deputy Director Lin Chin-fu (林金富) said.
The Kaohsiung Department of Health inspected another four batches of the same product on Tuesday last week and detected in one the same chemical, which is banned in Taiwan.
A package of tainted Costco cheese slices is pictured in an undated photograph.
Photo courtesy of the Food and Drug Administration
The FDA said that 2,120 packs of Sonoma Jack hot pepper, traditional and garlic jack cheese, as well as Sonoma cheddar were imported, with 94 packs sold and five thrown away due to faulty packaging.
The FDA has ordered Costco to recall the product.
The Kaohsiung Department of Health said that Costco could be fined NT$60,000 to NT$200 million (US$1,878 to US$6.26 million) under the Act Governing Food Safety and Sanitation (食品安全衛生管理法) for allegedly selling a substandard product.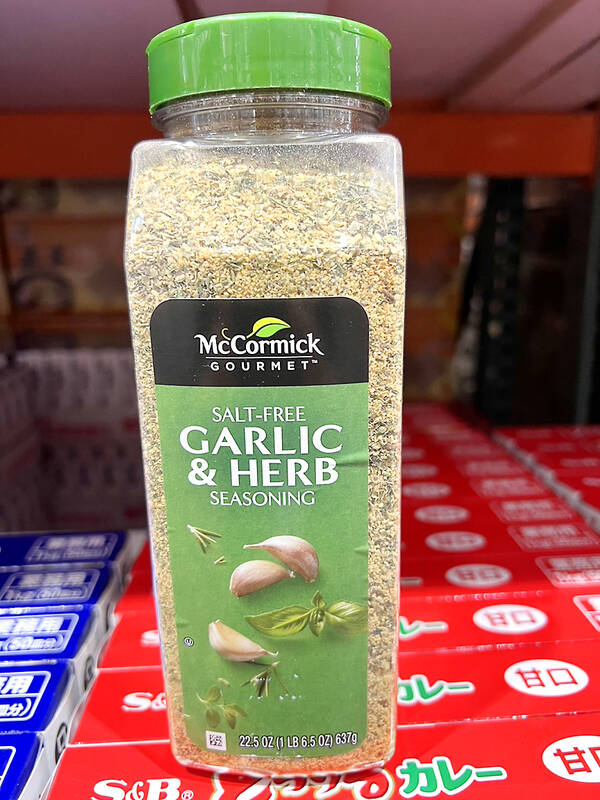 A bottle of McCormick Garlic Powder is pictured in an undated photograph.
Photo courtesy of the Taichung City Government
Costco Taiwan last month was fined NT$720,000 after the same chemical was detected in another cheese product.
The International Agency for Research on Cancer classifies ethylene oxide as a group 1 carcinogen, meaning it is carcinogenic to humans. Only a few countries allow its use as a sterilizing agent, including the US and Canada.
In other news, the FDA said in a statement on Thursday that several changes would be made to regulations covering nutrition labeling of carbonated beverages and other prepacked food products.
Amendments have been drafted due to health concerns, with the changes related to the ways nutrients can be labeled on carbonated beverages and food products, Lin said.
The highlight of the draft amendments is that carbonated beverage labels would no longer be permitted to use phrases such as "rich in" — for example to describe vitamin C content — or similar descriptions, as labels would be confined to nutritional facts, Lin said.
For example, "the product contains vitamin C" or "the product contains 50mg of vitamin C per 100ml" would be acceptable, he said.
The draft amendments would erase a limit on the number of nutrients that can be listed on food product labels, Lin said.
Previously, a maximum of eight nutrients could be listed on packaging, but that restriction would be rescinded in accordance with international regulations, he said.
If a label bears a nutrient that the product contains, nutritional facts would be permitted alongside it, such as "the product contains lutein" or weight per serving information, he said.
A 60-day period in which public opinion can be submitted on the draft amendments began yesterday, the FDA said.
In other news, the Taichung Office of Food and Drug Safety said yesterday that its inspection on Friday last week found that McCormick Garlic Powder products sold at Costco branches in the city contained 0.1mg/kg of residual ethylene oxide.
According to regulations in Taiwan, such substances can only be used for medical purposes and may not be used as pesticides or food additives.
The two Costco branches in Taichung have already removed the products from their shelves, the office said.
Buyers of the batch with an expiry date of Nov. 24 next year should return the products immediately, it said.
Additional reporting by Tsai Shu-yuan
Comments will be moderated. Keep comments relevant to the article. Remarks containing abusive and obscene language, personal attacks of any kind or promotion will be removed and the user banned. Final decision will be at the discretion of the Taipei Times.