Masks no longer required at some medical facilities
From today, the mask mandate is to be lifted for some medical facilities, but masks are still required at hospitals, clinics, nursing homes and senior welfare facilities, the Centers for Disease Control (CDC) announced yesterday.
As the local COVID-19 outbreak has slowed, and considering the current virus strains circulating, the positivity rates at residential care facilities and the nation's overall disease prevention capacity, the mask mandate for some medical facilities would be lifted, although wearing a mask when visiting them is still "recommended," the CDC said.
The facilities include pharmacies, medical laboratories, medical imaging centers, physical and occupational therapy centers, midwife clinics, psychiatric rehabilitation centers, home care centers and blood donation centers, it said.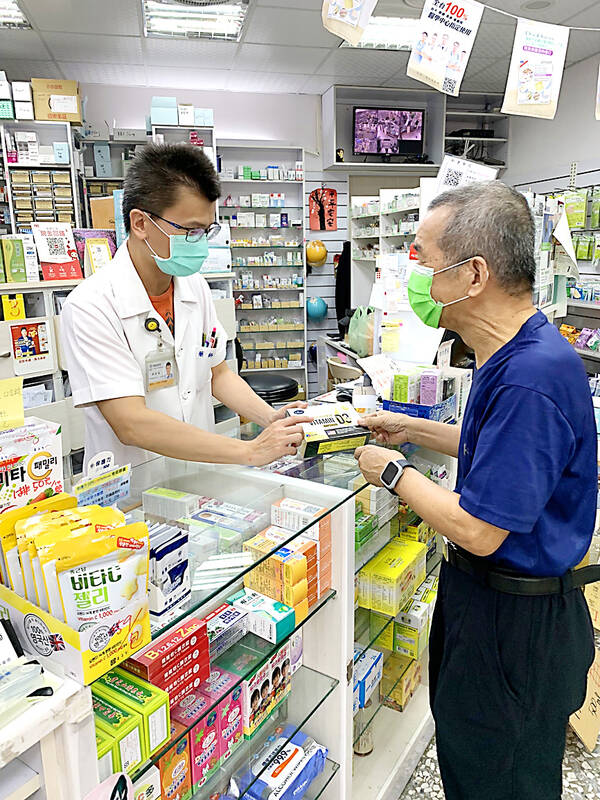 People wear masks in a pharmacy in Nantou County in an undated photograph.
Photo courtesy of the Nantou County Government
It is still mandatory to wear a mask at four types of medical facilities: hospitals, clinics, nursing homes and senior welfare facilities (including long-term care facilities), the CDC said.
Hospitals would decide whether masks are required in their teaching, research and administration areas, it added.
It is recommended that people with a fever or respiratory symptoms, and elderly or immunocompromised people still wear a mask when going out and when visiting crowded places with poor ventilation, the CDC said.
People should also wear a mask when coming into close contact with elderly or immunocompromised people, especially if they are not fully vaccinated, it said.
The CDC said its revised recommendations for people visiting inpatients and healthcare workers returning to work after contracting COVID-19 also take effect today.
Healthcare workers who have tested positive for SARS-CoV-2 are advised to practice self-health management, and avoid going to work until they have had no fever for at least 24 hours (without taking antipyretics) and their other symptoms have disappeared, it said, adding that they should assess the appropriateness of patient exposure during self-health management.
They should also cover their mouth and nose when coughing or sneezing after returning to work, wear a mask when taking care of patients and maintain good hand hygiene, the CDC said.
The CDC said it is also lifting the rule that people with COVID-19 related symptoms or who are under self-health management must show a negative COVID-19 rapid test result when visiting inpatients.
However, they are still advised to avoid unnecessary visits, and if accompanying a hospital patient, it is suggested they produce a negative COVID-19 test result from the same day, it said.
Comments will be moderated. Keep comments relevant to the article. Remarks containing abusive and obscene language, personal attacks of any kind or promotion will be removed and the user banned. Final decision will be at the discretion of the Taipei Times.