US aid includes four MQ-9A drones: source
US SUPPORT: The drones, part of a US$345 million aid package, would sharply boost Taiwan's intelligence, surveillance and reconnaissance capabilities, an academic said
The US' US$345 million military aid package for Taiwan announced late last month would include four MQ-9A reconnaissance drones, a military source said yesterday.
Washington is still working on removing some of the more advanced and sensitive components of the drones, so there is no set delivery date, the source said on condition of anonymity.
The US$345 million aid package also includes training programs and ammunitions for Taiwan's military, the source added.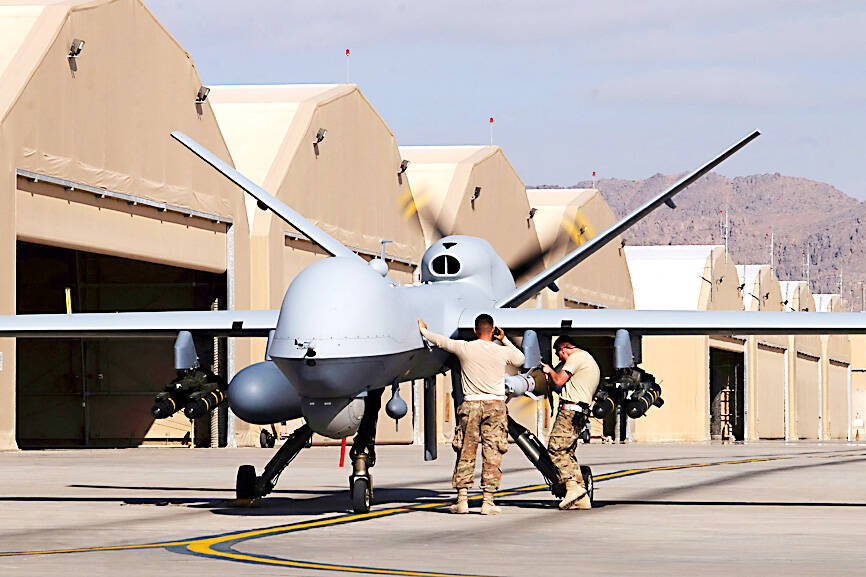 US airmen prepare a US Air Force MQ-9 Reaper drone as it leaves on a mission at Kandahar Air Field, Afghanistan, on March 9, 2016.
Photo: Reuters
Asked about the source's comment, the Ministry of National Defense said that it could not provide further details of the aid package to honor the US-Taiwan agreement.
Lin Ying-yu (林穎佑), an assistant professor at Tamkang University's Institute of Strategic Studies, had earlier said that the drones would significantly boost Taiwan's overall intelligence, surveillance and reconnaissance capabilities, as they can swiftly pass receive intelligence to logistics units via a satellite link.
Taiwan also purchased four MQ-9B "Sea Guardian" drones from former US president Donald Trump's administration for US$217 million, with delivery expected in 2025.
The US announced the US$345 million military aid package for Taiwan on July 28, which is to be delivered under a Presidential Drawdown Authority (PDA) approved last year by the US Congress and permits up to US$1 billion of weapons aid to be sent to Taiwan in fiscal 2023.
The PDA enables the US president to direct a drawdown to provide military assistance to US allies in crisis situations.
It allows for the speedy delivery of defense articles and services from the Pentagon's existing stock to foreign countries and international organizations to respond to "unforeseen emergencies," the US Department of State said.
However, since last year, Taiwan has been highlighting delays in the delivery of weapons it has purchased from the US.
Comments will be moderated. Keep comments relevant to the article. Remarks containing abusive and obscene language, personal attacks of any kind or promotion will be removed and the user banned. Final decision will be at the discretion of the Taipei Times.