Beware Southeast Asia travel after kidnapping: GASO
CYBERSCAM GANG: A Taiwanese was seriously injured after falling out of a building while escaping his kidnappers who had drugged him in Thailand
The Global Anti-Scam Organization (GASO) is urging people to be alert when in Southeast Asia after a Taiwanese tourist was drugged and kidnapped by cyberscam criminals.
A Taiwanese in his 20s was seriously injured after falling out of a building while fleeing his kidnappers, GASO said on Friday.
In a video recording for GASO, the man said he was traveling alone in Chiang Mai, Thailand, and went to a bar, but could not remember what happened next, adding that someone must have spiked his drink.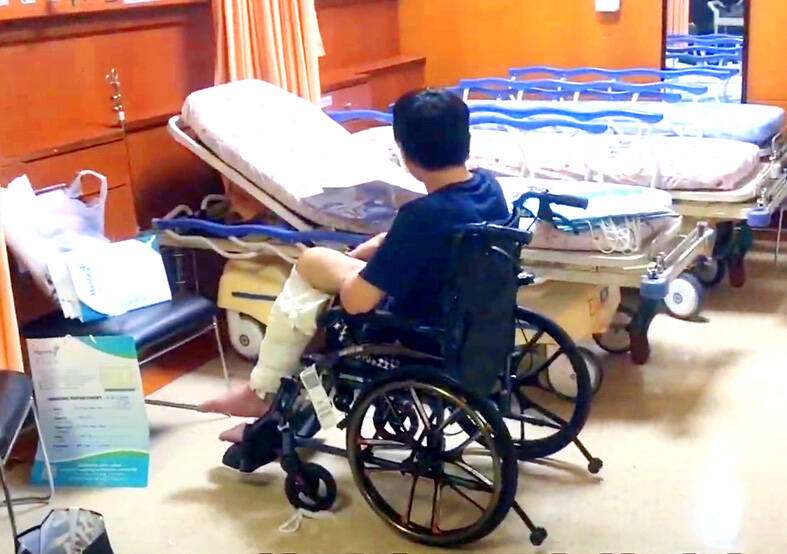 A Taiwanese man who was kidnapped from Chiang Mai in Thailand sits in a wheelchair at a hospital in Taiwan in an undated photograph after returning from Myanmar.
Photo courtesy of Global Anti-Scam Organization
He said that when he woke up, he was in a car heading to Kokang region in Myanmar's Shan State, which is across the border from Chiang Mai.
The men escorting him wore military uniforms and carried firearms, he said.
He said he was taken to a guarded compound in Kokang, which borders China's Yunnan Province, and was held captive by cyberscam operators.
For one month he was trained in investment fraud, learning to talk like a businessman to entice people with promises of making money, he said.
The dozens of captives got a chance to escape when their supervisor went out one day. They broke open a ventilation duct, then tied bedsheets together to form a rope and threw it out of a window on the seventh floor, he said.
The man said he went first, but could not hold on and fell about five stories, but his fellow captives fled the compound with him and took him for treatment.
He had broken both legs and fractured vertebrae in several places, among other injuries.
He said he bribed the security guard at the hospital managed to telephone his mother in Taiwan, who then contacted the GASO.
Local media reported on his case, and some Taiwanese businesspeople in Myanmar helped him.
The man said he had to pay NT$300,000 (US$9,435) in total to get home, and his medical expenses came to NT$200,000.
He said when people are kidnapped by cybercrime gangs, they have to work as instructed or be sold for NT$300,000 to NT$500,000 to other gangs, which might demand a ransom for them, or for organ harvesting.
"I was not beaten up, because I cooperated with them and did what I was told," he said. "Do not go to Thailand alone, you must go with friends."
GASO and international authorities have reported that Phnom Penh, and Kokang and Myawaddy in Myanmar are among the main centers for cyberscams, which are mainly run by Chinese gangs.
A GASO spokeman surnamed Chen (陳) said cyberscam gangs have moved their operations from Cambodia and Myawaddy, to Kokang, and adjacent regions on northern Thailand and Myanmar, where they are "a law unto themselves."
Comments will be moderated. Keep comments relevant to the article. Remarks containing abusive and obscene language, personal attacks of any kind or promotion will be removed and the user banned. Final decision will be at the discretion of the Taipei Times.