Court rejects claims in suit over En En's death
The New Taipei City District Court on Friday rejected a claim for state compensation from the father of a two-year-old boy who died from complications related to COVID-19 following an 81-minute wait for an ambulance in April last year.
The court said it rejected the claim on the grounds that the plaintiff, surnamed Lin (林), had not provided medical data to establish a causal relationship between the death of the boy, nicknamed En En (恩恩), and officials' handling of the ambulance request.
For a claim of state compensation to be established, the case should involve government officials infringing on the freedom and rights of the people through intentional or negligent actions or failure to carry out their duties, it said.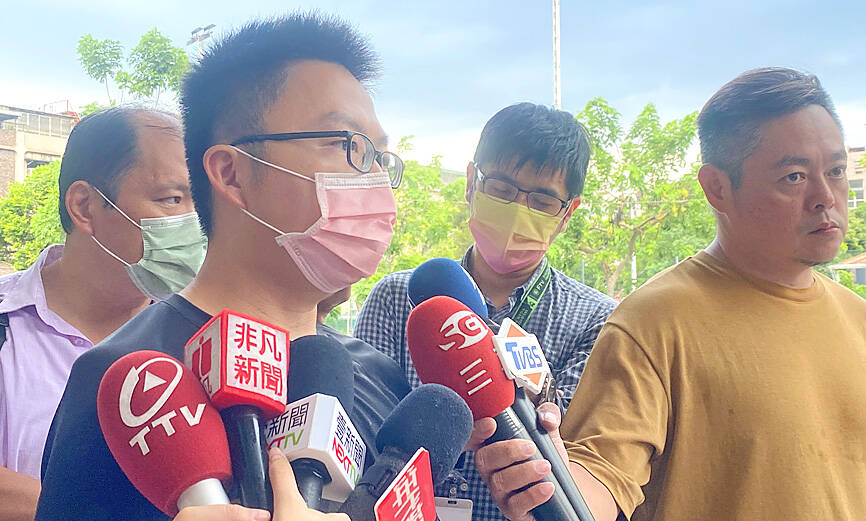 The father of a two-year-old boy nicknamed En En, the first child in Taiwan to die of COVID-19, speaks to reporters on Friday in New Taipei City.
Photo: CNA
The court said it had also looked at the Control Yuan's report on the case, in which none of the four experts consulted said the boy would have survived had the ambulance arrived on time.
Following the ruling, Lin, who had said that the delay might have factored into his son's death, said he would work with his legal counsel to collect more evidence before filing an appeal with the High Court.
"I had nothing to lose. En En is gone, and that was my biggest loss. I didn't win the case today, but that will in no way shake my determination to uncover the truth" behind the 81 minutes wait for an ambulance, Lin said.
En En was the first child in Taiwan to die from COVID-19, on April 19 last year. He developed severe COVID-19 symptoms and fell into a coma at home in New Taipei City's Jhonghe District (中和) on April 14, just as COVID-19 cases in the country were beginning to surge.
Comments will be moderated. Keep comments relevant to the article. Remarks containing abusive and obscene language, personal attacks of any kind or promotion will be removed and the user banned. Final decision will be at the discretion of the Taipei Times.