Leak of cables, official documents being probed
TRADE TIFF: The documents include alleged diplomatic cables from the representative offices in Japan and Vietnam about China's and Taiwan's CPTPP applications
The government is investigating a potential leak of official documents, including diplomatic cables and classified reports on the nation's sensitive bid to join a global trade pact, two officials familiar with the probe said.
One official said initial findings show that parts of the documents, posted on online message board 8kun and reviewed by Reuters, are real, while other parts are forged, without giving details.
A second official said parts of the documents appeared to be "authentic" and they could not immediately determine the origin of the documents shared on the Internet.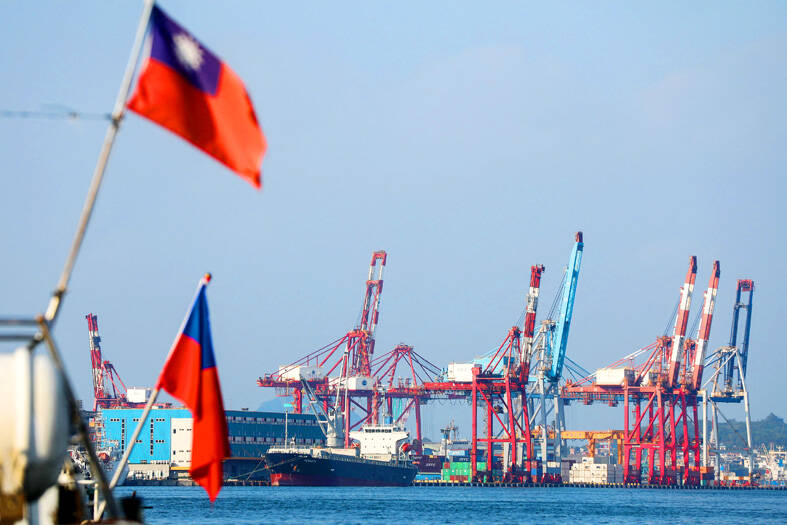 The Port of Keelung is pictured on Sept. 17 last year.
Photo: Cheng I-hwa, AFP
The officials asked not to be identified due to the sensitivity of the matter.
The incident comes at a delicate time, with the nation due to hold elections in January next year and Taiwan seeking to join the Comprehensive and Progressive Agreement for Trans-Pacific Partnership (CPTPP) despite protestations from China, which is also seeking to join.
The documents posted online include what purports to be a classified "security assessment" in October last year by the National Security Bureau on the nation's CPTPP bid.
They also include alleged diplomatic cables from the representative offices in Japan and Vietnam about the CPTPP applications by China and Taiwan, and another classified report by the representative office in Washington on ongoing trade negotiations with the US.
Reuters has seen the documents, but could not independently verify their authenticity.
The Ministry of Foreign Affairs and National Security Bureau did not immediately respond to requests for comment.
Taiwan and China in 2021 both applied to join the CPTPP, a landmark trade agreement between 11 nations — Australia, Brunei, Canada, Chile, Japan, Malaysia, Mexico, New Zealand, Peru, Singapore and Vietnam. The UK is also set to join.
Beijing has said it strongly opposes Taiwan's membership because it is part of China and therefore ineligible to join international bodies on its own.
Taiwan is a member of the WTO, designated as the separate customs territory of Taiwan, Penghu, Kinmen and Matsu.
The government is growing increasingly concerned about hacks and cyberattacks as the nation gears up for the elections next year.
Comments will be moderated. Keep comments relevant to the article. Remarks containing abusive and obscene language, personal attacks of any kind or promotion will be removed and the user banned. Final decision will be at the discretion of the Taipei Times.