Lai vows better services, clean politics
'LAI IS READY': President Tsai said she believed William Lai could lead the nation forward with his abundant management experience in different government levels
Vice President William Lai (賴清德), the Democratic Progressive Party's (DPP) presidential candidate, promised to expand childcare and long-term care services, and implement bills to bar those convicted of crimes from politics at the party's national congress in Taipei yesterday.
Taiwan is facing increasing challenges due to social problems at a domestic level, as well as the volatile global situation, which includes tensions between democracies and authoritarian countries, drastic changes in the industrial sector, digital transformation and the net zero transition, Lai said.
"As long as we are united and make good use of our advantages, we are absolutely capable of turning crises into opportunities," he said.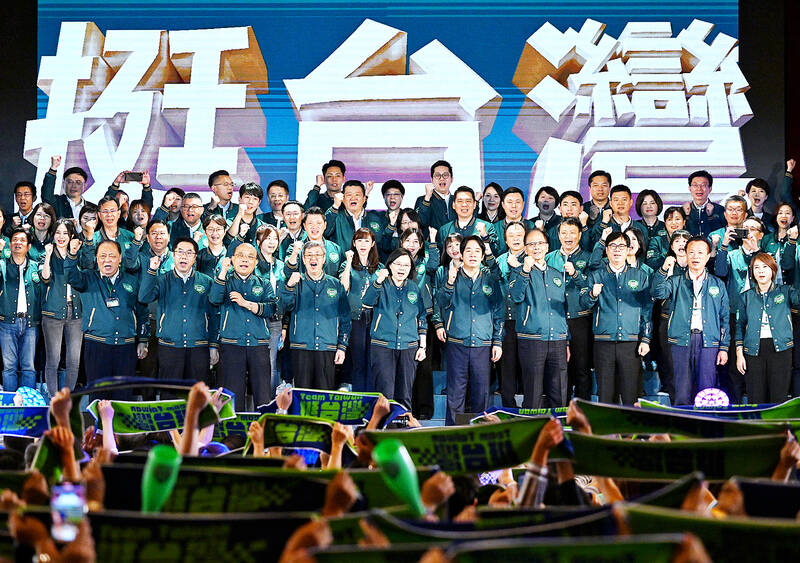 President Tsai Ing-wen, front row, fifth left, Vice President William Lai, front row sixth left, and other top Democratic Progressive Party officials attend the party's National Congress yesterday at the Grand Hotel in Taipei.
Photo: Fang Pin-chao, Taipei Times
Lai vowed to spread the democratic spirit to shape Taiwan into a proud democracy that is peaceful, innovative, prosperous, just and sustainable.
Taiwan is not a part of China and he would continue to unite Taiwan under the name "Republic of China [Taiwan]," Lai said.
In the face of authoritarian expansion, he would safeguard the democratic constitutional system and the "status quo," and demonstrate to the world Taiwan's will and determination to pursue democracy and peace, Lai said.
He also promised to enhance national defense capabilities and boost national security, diversify trade and improve Taiwan's economic security.
Taiwan would nurture closer ties with like-minded countries as a deterrence measure, while cooperating and conducting exchanges with China under the principles of parity and dignity to promote a peaceful cross-strait relationship, he said.
As the world is entering a smart technology era, he would sustain growth through innovation and invest in next-generation technologies to promote digital transformation, Lai said.
It is necessary to extend Taiwan's advantages in the information technology and semiconductor industries, and to strengthen the nation's position in the global supply chain while promoting local businesses, he said.
Lai also promised support for citizens until the age of 22, which would help young people from different socioeconomic backgrounds to pursue their dreams.
He would "increase investment in society" by providing revised childcare and long-term care services, in addition to programs aiming to narrow the tuition fee gap between public and private universities, and offer rent subsidies to young people, Lai said.
With the aim of building a harmonious, stable and just society, he would implement bills to prevent people convicted of certain crimes — such as organized crime, money laundering, gun use, smuggling, narcotics trafficking and national security crimes — from running for public office, Lai said.
Leading up to the presidential election in January next year, he would announce all of his policy propositions one by one through various channels, Lai said.
President Tsai Ing-wen (蔡英文) said that Lai had fought side by side with her for the past four years, helping her overcome many difficulties.
"Now, William Lai is ready," as he has considerable experience in serving in local and central governments, the president said, adding that she believed Lai could lead Taiwan forward in a world that changes constantly.
The DPP's declaration at the congress expressed the party's determination in safeguarding Taiwan's democracy, which was earned through the sacrifices and contributions of countless predecessors.
"Only by being united can we deter China; only by upholding democracy can we protect the future of Taiwan," it says.
Comments will be moderated. Keep comments relevant to the article. Remarks containing abusive and obscene language, personal attacks of any kind or promotion will be removed and the user banned. Final decision will be at the discretion of the Taipei Times.