Calls from international numbers to have warning
From Monday next week, people who receive telephone calls on landlines from numbers that begin with +886 9 are to hear a seven-second alert informing them that it is an international call and could be a scam, the National Communications Commission said yesterday.
The service is offered free of charge by Chunghwa Telecom, which has a 93 percent share of Taiwan's landline market.
The measure is part of the government's efforts to curb telephone scams, as fraudsters often work from offshore call centers, the commission said.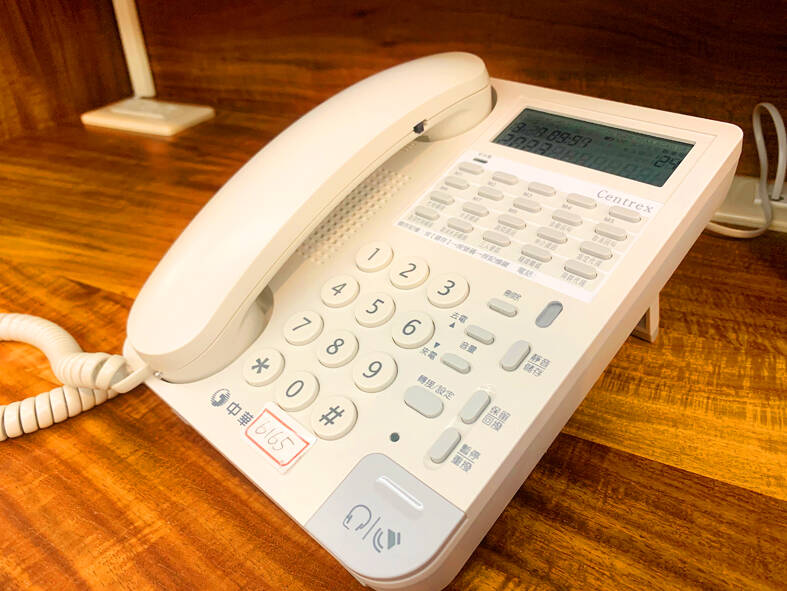 A telephone is pictured in Taipei on March 18.
Photo: Ting Yi, Taipei Times
Since May, the commission has been working with telecoms to block calls that begin with +886 0-8, it said.
From next week, people with subscriptions to the landline service of Chunghwa Telecom who receive a call from such numbers would hear an alert telling them it is an international call and could be a scam, the commission said, adding that the alert would be made in Mandarin and Hoklo (also known as Taiwanese).
The duration of the alert is 6.5 to 7 seconds, and subscribers would not be charged for listening to it, it said.
The alert can be skipped by pressing any number on the keypad, the commission said.
People who regularly receive international calls can apply to have the alert deactivated, it said.
All five telecoms in Taiwan — Chunghwa Telecom, Taiwan Mobile, Far EasTone Telecommunications, Asia-Pacific Telecom and Taiwan Star Telecom — from the end of October would offer the same service to mobile phone service subscribers, the commission said.
Telecoms would need to procure equipment to make the service available to mobile users, it said.
Comments will be moderated. Keep comments relevant to the article. Remarks containing abusive and obscene language, personal attacks of any kind or promotion will be removed and the user banned. Final decision will be at the discretion of the Taipei Times.