Kaohsiung kindergarten investigated on abuse allegations
The Kaohsiung City Education Bureau on Tuesday said it is investigating a former teacher who taught at a private kindergarten in the city, after parents alleged the teacher had hit children.
Parents of children at a private kindergarten in Kaohsiung's Sanmin District (三民) said their children had complained of being hit by a teacher, and said the teacher had thrown their backpacks and other items on May 25.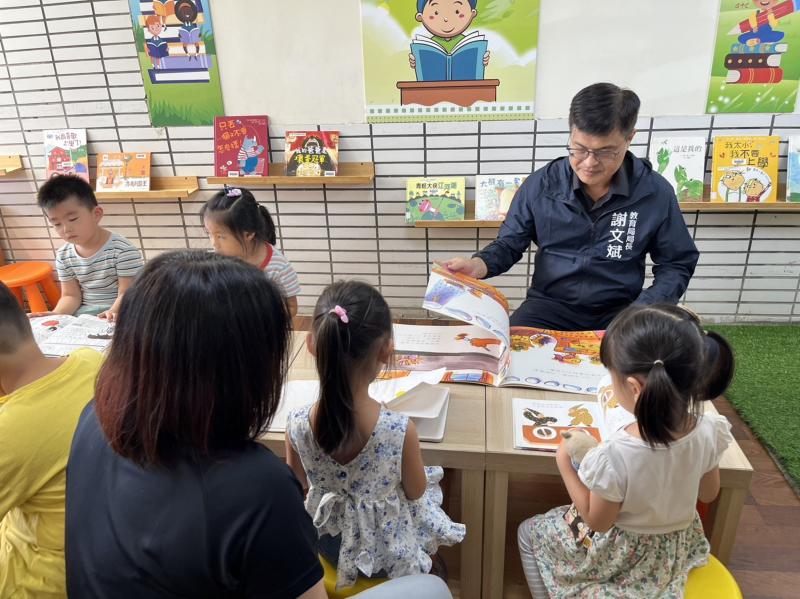 Kaohsiung Education Bureau Director Hsieh Wen-pin, rear right, visits a kindergarten in the city on July 3. (picture for illustrative purposes only)
Photo: CNA
In surveillance footage provided by the kindergarten to the bureau during an investigation on May 31, one teacher allegedly can be seen hitting and kicking students on the head, and throwing their backpacks. The same teacher is also allegedly seen hitting an older student with a stick during their lunch break.
One of the parents told a reporter that they were frustrated by a lack of progress on an investigation into the incident, two months after they had reported it to the city's Education Bureau and Bureau of Social Affairs.
Although the teacher had been fired from the kindergarten, they sought reconciliation with the kindergarten and parents through a mediation committee at a teachers' association, the parent said.
The Education Bureau said that while an investigation is still ongoing, if the teacher is found guilty of violating regulations, both the kindergarten and the teacher could be fined up to NT$600,000 each.
Depending on the seriousness of the case, the kindergarten could also be forced by law to reduce enrollment or suspend operations, or have its permit revoked, it said, adding that the teacher could also be prohibited from teaching again.
Comments will be moderated. Keep comments relevant to the article. Remarks containing abusive and obscene language, personal attacks of any kind or promotion will be removed and the user banned. Final decision will be at the discretion of the Taipei Times.