Traffic controls to be in place around Dadaocheng Wharf
Traffic controls are to be in place around Dadaocheng Wharf in Datong District (大同) on Wednesday evenings during the Taipei Summer Festival, the Taipei Department of Transportation said on Tuesday.
The festival, which began on Saturday and runs until Aug. 20, would feature a three-minute fireworks show every Wednesday near Dadaocheng Wharf and the Yanping Riverside Park, the statement said.
Vehicle access to the gates leading into the wharf area would be restricted, it said.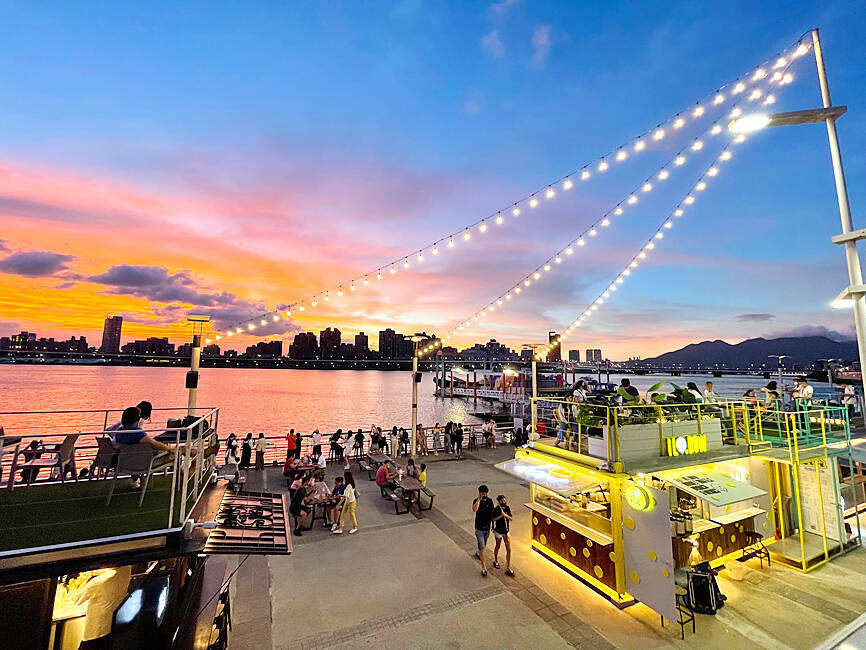 Taipei's Dadaocheng Wharf is pictured in an undated photograph.
Photo courtesy of the Taipei City Government via CNA
From 7pm to 9:30pm, vehicles, including motorcycles and bicycles, will not be allowed to enter or exit the wharf area through Gate No. 4 near the end of Nanjing W Road, and Gate No. 5 near the intersection of Huanhe N Road and Minsheng W Road.
Gate No. 3 at the end of Zhengzhou Road is to serve only as an exit during that period.
YouBike rentals at the Dadaocheng Wharf station and bike rentals at the Taipei Riverside Park Bike Rental Dadaocheng Station would be be suspended from 6pm to 9:30pm, the statement said.
The G17 and R33 public buses would not stop at the Dadaocheng Wharf and Yanping Temple stops on Diwai Road, it added.
From 7:30pm to 9pm, crowd controls would be in place along the sidewalks on the Zhongxiao Bridge (忠孝橋) and Taipei Bridge, as well as the Dunhuang viewing platform and the overpass connecting the Dihua Recreational Sports Park and the Diwai Road bike trail.
The department advised motorists to avoid the bridges during those times and urged people to use the Taipei MRT system to reach the festival area.
Comments will be moderated. Keep comments relevant to the article. Remarks containing abusive and obscene language, personal attacks of any kind or promotion will be removed and the user banned. Final decision will be at the discretion of the Taipei Times.