Taiwanese, Czech top judges meet for the first time
The heads of the constitutional courts of Taiwan and the Czech Republic met officially for the first time last month during a trip by Judicial Yuan President Hsu Tzong-li (許宗力) to the central European country.
Hsu and other Constitutional Court justices Hwang Jau-yuan (黃昭元) and Tsai Tzung-jen (蔡宗珍) were part of a delegation that visited the Constitutional Court of the Czech Republic on June 21 and met that court's President Pavel Rychetsky and others.
During the meeting, Hsu and Rychetsky talked about their courts' roles in their judicial systems and how they exercise their powers, and discussed cases they adjudicated, including judicial reviews of measures to combat COVID-19, the Constitutional Court said in a statement.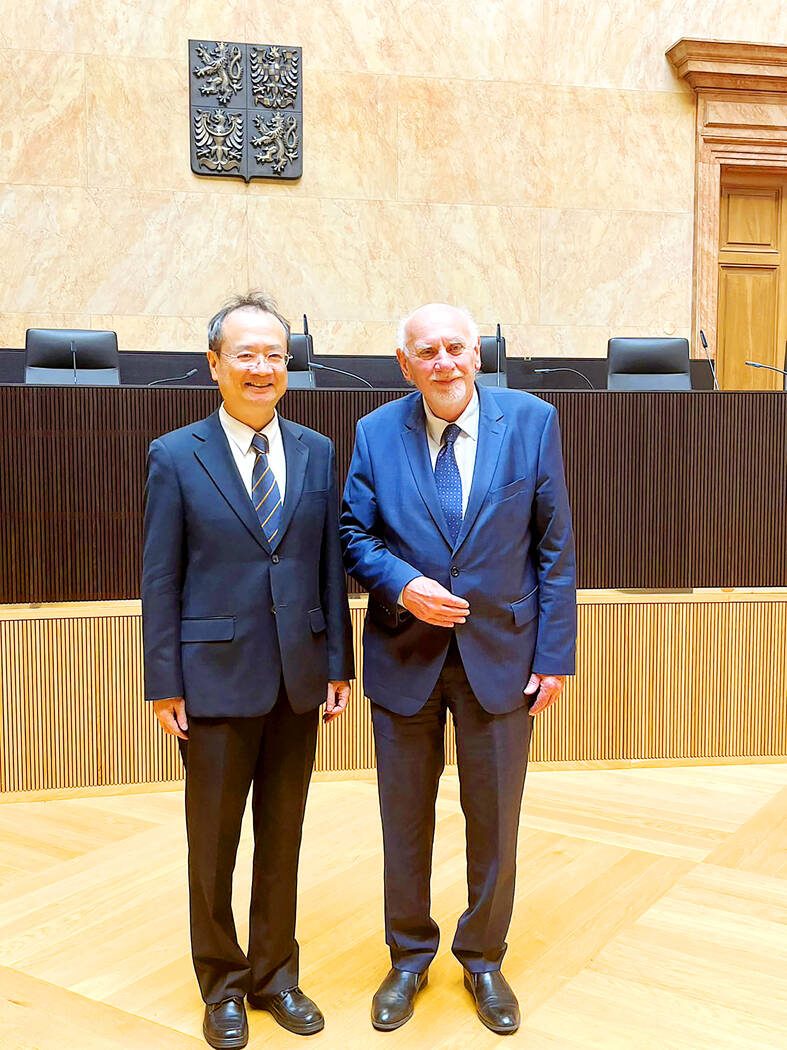 Judicial Yuan President Hsu Tzong-li, left, and Czech Constitutional Court President Pavel Rychetsky pose for a photograph in Prague on June 21.
Photo courtesy of the Taipei Economic and Cultural Office in Prague via CNA
In a statement of its own, the Constitutional Court of the Czech Republic said that because this was the first bilateral meeting of representatives of the two institutions, more general topics were covered, including overviews of the two sides' judicial systems.
They found that there were many parallels between the Czech and Taiwanese models of protection of constitutionality and the issues that arise before their courts, the Czech court said.
Hsu said Taiwan and the Czech Republic share the values of constitutionalism and separation of powers, and could learn from each other in areas such as human rights protection and constitutional litigation.
Aside from its visit to the Constitutional Court, Hsu's delegation also visited the Czech Senate, as well as the faculties of law of Palacky University and Charles University, where Hwang spoke on Taiwan's constitutional interpretation on same-sex marriage.
Comments will be moderated. Keep comments relevant to the article. Remarks containing abusive and obscene language, personal attacks of any kind or promotion will be removed and the user banned. Final decision will be at the discretion of the Taipei Times.