Taipei Dome to host variety of events, Chiang says
INTERNATIONAL EVENTS: The Taipei mayor said the city would seek to find diverse uses for the venue after a city councilor said its high rent might put off local sports teams
The Taipei City Government would strive to hold international events at the Taipei Dome, Taipei Mayor Chiang Wan-an (蔣萬安) said yesterday, after a city councilor questioned the feasibility of renting the venue to local sports teams.
Chiang has said that the city government aims obtain use permits next month and start trial operations by the end of this year.
However, Democratic Progressive Party Taipei City Councilor Wu Pei-yi (吳沛憶) on Saturday asked whether the city's goal of holding at least 40 sports events at the venue every year could be achieved, citing its high rental fees.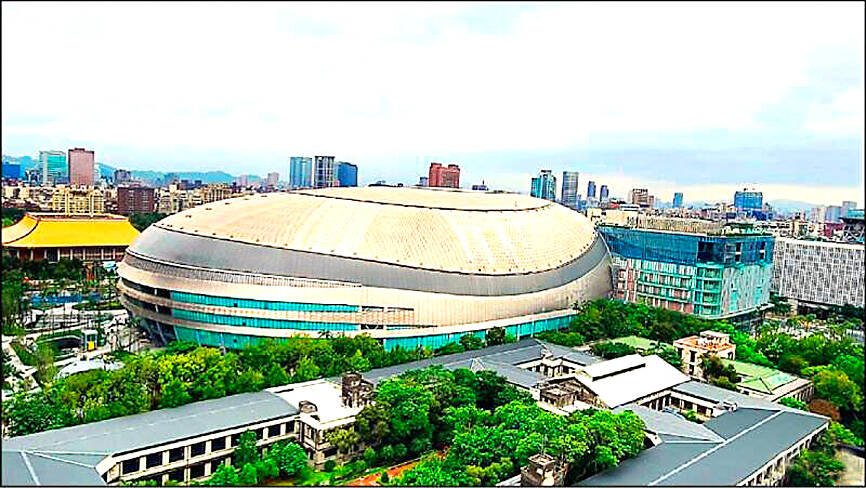 The Taipei Dome is pictured in an undated photograph.
Photo: Taipei Times file
Taipei Dome contractor Farglory Group's investment execution proposal was approved by the city government in November last year, in which the city pledged to hold at least 40 sports events per year from the second year of operation, she said.
However, if Farglory sets the rent for the baseball field at NT$1 million (US$32,342) per game, as it plans to do, many sports teams might not be willing to rent the venue, she said.
The Taipei Dome has a capacity of more than 40,000 people. For comparison, the Taichung Intercontinental Baseball Stadium has a capacity of about 20,000 people and a rent of NT$45,000 to NT$160,000 per game, the Sinjhuang Baseball Stadium in New Taipei City has a capacity of about 12,000 people and a rent of NT$10,000 to NT$30,000 per game, and the Tianmu Baseball Stadium in Taipei has a capacity of about 10,000 people and a rent of NT$4,000 to NT$15,000 per game.
The Taipei Department of Sports on Saturday said the NT$1 million price tag was proposed by Farglory in its draft charging plan, which has not been finalized.
Although the price is being set by Farglory, the department has made suggestions to the company, for the sake of encouraging sports development, it said.
Chiang yesterday said the baseball field is an indoor venue, so it could be used to host cultural events, in addition to sports games.
The city government would also strive to hold international sports events, such as World Baseball Classic games, the U-12 Baseball World Cup and the U-23 Baseball World Cup, and protect city residents' rights when fulfilling its contractual obligations, he said.
Comments will be moderated. Keep comments relevant to the article. Remarks containing abusive and obscene language, personal attacks of any kind or promotion will be removed and the user banned. Final decision will be at the discretion of the Taipei Times.