Fiji restored Taipei office name on China pressure
INTERFERENCE: The foreign ministry said it was 'deeply regretful' that the Fijian Cabinet caved in to Chinese pressure to change back the Taiwanese office's name
The decision to restore the Taipei Trade Office in Fiji to its former name, which includes the word Taiwan, was reversed due to pressure from China, the Ministry of Foreign Affairs said on Wednesday.
Fiji on March 24 issued a note verbale to the office, saying that its name was changed to "Trade Mission of the Republic of China (Taiwan) to the Republic of Fiji," retroactively effective from March 15.
However, "under peremptory pressure from China," the government of Fiji changed the name of the office back to the "Taipei Trade Office in Fiji," the ministry said in a news release.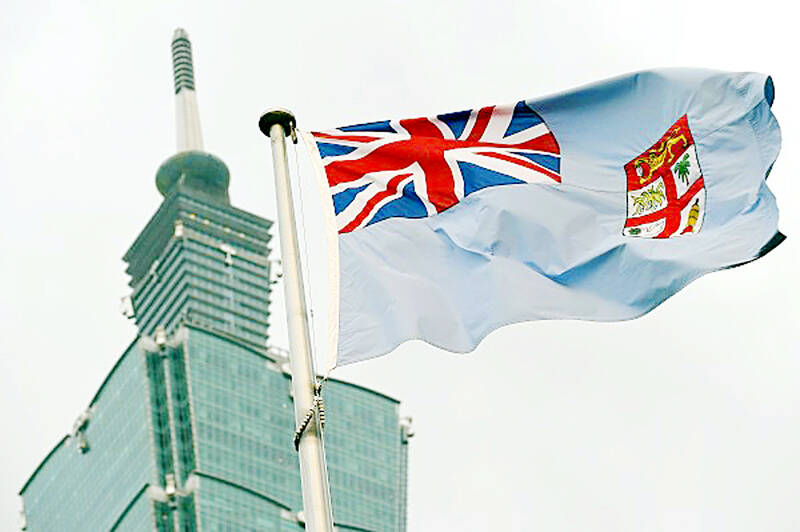 The Fijian flag flies in front of Taipei 101 in an undated photograph.
Photo: Chen Chih-chu, Taipei Times
The ministry "fiercely condemns China's actions of suppressing Taiwan and belittling its sovereign status in the international arena again," it said.
The Chinese embassy in Fiji protested the initial name change and threatened to take retaliatory measures, the ministry said.
Chinese Vice Minister of Foreign Affairs Ma Zhaoxu (馬朝旭) exerted pressure on Fiji when he visited the country in April, it said.
The Fijian government succumbed to Chinese pressure after discussing the issue in several Cabinet meetings, it said, calling it "deeply regretful."
Taiwan has been promoting exchanges and cooperation in agriculture and fisheries, healthcare, education and talent cultivation in Fiji, benefiting Fijians with concrete projects since the office was launched in 1971, the ministry said.
Adhering to the values of freedom and democracy, Taiwan would continue to "share successful experiences with countries in the Pacific region, work together to maintain regional peace and stability, and strive for Taiwan's due international status," the ministry added.
Beijing previously pressured Fiji to change the office's name to the Taipei Trade Office in Fiji in 2018.
Taiwan typically uses the term "Taipei" instead of its official name "Republic of China (Taiwan)" when naming its de facto embassies in most nations, mainly because the host nation adheres to a "one China" policy.
Fijian Prime Minister Sitiveni Rabuka has since December last year been seeking to alter his predecessor's pro-China approach since taking over from former Fijian prime minister Voreqe Bainimarama, who was in office for 16 years.
Rabuka in January announced that his government would end a police training and exchange agreement with China.
The agreement "hangs in the balance," as the Chinese embassy said it cannot understand why the deal cannot be continued, local media FBC News reported on Tuesday.
Whether Fiji can unilaterally terminate the agreement remains to be seen.
Additional reporting by CNA
Comments will be moderated. Keep comments relevant to the article. Remarks containing abusive and obscene language, personal attacks of any kind or promotion will be removed and the user banned. Final decision will be at the discretion of the Taipei Times.