Ko Wen-je criticized over call to restart CSSTA talks
Taiwan Statebuilding Party executives yesterday condemned former Taipei mayor Ko Wen-je (柯文哲) over his call to restart talks on the Cross-Strait Service Trade Agreement (CSSTA) for closer economic integration with China.
Taiwan Economic Democracy Union members at a separate event outside the Legislative Yuan said allowing the free flow of good and services from China would hollow out Taiwan's economy.
Ko, who is the Taiwan People's Party (TPP) candidate for next year's presidential election, has said in a policy white paper that Taiwan and China needed to revive past mechanisms to hold trade talks.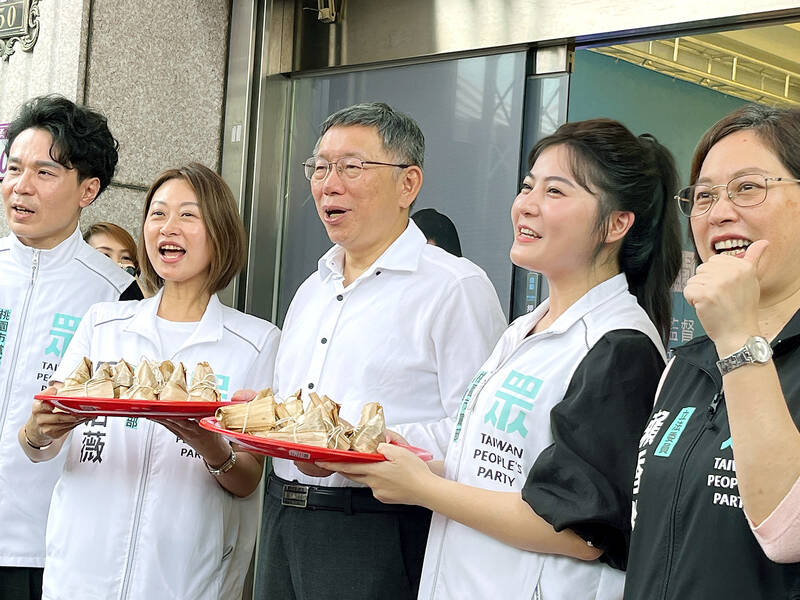 Taiwan People's Party Chairman Ko Wen-je, center, holds zongzi while speaking at a news conference on Saturday.
Photo: CNA
Taiwan Statebuilding Party chairman Wang Hsing-huan (王興煥) said: "The CSSTA is a poison pill for Taiwan. It would have devastating effects on the nation's economy. Yet Ko is willing to go along with it."
"We deem it [Ko's message] to be as damaging as Chinese Nationalist Party [KMT] members attending political forums in China in service of Beijing's 'united front' efforts to divide and conquer Taiwan," he said.
The TPP has been competing with pan-blue camp leaders to do China's bidding, as they fight each other to sell out Taiwan to China, Wang said.
They hope to reap financial and political gains by becoming Taiwan's "provincial governor" under Beijing's rule, he said.
"Ko and pan-blue camp leaders have their own ways of currying favor with Beijing. At times they can be conservative and other times ask for swift action," he added. "Nevertheless, they have shown that they are loyal to China and willing to sell out Taiwanese."
Ko's call to restart talks on the CSSTA clearly shows that the TPP and KMT are on the same track, which is achieving political and economic integration with China, Wang said.
Award-winning author and former Taipei mayoral candidate Neil Peng (馮光遠) cited widespread public opposition to the CSSTA, which sparked the 2014 Sunflower movement, during which protesters occupied the main legislative chamber for more than three weeks.
Ko, who was a Taipei mayoral candidate at the time, participated in a sit-in to show his opposition to the agreement. He went on to win the mayoral race that year and was re-elected in 2018.
"We are quite certain that China has chosen Ko as its man to contest Taiwan's presidency. So it is Beijing's wish for Ko to push for closer integration with China," Peng said.
Even Ko has admitted that China wants him to run in the presidential election, he said.
Taiwan Statebuilding Party Taipei director Wu Hsin-tai (吳欣岱) said that many young people participated in the Sunflower movement because they were resolutely against integration with China.
"However, Ko and [former legislator] Huang Kuo-chang (黃國昌) are now trying to rewrite history by saying that young people were opposed to the opaque negotiations and not the trade pact itself. It is clear that Ko and Huang have strong Chinese influence behind them," Wu said.
Huang was one of the leaders of the Sunflower movement.
"Ko's campaign strategy is based on not taking a clear stance on any issue. He only attacks the pan-green and pan-blue camps to attract voters and stir up issues to gain public attention and generate news," Wu added.
"We must ask whether Ko secretly struck a deal with China, with the CSSTA being one of the main conditions," Wu said.
Union member and attorney Lai Chung-chiang (賴中強) said the CSSTA would have 64 conditions affecting more than 1,000 businesses, which would lead to job losses and lower wages.
"China's economy and its business environment is faltering as Beijing faces social upheaval, with no job prospects for university graduates," Lai said.
Under the CSSTA, the unemployment rate and the average salary in Taiwan would reach levels similar to those in China, because integration would bring high risks to the financial and investment sectors, Lai said.
"Taiwan cannot become a 'trusted partner' of the US under such conditions, and cannot join a US-led semiconductor chip alliance, which includes Japan and South Korea," Lai added.
Comments will be moderated. Keep comments relevant to the article. Remarks containing abusive and obscene language, personal attacks of any kind or promotion will be removed and the user banned. Final decision will be at the discretion of the Taipei Times.