Tsai's grand justice nominees approved
CONSTITUTIONAL COURT: The KMT and the TPP boycotted the vote, but the DPP's and the NPP's votes were more than enough to approve the four nominees
Lawmakers yesterday approved all four grand justice nominees proposed by President Tsai Ing-wen (蔡英文) in a vote boycotted by the Chinese Nationalist Party (KMT) and the Taiwan People's Party (TPP).
Supreme Court Judge Tsai Tsai-chen (蔡彩貞), Control Yuan Secretary-General Chu Fu-mei (朱富美), National Taiwan University law professor Chen Chung-wu (陳忠五) and attorney Greg Yo (尤伯祥) are to fill upcoming vacancies at the Constitutional Court.
Each nominee received at least 60 votes to confirm their appointment, despite the boycott. A grand justice nomination is approved when more than 50 percent of all lawmakers vote in favor of it, which means each nominee required at least 57 votes in the 113-seat legislature.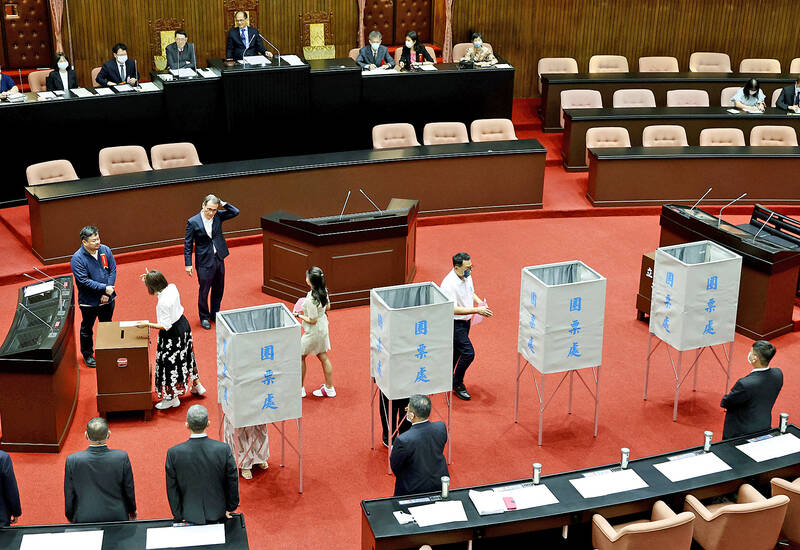 Legislators vote on grand justice nominees at the Legislative Yuan in Taipei yesterday.
Photo: CNA
Lawmakers from the ruling Democratic Progressive Party (DPP) and the opposition New Power Party (NPP) participated in the vote.
KMT and TPP lawmakers have said the confirmation process has been "hasty" and "reckless," as lawmakers were given only 22 days to review the nominations put forth by Tsai at the end of last month.
Yesterday's approval followed a public hearing and a legislative session on the issue earlier this week.
The TPP in a statement criticized the confirmation process and questioned the affinity between some of the nominees to the DPP government, without elaborating.
The party was likely referring to Yo, as some TPP and KMT legislators have cast doubt on the attorney's competency to serve as a grand justice.
Yo, 54, is known for providing pro bono services to student protesters charged with storming the Executive Yuan building during the 2014 Sunflower movement against the then-KMT government's plan to promote greater economic integration with China.
He has worked at government agencies and with civil society groups to promote transitional justice and push for judicial reforms.
The KMT recently accused Yo of encouraging a witness to give false testimony during a court case 18 years ago in which he served as a defense attorney.
He has denied any wrongdoing, adding that he has not been charged with instigating perjury.
The new appointees are to replace grand justices Huang Hung-hsia (黃虹霞), Wu Chen-han (吳陳鐶), Tsai Ming-cheng (蔡明誠) and Lin Chun-i (林俊益) when their terms end on Sept. 30.
Tsai Ing-wen in a statement thanked the legislature for approving her nominations and urged the newly confirmed grand justices to "do their best to safeguard constitutional integrity and protect human rights."
The Constitutional Court, responsible for interpreting the Constitution and reviewing final court decisions for their constitutionality, comprises 15 grand justices appointed to eight-year terms at staggered intervals.
With the new appointees, the number of women serving as grand justices is to reach a record five.
Comments will be moderated. Keep comments relevant to the article. Remarks containing abusive and obscene language, personal attacks of any kind or promotion will be removed and the user banned. Final decision will be at the discretion of the Taipei Times.