Ko overtakes Hou in presidential favorability
Vice President William Lai (賴清德) remained in the lead in support rate among presidential candidates, while former Taipei mayor Ko Wen-je (柯文哲) had overtaken New Taipei City Mayor Hou You-yi (侯友宜) to claim second, a Taiwanese Public Opinion Foundation poll showed yesterday.
It showed that 36.5 percent of respondents supported Lai, the Democratic Progressive Party's (DPP) presidential candidate, 29.1 percent supported Ko of the Taiwan People's Party (TPP) and 20.4 percent supported Hou, the Chinese Nationalist Party's (KMT) candidate.
Ko was most favored among respondents aged 20 to 34, while Lai and Ko had similar favorability in the 35 to 44 and 45 to 54 age groups, the poll showed.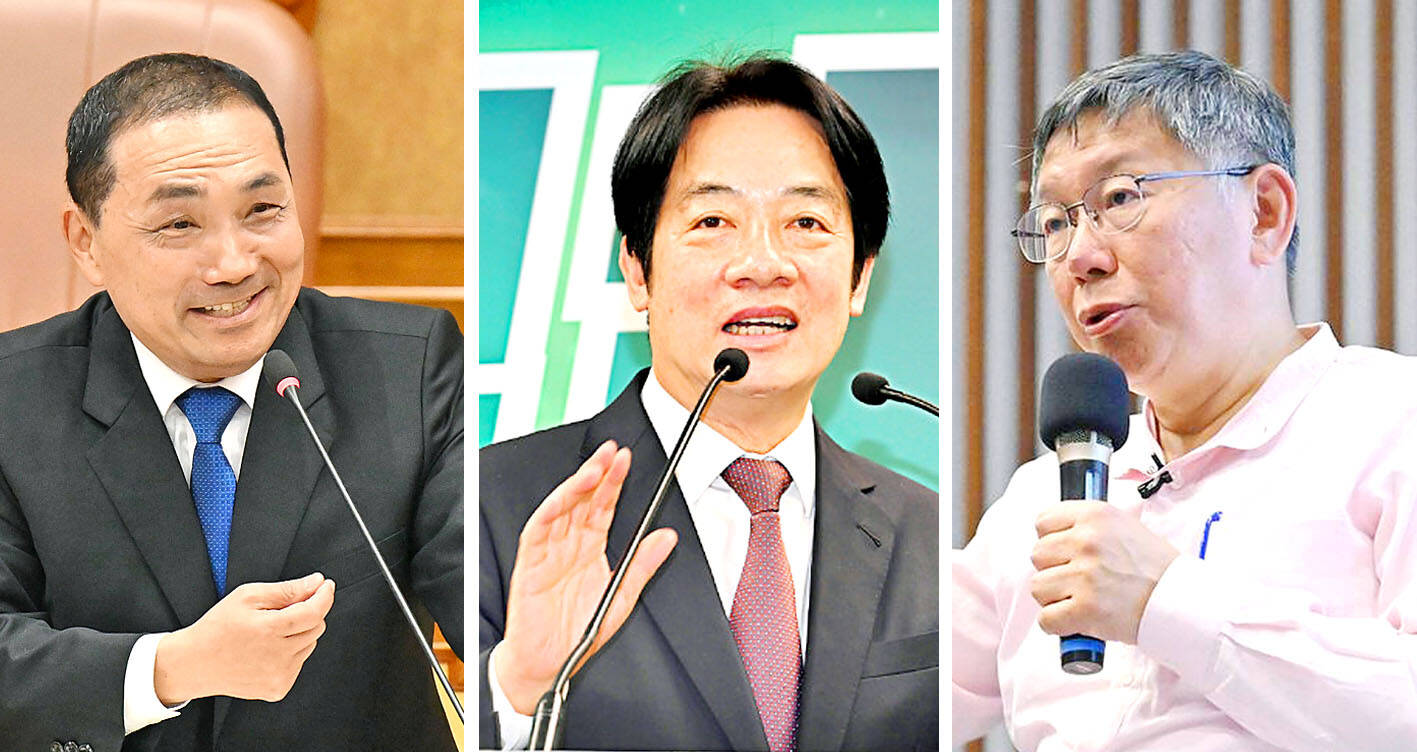 From left, New Taipei City Mayor Hou You-yi, Vice President William Lai and former Taipei mayor Ko Wen-je are pictured in a composite photograph.
Photo: Taipei Times file
However, Lai led among those aged 55 or above, it showed.
Among DPP supporters, 84 percent supported Lai, 3.3 percent backed Hou and 8.1 percent supported Ko, it showed.
Among KMT supporters, it was 65 percent for Hou, 20 percent for Ko and 8.5 percent backing Lai, while 77 percent of respondents who affiliated with the TPP backed Ko, 11 percent supported Hou and 6.8 percent backed Lai.
Foundation chairman Michael You (游盈隆) said that support for Lai increased 0.7 percentage points from its poll released last month, while Ko gained 4 percentage points and Hou fell 7.2 percentage points.
Hou last month led Ko by 2.5 percentage points, but the TPP chairman led Hou by 8.7 percentage points this month, You said.
The poll was conducted on Monday and Tuesday last week via landline calls targeting adults aged 20 or older.
It garnered 1,080 valid responses and had a margin of error of 2.98 percentage points.
Comments will be moderated. Keep comments relevant to the article. Remarks containing abusive and obscene language, personal attacks of any kind or promotion will be removed and the user banned. Final decision will be at the discretion of the Taipei Times.