Polish office says it opposes any kind of harassment
The Polish Office in Taipei on Monday said that it opposes any form of harassment, after prosecutors decided not to indict a former Polish diplomat over accusations that he sexually harassed a woman.
The accuser, a woman surnamed Lai (賴), in a Facebook post on Saturday accused former Polish Office in Taipei acting head Bartosz Rys of sexually assaulting her in September last year.
Hundreds of Internet users left messages under the post demanding an explanation from the Polish office.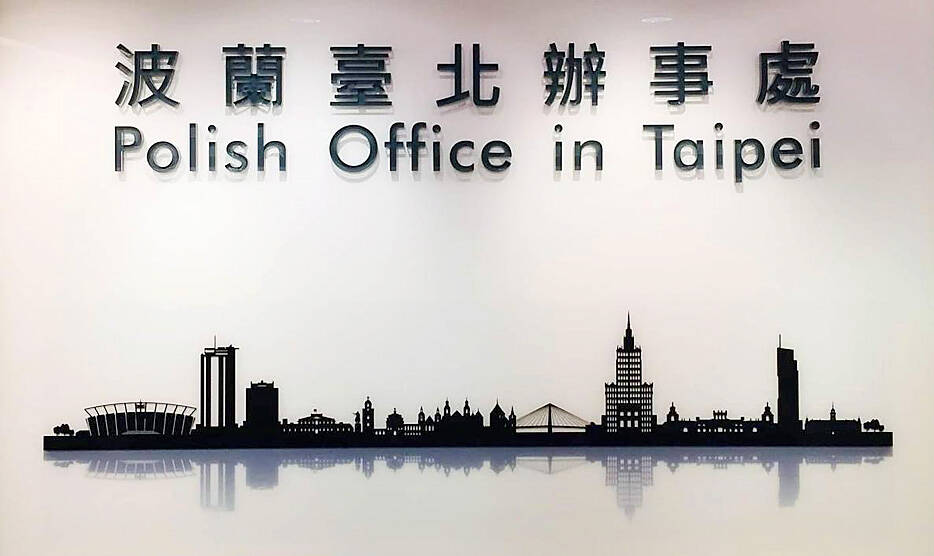 A sign at the entrance to the Polish Office in Taipei is pictured in an undated photograph.
Photo: Screen grab from the Facebook page for the Polish Office in Taipei
The office wrote on Twitter on Monday that "it co-operated with the Taipei City Police, Prosecutor's Office and MOFA [the Ministry of Foreign Affairs] in the proceedings encompassing their interactions with Mr. Bartosz Rys, who was posted in Taipei from 2017 to 2022."
The claims investigated by police were not related to Rys' official post, the office said.
After his term ended in the middle of November last year, Rys stayed in Taiwan to "provide required explanations" to prosecutors, the office said.
"Mr. Rys left Taiwan once the matter was clarified," it said.
"We stand against any form of harassment. We believe in fostering a culture of respect, equality, and professionalism. We are committed to building relationships between Taiwanese and Polish people," the office said.
The foreign ministry on Sunday said that it was notified in November last year that police were investigating a case in which a European diplomat was accused of sexual assault and that he was barred from leaving Taiwan during the investigation.
The travel ban was lifted at the end of December, the ministry said.
Comments will be moderated. Keep comments relevant to the article. Remarks containing abusive and obscene language, personal attacks of any kind or promotion will be removed and the user banned. Final decision will be at the discretion of the Taipei Times.