Experts urge US to sign trade deal with Taiwan
LEADING THE WAY: A free-trade agreement would be a tool demonstrating Washington's support of Taiwan, a view backed by US experts, a deputy minister said
US experts called on Washington to sign a free-trade agreement with Taiwan, as the relationship between the two countries is strategically significant, Deputy Minister of Foreign Affairs Roy Lee (李淳) said yesterday.
Lee made the remark during an interview with media personality Clara Chou (周玉蔻) a week after the two nations signed an initial agreement under the US-Taiwan Initiative on 21st-Century Trade.
Signing the agreement was a "big breakthrough" in economic and trade relations of the past two decades, and an important milestone for Taiwan's overall economic and trade ties, he said.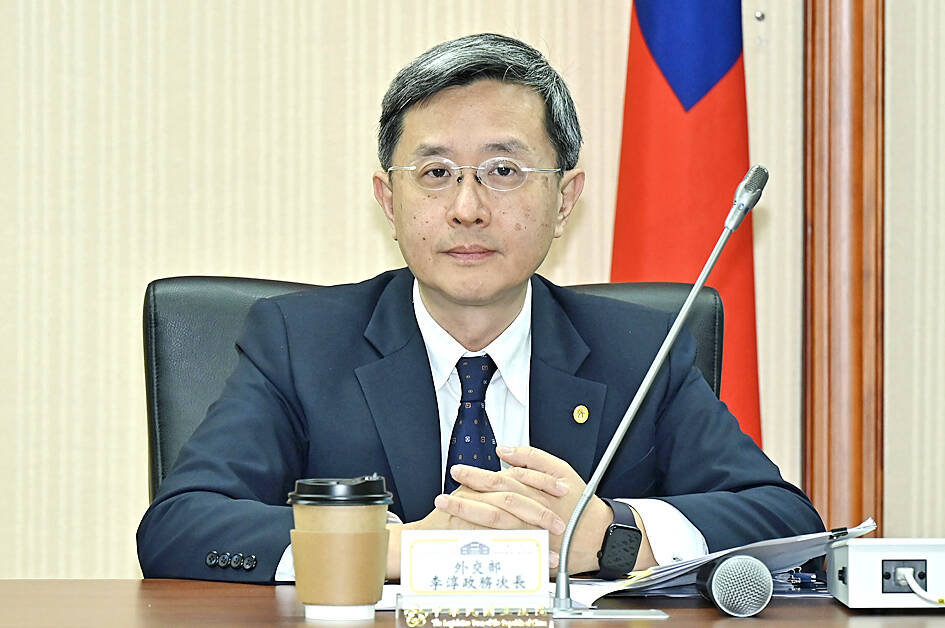 Deputy Minister of Foreign Affairs Roy Lee attends an event at the legislature in Taipei on March 10.
Photo: Tu Chien-jung, Taipei Times
The agreement would benefit both sides, he added.
Taiwan's international position and pressure from China make it challenging for the nation to sign trade deals with countries that are not diplomatic allies, he said.
The deal with the US has the structure of a typical free-trade agreement, and can be expanded in scope and content, Lee said.
The agreement would hopefully be an example for other countries or trade blocs to follow in signing similar deals with Taiwan, he said.
The US is Taiwan's second-largest export market, and economic and trade ties have grown closer in the past few years, he said.
Asked whether the US might replace China as Taiwan's top export market, Lee said that "it definitely would."
Taiwan and the US are able to work smoothly together because their interests align, he said.
Taiwanese businesses are following a global trend of reconsidering dependence on China and "derisking" by moving key operations out of the nation, Lee said.
The next step in ties with Washington would be to negotiate an agreement to eliminate double taxation, which would draw more firms to invest in the US, he added.
A free-trade agreement with Taiwan would be a strategic tool demonstrating the US' support of the nation, a view backed by experts in the US, he said.
The benefits of the initial agreement might not be obvious in the short term and would be difficult to quantify, he added.
However, three committees are to be established to discuss trade facilitation, small and medium-sized enterprises, and good regulatory practices, Lee said.
The discussions would be broader and more innovative than under the Trade and Investment Framework Agreement, which focused on resolving trade obstacles, he said.
Comments will be moderated. Keep comments relevant to the article. Remarks containing abusive and obscene language, personal attacks of any kind or promotion will be removed and the user banned. Final decision will be at the discretion of the Taipei Times.