Tropical storm will affect local weather for coming week
Tropical storm Guchol is moving in a northeasterly direction off the east coast of the Philippines and will not hit Taiwan, but will impact local weather starting on Friday, the Central Weather Bureau said Thursday.
The storm would bring a low-pressure system northward toward the vicinity of Taiwan, forecaster Chao Hung (趙竑) said. Northern Taiwan will see intermittent rain showers in the morning, and thunderstorms in the afternoon on Friday, he said, adding that rain would be heavier on the east coast and in the central-southern mountainous areas. Rainfall would continue into Saturday, and would spread throughout Taiwan proper, he said.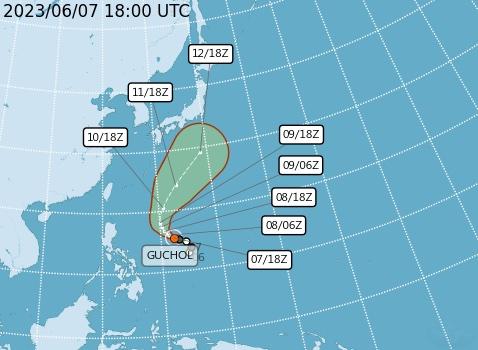 A weather map from the Central Weather Bureau shows the current position and expected trajectory of tropical storm Guchol.
Photo courtesy of the Central Weather Bureau
A low-pressure system and convective winds would remain in the vicinity until Saturday next week, making weather patterns unstable and bringing intermittent rain showers in some parts of Taiwan proper throughout the week, he said.
Those along the coast in and around Keelung should also watch out for large waves from Friday until Sunday, he said.
Comments will be moderated. Keep comments relevant to the article. Remarks containing abusive and obscene language, personal attacks of any kind or promotion will be removed and the user banned. Final decision will be at the discretion of the Taipei Times.