Tsai thanks Tuvalu for its support at reception
WHO CALL: The president thanked Simon Kofe for supporting Taiwan's right to participate in the international community at the World Health Assembly
President Tsai Ing-wen (蔡英文) yesterday thanked Tuvalu for its support of Taiwan at a state reception for Tuvaluan Minister for Justice, Communication and Foreign Affairs Simon Kofe at the Presidential Office in Taipei.
Kofe and his wife arrived at the head of a Tuvaluan diplomatic delegation on Thursday for a six-day visit in which the two nations' representatives are expected to ink six agreements on issues ranging from trade to climate.
Taiwan thanks Kofe for lending his voice to support the nation's right to participate in the international community at the World Health Assembly last month and at the UN Ocean Conference a year ago, Tsai said.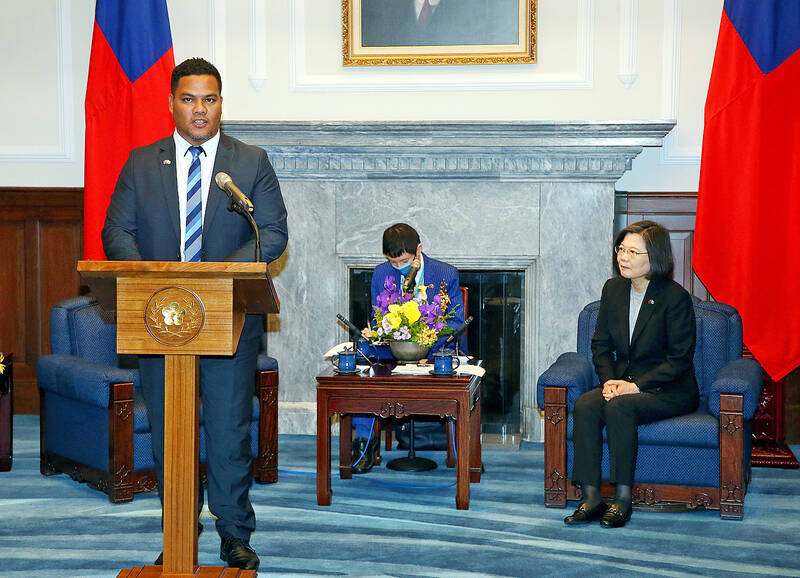 Tuvaluan Minister for Justice, Communication and Foreign Affairs Simon Kofe, left, speaks as President Tsai Ing-wen, right, looks on at the Presidential Office in Taipei yesterday.
Photo: CNA
Taiwan collaborates with Tuvalu in a range of fields, including agriculture, education, energy, telecommunications and climate, she said.
Kofe is a strong advocate for a robust international response to climate change and famously recorded a speech while standing in rising sea waters, Tsai said.
Taipei is committed to working with the international community to counter climate change and rising sea levels, as well as assisting Tuvalu in its efforts to build a resilient response system for the climate crisis, she said.
The two nations would soon sign several documents to enhance bilateral cooperation in law enforcement, providing training for diplomats and technology, she added.
Kofe in his address said that the two nations firmly believe in defending national sovereignty, the principles of democracy, regional peace and stability, and sustainable economic development.
Taiwan has been a faithful friend of Tuvalu since the latter's independence from the UK in 1979 and Taipei's partnership has been profoundly valuable to Tuvalu's economic growth, he said.
Tuvalu is deeply concerned about Beijing's campaign of harassment and menace directed against Taiwan, and the nation does not abandon its friends when confronted with adversity, Kofe said.
Comments will be moderated. Keep comments relevant to the article. Remarks containing abusive and obscene language, personal attacks of any kind or promotion will be removed and the user banned. Final decision will be at the discretion of the Taipei Times.