'Run, don't walk' toward goals, CEO tells graduates
WAY OF THE RUKAI: 'Values deemed worthy often exist amid discomfort, so when people go against the flow, nature becomes entwined with our lives,' a student said
"Run, don't walk" after your dreams, Nvidia cofounder and chief executive officer Jensen Huang (黃仁勳) told National Taiwan University (NTU) graduates yesterday, as several major universities held in-person graduation ceremonies for the first time since the COVID-19 pandemic.
"What will you create? Whatever it is, run after it. Run, don't walk. Remember, either you're running for food, or you are running from becoming food. Oftentimes, you can't tell which. Either way, run," he said.
Huang was one of several tech executives addressing graduating students at Taiwanese universities.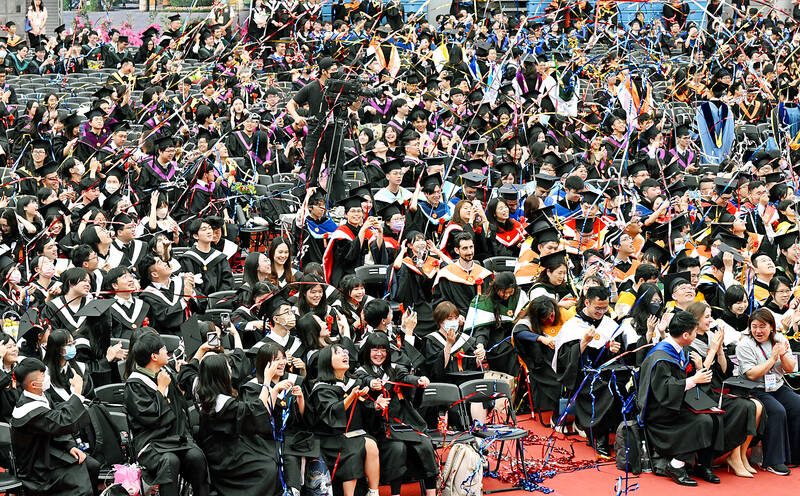 Students attend a graduation event at National Taiwan University in Taipei yesterday.
Photo: Liao Chen-huei, Taipei Times
National Chengchi University held two ceremonies, with alumnus Patrick Pan (潘先國), who is head of Taiwan and Hong Kong operations at Facebook owner Meta, speaking at the morning ceremony, while Pegatron chairman Tung Tzu-hsien (童子賢) addressed the afternoon session.
TUL Corp CEO Ted Chen (陳劍威) gave the commencement speech at National Taiwan University of Science and Technology (NTUST).
Chen, who is an alumnus of NTUST, encouraged the graduating students to be optimistic, calling it a way to process challenges while remaining calm.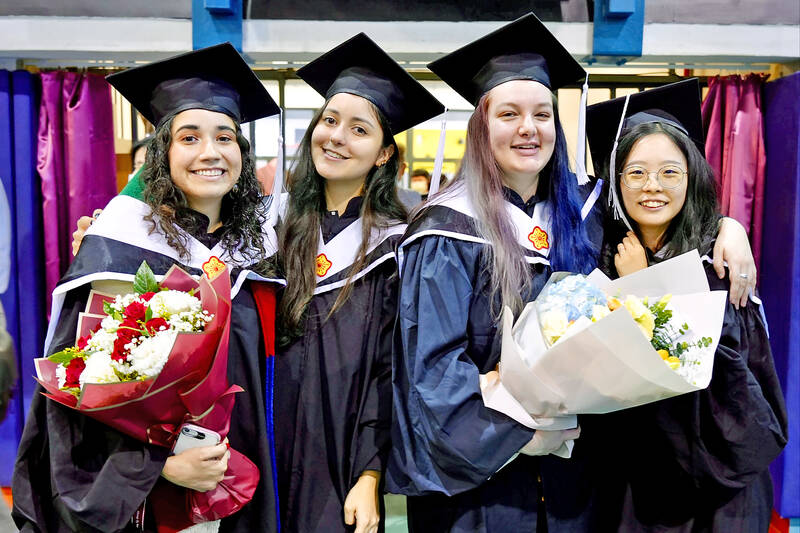 Students from National Chengchi University pose for a photograph at a graduation event in Taipei yesterday.
Photo courtesy of National Chengchi University via CNA
While many universities invited members of the tech industry to speak, National Taiwan Normal University asked Academia Sinica's Lee Fong-mao (李豐楙), a Taoist, to give its commencement speech.
Lee encouraged the institute's 4,469 graduating students not to be afraid to pursue uncommon or unpopular subjects and themes if pursuing a career in academics.
A devoted person can make their life unique, he said.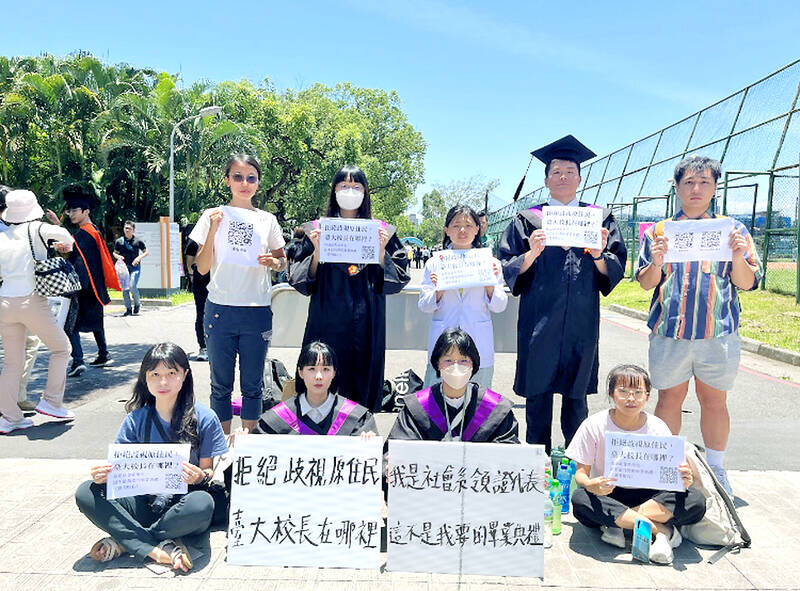 Graduates from National Taiwan University's Department of Sociology protest outside a graduation event at the university in Taipei yesterday.
Photo courtesy of graduates from National Taiwan University's Department of Sociology
At National Chi Nan University, student Dredrese Povili, who is of Rukai descent, quoted Rukai writer Avuinni Kadreseng in her graduation speech.
"Values that are deemed worthy often exist amid discomfort. Thus, when we go against the flow and reach the top of the mountain, no matter how difficult the process, nature becomes entwined with our lives," she said.
Hopefully, the message encourages graduating students to live by doing, trust in traditional wisdom and utilize modern technology to strengthen and reinforce connections with the land, Hsieh said.
At NTU, department of sociology students protested to express their dissatisfaction with university president Chen Wen-chang (陳文章) for not receiving students in person on Friday to hear complaints related to incidents involving discriminatory remarks made by some students.
The protesters refused to attend the graduation ceremony and instead stood outside holding signs reading: "This is not the graduation ceremony I want."
After the commencement, Chen told reporters that he supported the demands of the students, adding that he would bring up the issue at the university affairs committee on Saturday.
Respect for multiethnic groups and upholding a multiethnic society are part of being a democratic society, and people should not make comments, even in jest, if it means that others would be feel discriminated against, he said.
Comments will be moderated. Keep comments relevant to the article. Remarks containing abusive and obscene language, personal attacks of any kind or promotion will be removed and the user banned. Final decision will be at the discretion of the Taipei Times.