DPP councilors question Hou over corruption links
Democratic Progressive Party (DPP) councilors yesterday questioned New Taipei City Mayor Hou You-yi's (侯友宜) ties to a local politician who is in custody amid bribery allegations.
The Ministry of Justice's Investigation Bureau on Thursday conducted a series of raids and summoned 14 people for questioning, including former Shihding District (石碇) administrator Lee Hao-jung (李浩榕).
Lee and several other officials are suspected of contravening the Government Procurement Act (政府採購法) and the Anti-Corruption Act (貪汙治罪條例) by accepting bribes, leaking confidential information about public tenders and rigging public construction bids.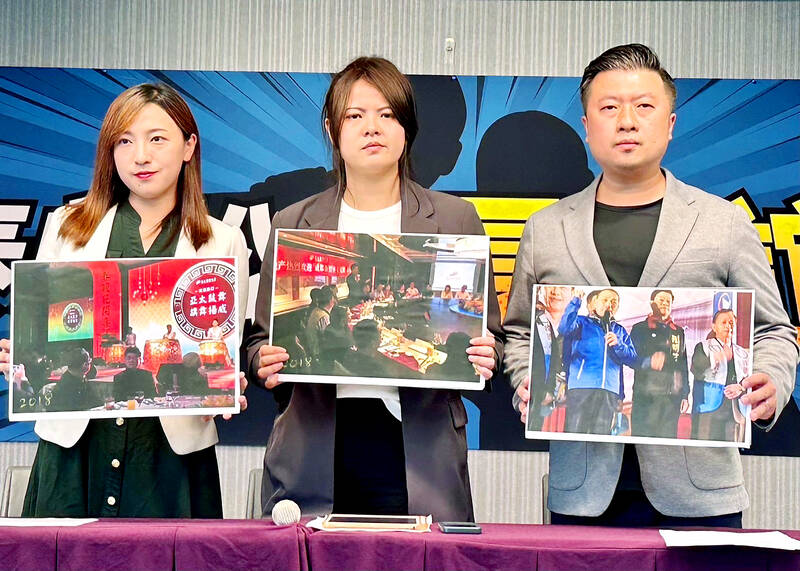 From left, Democratic Progressive Party (DPP) New Taipei City councilors Evalyn Chen and Tseng Po-yu, and DPP spokesman Chang Chih-hao hold a news conference in Taipei yesterday.
Photo courtesy of the DPP
As of yesterday, prosecutors had applied to detain Lee, while the 13 other local officials and contractors were released on bail.
Appointed by Hou to head the Shihding District Office, Lee is accused of colluding with contractors and asking for bribes on public projects during his tenure from June 2020 to January.
At a media briefing yesterday in Taipei, DPP New Taipei City Councilor Evalyn Chen (陳乃瑜) said that Hou, who is also the Chinese Nationalist Party's (KMT) candidate in next year's presidential election, might be embroiled in the corruption scandal given his close ties with Lee.
"When Hou was re-elected, he promoted Lee to a top adviser to New Taipei City's Environmental Protection Department, where he took charge and oversaw many public projects," she said.
Chen said Lee acted like a local overlord in Shihding, forcing his decisions on government programs, and when challenged, allegedly said that Hou trusts him and had granted him the authority.
"It is Hou who condoned his misconduct and corrupt practices," she said.
DPP New Taipei City Councilor Cho Kuang-ting (卓冠廷) said that Shihding has an annual budget of NT$130 million (US$4.23 million) for public projects.
"Lee, in collusion with contractors, siphoned money from these projects. There are numerous corruption cases in New Taipei City that are under investigation and will soon be made public," he said.
DPP New Taipei City Councilor Tseng Po-yu (曾柏瑜) said Hou and KMT Legislator Lo Ming-tsai (羅明才) might be embroiled in the NT$1.2 billion Asia Pacific International Property Co investment fraud scheme.
Showing pictures of Hou and Lo attending events organized by Asia Pacific International Property executive director Chin Chi-sung (秦啟松), Tseng said that many Taiwanese lost their life savings after trusting Chin's promises of huge profits from investing in real estate in the UK, Australia, China, Malaysia and Southeast Asia.
"Hou has said he is totally against corruption, yet he is embroiled in the Shihding District bribery and bid-rigging by Lee, and the NT$1.2 billion investment fraud scheme with Lo," Tseng said.
The scandal broke in 2018, with investigators raiding the company's offices and indicting six executives in 2020.
Hou responded that as the ruling party, the DPP is responsible for overseeing the justice system, but the public has only seen corruption, fraud rings and organized crime activities rise.
"Some criminals have revealed that they have good relations with politicians, and this pains the public. We ask that Vice President William Lai (賴清德) take responsibility for corruption and gangster-related crimes," he said.
Lai is the DPP's presidential candidate.
Comments will be moderated. Keep comments relevant to the article. Remarks containing abusive and obscene language, personal attacks of any kind or promotion will be removed and the user banned. Final decision will be at the discretion of the Taipei Times.