Legislature passes Indigenous Peoples' Health Act
The Indigenous Peoples Health Act (原住民族健康法), which seeks to address the shorter average lifespan of indigenous people through improved resources, passed its third reading at the legislature yesterday.
Ministry of the Interior statistics show that the average lifespan of indigenous people is 6.94 years shorter than the national average.
The act says that the difference might be due to lifestyle, environmental and biological factors creating health issues unique to indigenous communities, as well as lower levels of access to medical resources.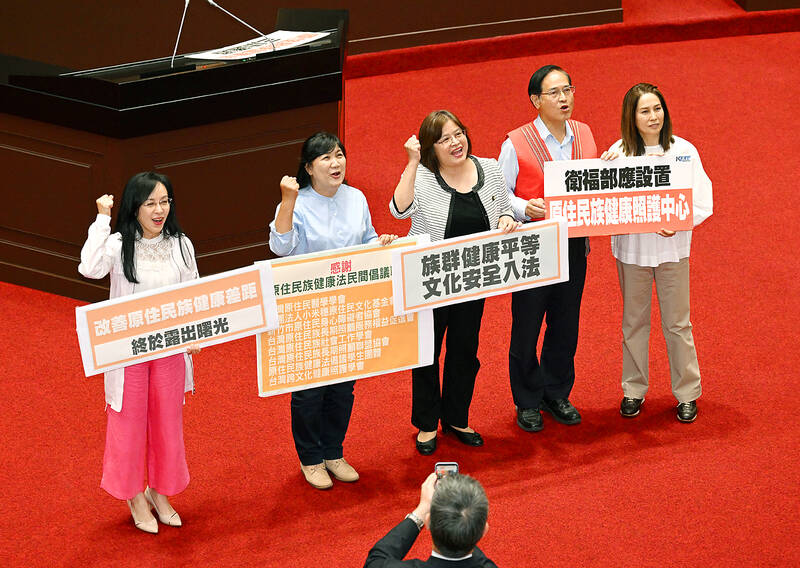 From left, legislators Chen Ying, Saidhai Tahovecahe, Wu Yu-chin, Sra Kacaw and May Chin celebrate the passage of the Indigenous Peoples Health Act at the legislature in Taipei yesterday.
Photo: Tien Yu-hua, Taipei Times
The act would require health officials to regularly investigate and study the health status and needs of people living in indigenous communities, build a health database for those communities and train healthcare personnel for their specific needs.
The Ministry of Health and Welfare would be required to "recruit representatives of indigenous peoples, representatives of relevant agencies and experts in the healthcare of indigenous peoples."
The act would require the health minister to convene meetings on policy issues related to indigenous people's health at which "no less than half of the members should be recognized as members of indigenous communities."
The act stipulates that the Ministry of Health and Welfare should cooperate with the Ministry of Education to maintain a specified number of publicly funded spots in medical training programs, "to ensure the provision of medical services in indigenous communities and to ensure an adequate number of properly trained healthcare personnel in those communities."
The education ministry should also encourage the inclusion in the curriculum of medical programs with content related to the specific health needs of indigenous communities, it says.
Recruitment at healthcare institutions in areas with indigenous populations should also give priority to candidates who are proficient in locally spoken indigenous languages, it says.
Comments will be moderated. Keep comments relevant to the article. Remarks containing abusive and obscene language, personal attacks of any kind or promotion will be removed and the user banned. Final decision will be at the discretion of the Taipei Times.