Taiwan-US science and tech dialogue hailed as a success
The inaugural Taiwan-US Science and Technology Cooperation Dialogue concluded in Taipei on Thursday with fruitful results, including a consensus on expanding collaboration in semiconductor and cancer research, the National Science and Technology Council (NSTC) said.
The event was the first high-level strategic dialogue between the two sides since the signing of the Agreement on Scientific and Technological Cooperation in December 2020, the NSTC said.
The event, jointly organized by the Ministry of Economic Affairs and the Ministry of Health and Welfare, included a meeting on Monday and seven science and technology seminars from Thursday last week until Thursday, the NSTC said at a news conference.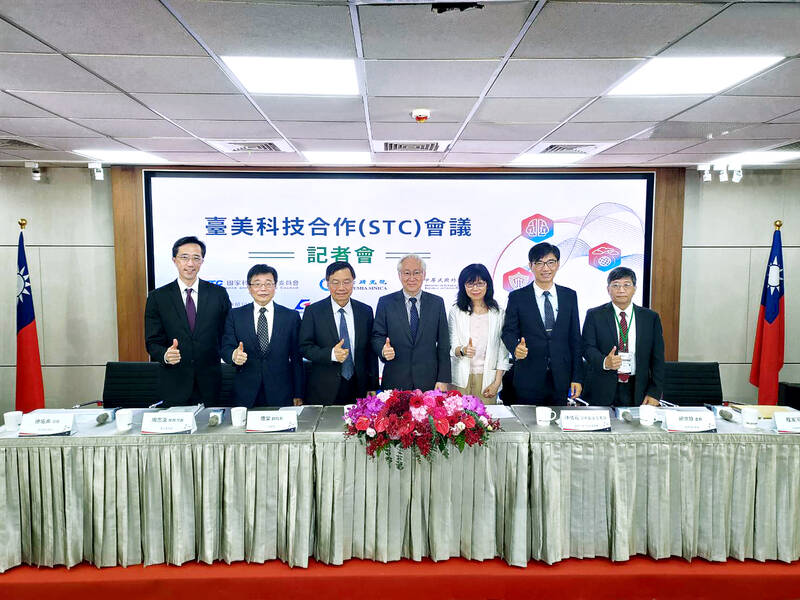 Taiwanese and US representatives attend the Taiwan-US Science and Technology Cooperation Dialogue in Taipei on Thursday.
Photo: Wu Po-hsuan, Taipei Times
During the event, scientists and experts from the US and Taiwan reached a consensus on promoting and expanding existing cooperation in semiconductor research and applications, as well as environmental modeling and research, the NSTC said.
The participants also agreed to the goal of the Cancer Moonshot 2.0 project, namely reducing major cancer death rates by at least 50 percent in the next 25 years in the two nations. Major types include lung, breast, liver and gastrointestinal cancer.
The two nations outlined priority areas of cooperation such as precision diagnosis and treatment, development of new approaches to treatment, novel medical materials and big data analysis, the NSTC said.
Minister of Science and Technology Wu Tsung-tsong (吳政忠) said that the NSTC is studying the feasibility of establishing a base in the US to cultivate integrated circuit design talent.
Comments will be moderated. Keep comments relevant to the article. Remarks containing abusive and obscene language, personal attacks of any kind or promotion will be removed and the user banned. Final decision will be at the discretion of the Taipei Times.