YouBike to offer NT$500 vouchers to hack victims
DATA COMPROMISED: Victims of scams in the name of the firm should register the case with police by tomorrow and ask for compensation from June 1 to 7
YouBike Co Ltd yesterday said it would offer NT$500 vouchers to all 40,593 people whose personal data were compromised by hackers last week.
The company said the voucher system for YouBike 2.0 was still being developed and would be available in September.
If any users have been the victim of a scam in the name of the company, they should register the case with police by May 28 and ask for compensation at the company's service centers from June 1 to 7, the company said, adding that compensation would be capped at NT$20,000.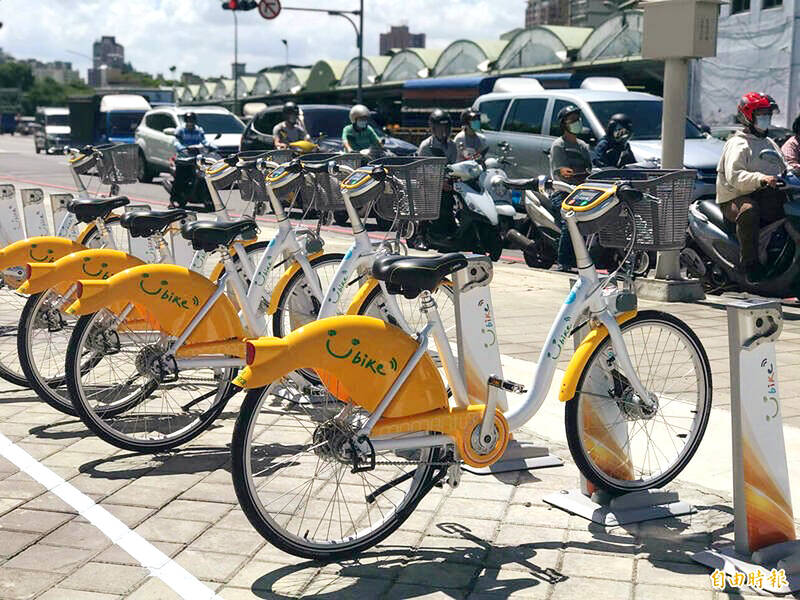 A YouBike 2.0 station in Kaohsiung is pictured on Tuesday.
Photo: Huang Liang-chieh, Taipei Times
The company said it sent texts to its users, urging them to change their passwords, adding that it has also added functions to its Web site that would block third-party attempts at identity verification to deter hackers, as well as updating the security parameters for passwords.
The individuals must present proof that the case has been reported to police, documentation or texts proving the time and date of the scam, the contents of the message, proof of payment and other documentation, the company said.
Overseas hackers infiltrated the company's systems on Wednesday last week and again in the early hours of Sunday, the bicycle-sharing company said in a news release at the time.
The hackers accessed the phone numbers of YouBike users and their passwords used for Web sites and platforms other than YouBike, and changed user e-ticket verification data and ride records, the company said.
The telephone numbers of the bike users — obtained via unknown means — were used to log in to the accounts using brute-force attacks, YouBike said.
To uphold members' right to privacy, the company has put out a statement on its Web site and on Wednesday bought ads in the Chinese-language Liberty Times (the sister newspaper of the Taipei Times), the United Daily News and the China Times to warn users about scams.
The company also sent texts to people who have used YouBikes within the past year to warn them of the heightened risk of being scammed.
The company said it would not telephone or send texts to users to apply for compensation or to ask them to wire money, adding that any unpaid bills should be resolved at the company's service centers.
The company warned users not to open links in e-mails or texts to prevent information phishing.
Comments will be moderated. Keep comments relevant to the article. Remarks containing abusive and obscene language, personal attacks of any kind or promotion will be removed and the user banned. Final decision will be at the discretion of the Taipei Times.