Paraguay eyes trade with China despite Taipei ties
Outgoing Paraguayan President Mario Abdo Benitez on Wednesday said the South American nation is open to trading with China, but would not give in to pressure to switch its diplomatic allegiance from Taiwan.
Benitez told the Qatar Economic Forum how Paraguayan president-elect Santiago Pena had committed to maintaining Paraguay's six-decade-old relations with Taiwan that China has increasingly sought to isolate.
Paraguay is the last South American nation to maintain ties with Taiwan.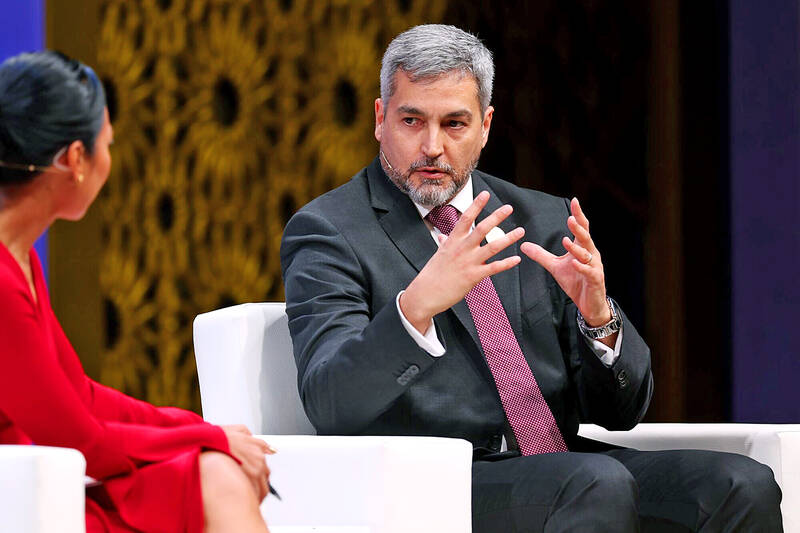 Paraguayan President Mario Abdo Benitez speaks at the Qatar Economic Forum in Doha on Wednesday.
Photo: Bloomberg
Honduras in March became the latest Central American state to switch after Panama, El Salvador, Dominican Republic and Nicaragua in recent years.
Big companies in Paraguay and the main opposition candidate urged a change during the campaign for last month's election so that the country can get access to China's vast market.
However, Benitez said he changed Paraguay's "strategic alliance" with Taiwan after taking office in 2018 and there had since been a huge increase in trade.
"Before there was only cooperation between Paraguay and Taiwan. Now we have changed the strategy ... and we moved forward in a more complementary strategic alliance," he told the forum, speaking in English.
He said trade with Taiwan had increased by 500 percent during his term and if this continued "we can have enough arguments to defend our strategic alliance with Taiwan."
Benitez said the next government could bring increased Taiwanese investment.
However, he added Paraguay could still take advantage of any trade deal that the Mercosur South American trade bloc strikes with China.
Brazilian President Lula Inacio Lula da Silva has said Mercosur should make it a priority.
"We are not against doing business with anybody, but we believe that our diplomatic relations should stay firmly with Taiwan," Benitez said.
"But through Mercosur we can do business with anybody in the world. It is not that Paraguay does not want to do business with anybody," he said.
"It is the other party that does not want to do business unless we change our diplomatic status. If we can use Mercosur to open our market we do not have any kind of problem of doing that," he added.
China has offered huge commercial incentives to other countries that have switched relations.
Comments will be moderated. Keep comments relevant to the article. Remarks containing abusive and obscene language, personal attacks of any kind or promotion will be removed and the user banned. Final decision will be at the discretion of the Taipei Times.