F-16 delivery delayed to next year: US Air Force
Delivery of Taiwan's first new F-16 jets built by Lockheed Martin Corp has been delayed by problems deeper than the COVID-19-related supply chain issues cited previously, the US Air Force said.
"Complex developmental challenges" have been encountered, and the US government, Taiwan and Lockheed "are actively working to mitigate these delays," said an air force statement flagging the previously undisclosed technical issue without elaboration. "We are committed to do everything we can to find solutions to deliver these aircraft, fully capable, to our partners as soon as possible."
The F-16 has been in service since 1979, and Taiwan already has older models. The latest "Block 70" fighters are equipped with a "fire control radar" made by Northrop Grumman Corp that is designed to allow the firing of precision-guided munitions from greater distances.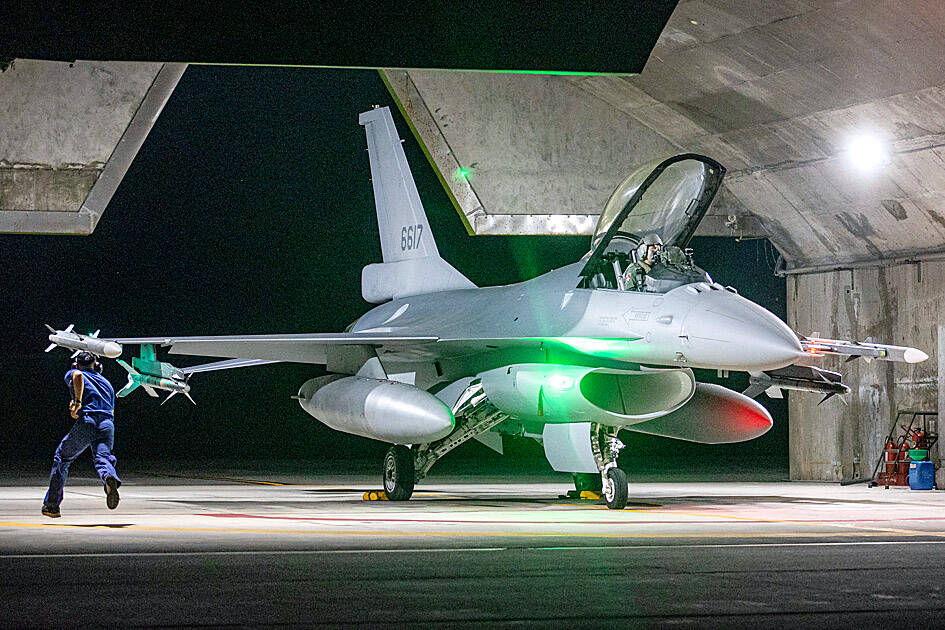 Air force personnel perform a drill with an F-16V fighter jet at an air base in Hualien County on Aug. 17 last year.
Photo: CNA
The first Block 70 flew in January, and Bahrain, another Block 70 customer, has taken delivery of its first jet.
The first two — out of 66 of the new F-16s for Taiwan in a potential US$8 billion package — were to be delivered between October and December, but that has slipped to between July and September next year, Taiwanese officials said this month.
They said the US attributed the delay to COVID-19-related supply chain issues.
The Ministry of National Defense said in a statement that the order is being "actively handled by the US to help with shipment and delivery schedule."
The delivery of all 66 planes would still be completed by 2026 as planned, it said.
Some of the new Block 70 fighters "have been flying for five months, and Bahrain's aircraft have rolled off the line and have begun deliveries, so there's probably a Taiwan-specific equipment issue at work here," said Richard Aboulafia, a managing director at AeroDynamic Advisory, an aviation consultant group.
The US Air Force and Lockheed declined to say whether the "development challenges" are also affecting the newest F-16s being sold to Bahrain, Jordan, Slovakia, Morrocco and Bulgaria.
US lawmakers have criticized a potential US$19 billion backlog of US military contracts for Taiwan, a sensitive matter as tensions grow over the possibility that China might invade Taiwan.
However, US Undersecretary of Defense William LaPlante told an industry conference in March that a large part of the backlog "is the production line of the F-16," not because it is slow, but because prior orders must be filled.
The new F-16s are being assembled at Lockheed's Greenville, South Carolina, facility.
Informed of the technical issue, senior US Department of State and Pentagon officials "immediately reached out to Lockheed Martin" and traveled to the Greenville site "to meet directly with company executives to discuss this problem," the air force said.
Lockheed spokeswoman Liz Lutz said in a statement that the company is working "closely with the US government to address challenges in support of US security objectives."
Comments will be moderated. Keep comments relevant to the article. Remarks containing abusive and obscene language, personal attacks of any kind or promotion will be removed and the user banned. Final decision will be at the discretion of the Taipei Times.