DPP blasts KMT over its war and peace narrative
'WARMONGERS'? No political party or country wants war, an academic said, criticizing the KMT's tactic of painting a vote for the DPP as a vote for war
Rejecting Chinese Nationalist Party (KMT) accusations that the nation's leaders are "warmongers," the Democratic Progressive Party (DPP) yesterday said that the source of conflict is Beijing's intimidation and threats that it would invade Taiwan.
DPP spokeswoman Hsieh Pei-fen (謝佩芬) reiterated the party's core stance that "peace is the only choice," and accused the KMT of being cowards for not daring to criticize China over its threats of going to war against Taiwan.
Hsieh was responding to KMT members labeling President Tsai Ing-wen (蔡英文) and Vice President William Lai (賴清德), the DPP's candidate for next year's presidential election, as "warmongers" who are provoking a military conflict with China.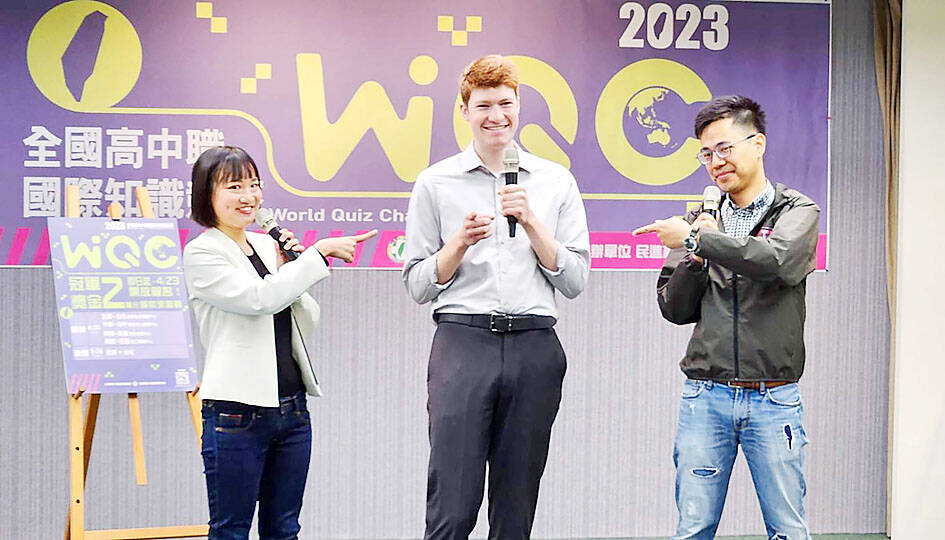 Democratic Progressive Party spokeswoman Hsieh Pei-fen, left, attends a news conference in Taipei on April 20.
Photo: CNA
"KMT members are conspiring with Beijing, using talk of war to intimidate Taiwanese. They are trying to force the public to accept its 'one China' principle, with its pretense of peace, and falsely portraying the upcoming elections as a choice between war and peace," she said.
The KMT is obscuring the real issue by kowtowing to China and accepting its "one China" principle and the so-called "1992 consensus" — both of which the KMT's presidential candidate — New Taipei City Mayor Hou You-yi (侯友宜) — dared not deny.
"We all know that China is the main reason for the instability and potential military conflict in the region — and not the DPP government," she said.
She said that a statement issued at the G7 leaders' meeting in Hiroshima, Japan, called for a "peaceful resolution" of China's claim to Taiwan.
The statement also expressed serious concern that "Beijing has been expanding its military presence and threatening to use force to exert its control" over Taiwan, that "there was no legal basis for China's expansive maritime claims in the South China Sea" and that they "oppose China's militarization activities in the region."
"It is regrettable that the KMT, although based in Taiwan, is afraid to face reality. It only makes false accusations to smear the DPP, but does not have the guts to criticize Beijing," she said.
At a news briefing earlier yesterday at KMT headquarters, KMT Legislator Lee De-wei (李德維) said the presidential election is a choice between war and peace, with the DPP gunning for war, while the KMT stands for peace.
During the KMT's administration, "when Ma Ying-jeou (馬英九) was the president, we had very warm relations and good interactions with China. There was no fear then of war breaking out and young people did not have to contend with a longer mandatory military service," he said.
KMT deputy secretary-general Lee Yen-hsiu (李彥秀) claimed that Tsai and Lai had previously spoken of the "inevitability of war" to scare the public and thereby extend military service to one year.
"Tsai and Lai are peddling war, profiting on the public's fear," he said.
Political scientist Wang Hung-jen (王宏仁) of National Cheng Kung University said that it is natural that people would choose peace over war, which is why the KMT has been focusing its campaign on this issue.
"The KMT is framing the upcoming elections as a choice between war and peace to mislead the public. It is implying that a vote for the DPP would be a vote for war, while a vote for the KMT would be a vote for peace. But this is erroneous as no political party or country would want war — even the US," he said.
"The real issue is that you have no choice in war, that it could be imposed from the outside, just like Russia invading Ukraine," he added.
"Taiwan has bolstered its national defense, working to reform the armed forces and has an ongoing military cooperation with US. All these are concrete plans to prevent war," he said. "The KMT has repeatedly accused the ruling party of provoking China, but it cannot show any concrete example of the [DPP] doing so."
Comments will be moderated. Keep comments relevant to the article. Remarks containing abusive and obscene language, personal attacks of any kind or promotion will be removed and the user banned. Final decision will be at the discretion of the Taipei Times.