YouBike's plan for hack compensation, cybersecurity due
YouBike Co was given until today to draw up a plan to improve its cybersecurity and compensate the 40,593 people whose personal data was compromised in last week's hacks, the Taipei Department of Transportation said on Tuesday.
Overseas hackers infiltrated the company's systems in the evening on Wednesday last week and again in the early hours on Sunday last week, the bicycle-sharing company said in a news release at the time.
The hackers accessed the cellphone numbers of YouBike users and their passwords used for Web sites and platforms other than YouBike, and changed user e-ticket verification data and ride records, the company said.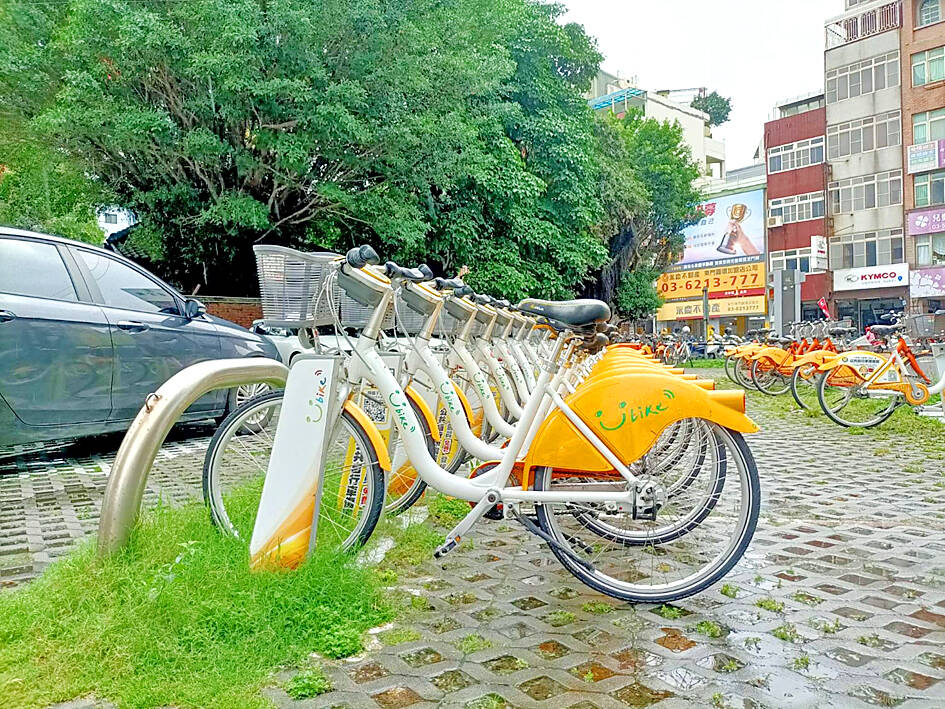 YouBike 2.0 system bicycles are pictured at a rental station in Hsinchu City on Saturday.
Photo: CNA
The cellphone numbers of the bike users — obtained via unknown means — were used to log in to the accounts using brute-force attacks, YouBike said.
The company said it changed the passwords of the users affected by the breach and sent text messages to inform them of the incident.
YouBike shut down its platform on Sunday and forced all users to log out before instituting stronger password requirements and a robot verification test, it said, adding that services were restored the following day.
YouBike users need to use the forgotten password function on the official Web site to set new passwords and gain access to their accounts, it said.
The firm urged users to refrain from using easy passwords such as birth dates or phone numbers, or a password that was previously used on another platform.
YouBike does not call people to verify personal information or ride records, demand that payments be made in person, offer membership bonuses or upgrades, or send e-mails demanding that they make wire transfers, it said.
Fees for using the bicycle-sharing service are paid only at physical service points such as bike meters and customer service centers, it said.
Comments will be moderated. Keep comments relevant to the article. Remarks containing abusive and obscene language, personal attacks of any kind or promotion will be removed and the user banned. Final decision will be at the discretion of the Taipei Times.