Students accused of using devil's ivy to poison classmate
The Taichung City Government has said that it is investigating an alleged poisoning of an elementary-school student by their classmates using sugar water laced with devil's ivy.
The Taichung Education Bureau confirmed on Saturday that it received a report on May 11 that a student experienced dizziness, nausea and stomach pain after ingesting sugar water laced with the common houseplant.
China Medical University Hospital Department of Toxicology director Hung Tung-jung (洪東榮), who treated the student, said he suspected prolonged exposure to toxins from the plant, which is also known as golden pathos.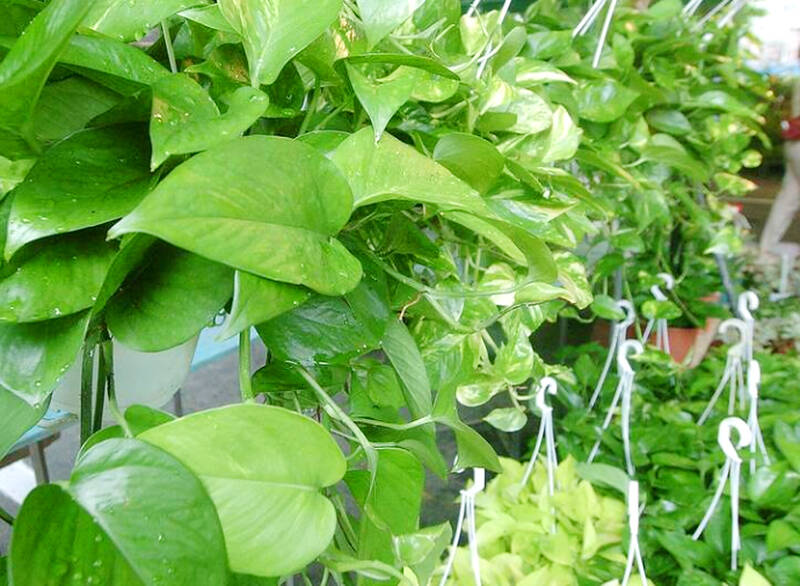 A devil's ivy plant is pictured in an undated photograph.
Photo: Taipei Times file
In a post on the online forum Dcard that has since been deleted, a user accused "Student A" of poisoning "Student R" with the intent to kill over an argument.
Although a teacher attempted to mediate, Student A found three classmates to help them poison Student R late last month, the post said.
Through online research they decided on either devil's ivy, Asian taro or oleander, and chose one at random, it said.
The post then said that the four students made a juice from the plant mixed with sugar and added it to Student R's water bottle.
Initially suspecting food poisoning, the teacher held a meeting with Student R's parents and the school before finding a bottle with the mixture under Student A's desk the next day, the post said.
Both sets of parents on May 11 informed the police, who confirmed receiving the report, but forwarded the case to the bureau, as minors younger than 12 are not criminally liable.
The bureau said that the school has spoken with the students involved, while the parents have filed numerous bullying and gender discrimination complaints with the school.
Asian taro and devil's ivy are in the Araceae family of plants, which contain calcium oxalate crystals and saponins, Taichung Veterans General Hospital Department of Toxicology doctor Mao Yen-chiao (毛彥喬) said.
The crystals can cause redness and mild pain if touched, and can cause mouth sores, throat pain, abdominal pain and diarrhea if ingested, Mao said.
Comments will be moderated. Keep comments relevant to the article. Remarks containing abusive and obscene language, personal attacks of any kind or promotion will be removed and the user banned. Final decision will be at the discretion of the Taipei Times.