Mask rule to be extended for three types of venues
VIGILANCE: The mask mandate would remain in effect at healthcare facilities, healthcare-related institutes and senior welfare facilities due to high infection risks there
The mask mandate would be extended next month for three types of venues, the Centers for Disease Control (CDC) said yesterday as it reported that the average daily number of hospitalized COVID-19 cases increased by more than 30 percent last week.
Local COVID-19 cases last week rose to an average of 204 daily hospitalizations, an increase of 32.5 percent from the previous week, CDC Epidemic Intelligence Center Director Guo Hung-wei (郭宏偉) said.
The number of prescriptions for oral anti-viral drugs to treat COVID-19 also increased to 23,503 courses — 17,424 courses of Paxlovid and 6,079 courses of molnupiravir.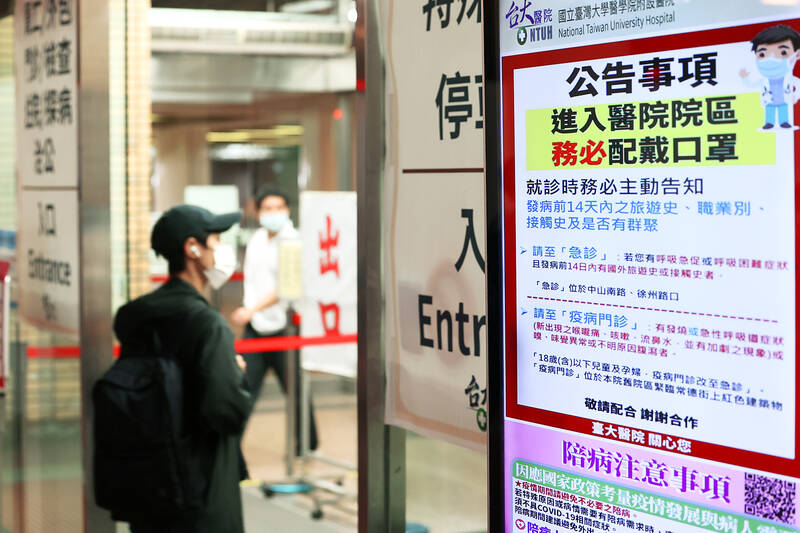 A sign announcing a mask mandate hangs at the entrance to the National Taiwan University Hospital in Taipei yesterday.
Photo: CNA
The average positivity rate from regular tests at residential care facilities rose from below 0.6 percent early last month to 1.5 percent last week, he said.
Guo said that the Omicron XBB subvariant of SARS-CoV-2 accounted for 48 percent of the sequenced local cases last week, becoming the dominant variant in Taiwan, followed by Omicron BA.2.75, accounting for 45 percent.
An analysis of hospitalized COVID-19 cases reported between March 20 and Wednesday last week showed that 4,876 of them were elderly people aged 65 or older, with an average age of 82.
The data showed that 37.8 percent of them were unvaccinated and 61 percent did not take oral anti-viral drugs, while 9.7 percent had died, he said.
The fatality rate from serious COVID-19 complications among elderly people who received one or more booster vaccine dose was lower than among those who were unvaccinated or had only received one or two vaccine doses, Guo said, adding that the trend was particularly prevalent among people aged 85 or older.
"We urge elderly people who have not received a booster shot against COVID-19 to get one and also to seek medical attention when suspected symptoms occur," he said.
The risk of death from serious COVID-19 complications in elderly people who did not get a booster shot is 1.81 times as high as in those who received one; and 2.11 times of those who did not take oral Paxlovid, compared with those who did.
CDC Deputy Director-General Tseng Shu-hui (曾淑慧) said starting from today, elderly people would be offered a gift of up to NT$500 if they get their first, second or booster dose of a COVID-19 vaccine.
She said that as COVID-19 cases are increasing, and healthcare facilities and healthcare-related institutes have higher infection risks, and senior welfare facilities mostly take care of people who are at a higher risk of severe illness or death, the mask mandate at these venues would be extended after Wednesday next week.
Healthcare facilities include hospitals and clinics; healthcare-related institutes include pharmacies, medical laboratories, medical imaging centers, physical therapy centers, occupational therapy centers, pregnancy clinics, psychiatric rehabilitation facilities, homecare nursing centers; while senior welfare facilities include senior long-term care centers and senior nursing homes.
The mask mandate would be lifted at some venues, including ambulances, other types of long-term care centers, veterans' homes, child and adolescent protection facilities, and supported care facilities for people with disabilities after Wednesday next week, but masking is still recommended, Tseng said.
Regular COVID-19 testing at residential care facilities would also be extended to June 30, she added.
The CDC yesterday said there were 72,136 hospital visits for flu-like illnesses last week, an increase of 5.2 percent compared with the previous week, and 18 serious flu complications and two flu-related deaths were confirmed last week.
Tseng said the local flu outbreak is expected to continue into next month, so expanded eligibility for anti-flu drugs would be extended until June 30.
Comments will be moderated. Keep comments relevant to the article. Remarks containing abusive and obscene language, personal attacks of any kind or promotion will be removed and the user banned. Final decision will be at the discretion of the Taipei Times.