CDC denies embezzling vaccine funds
'CROSSED THE LINE': Former health minister Chen Shih-chung and a lawyer for former premier Su Tseng-chang filed a defamation complaint against Wu Tzu-chia
The Centers for Disease Control (CDC) yesterday denied political commentator Wu Tzu-chia's (吳子嘉) accusation that the government had embezzled funds during the procurement of Pfizer-BioNTech COVID-19 vaccines.
Wu, in an online live broadcast on Saturday, accused government agencies led by former premier Su Tseng-chang (蘇貞昌) and former minister of health and welfare Chen Shih-chung (陳時中) of having embezzled US$100 million during the procurement of the vaccines.
The vaccine procurement contract was ordered to be kept confidential for 30 years, because the government wanted to hide the alleged embezzlement, Wu said.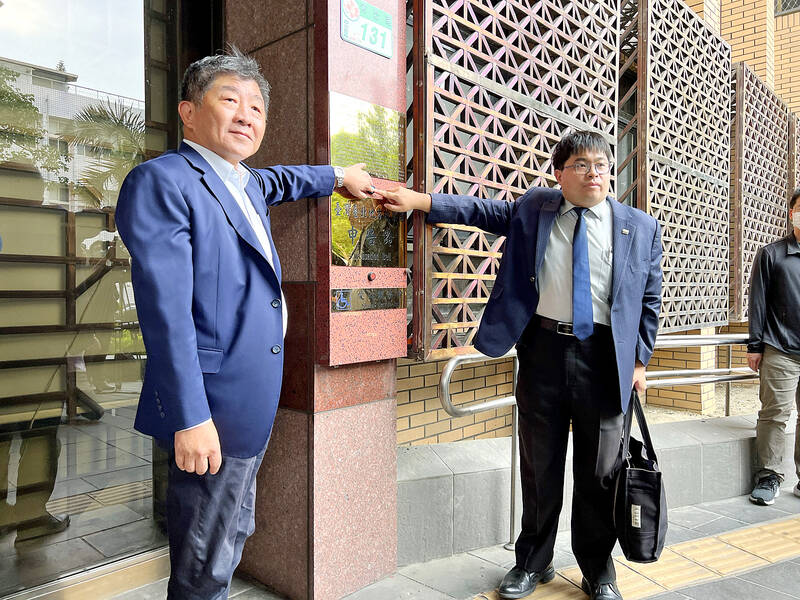 Former Minister of Health and Welfare Chen Shih-chung, left, and attorney Huang Di-ying press the bell at the Taipei District Prosecutors' Office yesterday.
Photo: Chien Li-chung, Taipei Times
The CDC yesterday said the claims "are completely inconsistent with the facts. The procurement process was executed according to the law, with absolutely no illegal conduct."
The government negotiated with German vaccine developer BioNTech in January 2021, but did not reach an agreement, so it did not make any down payment, the agency said, questioning Wu's motivations for spreading misinformation.
The CDC said it has repeatedly clarified that vaccine procurement agreements are deemed important government documents that must be preserved for at least 30 years, not kept confidential for 30 years.
The duration of the confidential agreement signed with Pfizer-BioNTech is 10 years, it added.
Deputy Minister of Health and Welfare Victor Wang (王必勝) said it is not the first time Wu has spread rumors about the procurement of COVID-19 vaccines.
His claims are "illogical and baseless," it said, adding that the Ministry of Health and Welfare is considering whether to take legal action against him.
Chen, who led the now-defunct Central Epidemic Command Center (CECC) during the COVID-19 pandemic, on Sunday wrote on Facebook that Wu has repeatedly slandered him, ignoring the facts and the law.
Wu's "vicious" remark accusing him of having embezzled US$100 million has crossed the line of commenting on public affairs, Chen said.
The Taipei District Prosecutors' Office last month concluded investigations and signed off 62 cases related to vaccine procurement, including many complaints filed against him, Chen added.
The office said that it has found no unlawful actions in any of the cases, he said, adding that Wu is spreading rumors to attract attention.
Chen and Huang Di-ying (黃帝穎), an attorney commissioned by Su, filed a defamation complaint against Wu at the Taipei District Prosecutors' Office.
Huang said they would also file a civil suit seeking NT$10 million (US$326,632) in compensation from Wu, adding that the money would be donated to social welfare groups should they win the suit.
During the pandemic, many media personalities such as Wu, as well as political figures, have taken advantage of public fear and fabricated or spread disinformation about vaccine procurement efforts or disease prevention policies, causing unnecessary problems for the CECC's operations, he said.
Additional reporting by Chien Li-chung
Comments will be moderated. Keep comments relevant to the article. Remarks containing abusive and obscene language, personal attacks of any kind or promotion will be removed and the user banned. Final decision will be at the discretion of the Taipei Times.