China rapidly boosting naval capabilities: expert
GROWING FAST: China continues to outpace the US in its production and commissioning of ships, as it seeks to expand 'far seas operations,' an ex-US Navy captain said
China continued to increase its naval capacity last year, indicating that it is seeking to bolster its ability to invade Taiwan, a retired US Navy captain said.
In an article published in this month's issue of the US Naval Institute's Proceedings magazine, retired US Navy Captain James Fanell wrote that China commissioned 10 warships and one submarine last year, and the Chinese People's Liberation Army Navy (PLAN) was continuing to commission the most annual tonnage globally, as it has done for at least the past five years.
The PLAN is also outproducing the US Navy in total number of ships, tonnage and supersonic anti-ship cruise missiles, with the outlook for Chinese production and commissioning this year on track to exceed the previous year, he said.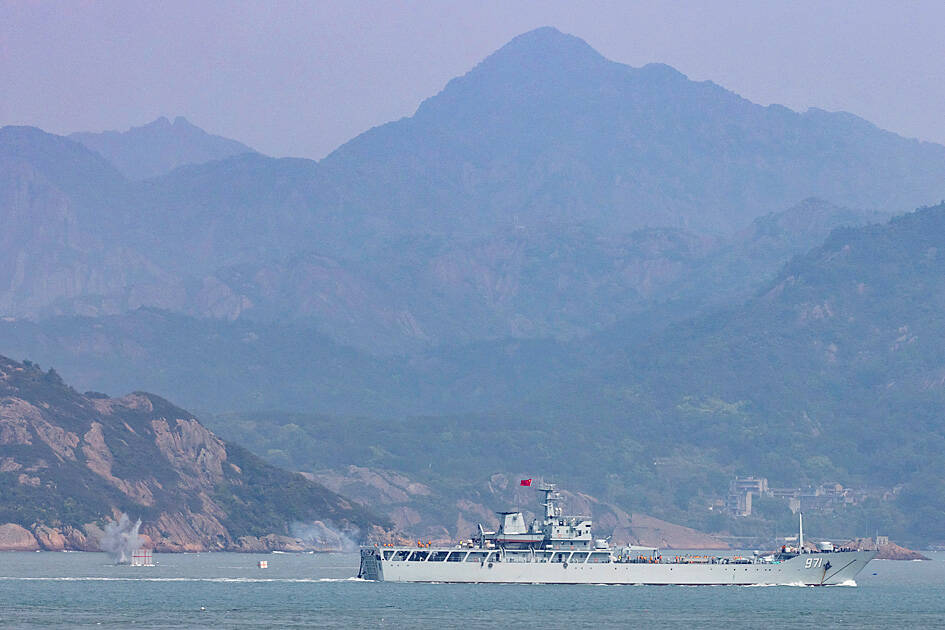 A Chinese warship fires toward the shore during a military drill off Fuzhou, China, near Taiwan's Lienchiang County on April 8.
Photo: Reuters
The highlight of China's shipbuilding last year was the launch of its third and "most technologically advanced aircraft carrier," the 80,000 tonne Type 003 Fujian, he said.
Hailing the carrier as the largest warship built by an Asian country, Fanell said that in 10 years, China had gone from having no aircraft carriers to having three in the water.
The 50,000 tonne Liaoning and Shandong have been assessed as fully operational, while the Fujian is set to conduct official sea trials later this year, he said.
These efforts highlight the PLAN's expanded "far seas operations," with its carriers sailing outside the first island chain, he said.
With China's "Taiwan-focused combined arms firepower exercise" and increased joint operations with Russia and others, the PLAN has demonstrated "why it may be the most dominant naval force in the western Pacific and is able to execute all orders — including the increasing likelihood of an invasion of Taiwan," he said.
During China's live-fire exercises in August last year that followed a visit to Taiwan by then-US House of Representatives speaker Nancy Pelosi, the PLA tested its joint force operations "by employing coordinated use of missile, space, cyber, air, army and naval forces designed to isolate Taiwan and minimalize coastal resistance to invasion forces," he said.
Chinese President Xi Jinping (習近平) has repeatedly said he is preparing for war, Fanell said.
"Given the PLAN's production and activities in 2022, if Xi is asking Central Military Commission leaders if the PLA is prepared to invade Taiwan, the most probable answer will soon be yes," he said.
Fanell was a career naval intelligence officer in posts such as senior intelligence officer for China at the Office of Naval Intelligence and the chief of intelligence for CTF-70, the US Seventh Fleet and the US Pacific Fleet.
He retired from the navy in 2015 and is a government fellow at the Geneva Centre for Security Policy in Switzerland.
Comments will be moderated. Keep comments relevant to the article. Remarks containing abusive and obscene language, personal attacks of any kind or promotion will be removed and the user banned. Final decision will be at the discretion of the Taipei Times.