Foreign minister Wu pans Musk for Taiwan remarks
PRESSURE POINT: Beijing might seek to lean on Musk to prevent his SpaceX from providing Taiwan access to its Starlink satellite system, 'The Economist' said
Minister of Foreign Affairs Joseph Wu (吳釗燮) called out Elon Musk on Twitter, saying the value of democracy transcends that of money after the Tesla CEO said that China was likely to "integrate" Taiwan.
Asked in an interview with CNBC on Tuesday last week if "China would make a move to take control of Taiwan," Musk said that "the official policy of China is that Taiwan should be integrated... One does not need to read between the lines."
"There is a certain inevitability to the situation," he added.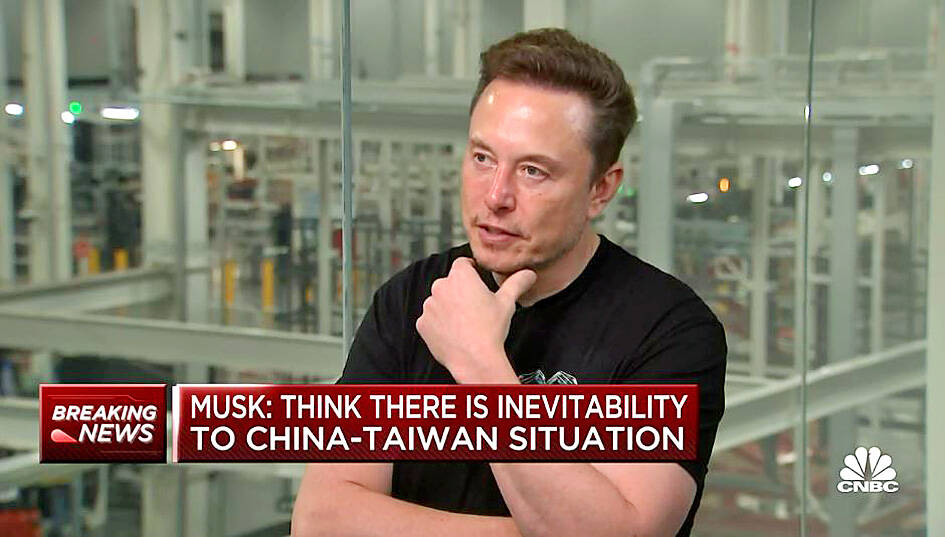 Tesla CEO Elon Musk speaks during an interview with CNBC aired on Tuesday last week.
Photo: screen grab from CNBC
"That is their policy, and I think you should take their word seriously," Musk said.
Regarding whether such a move by China would be bad for Tesla, Musk said that the Chinese economy and the global economy are like conjoined twins and any attempt to separate them would affect them both.
Responding to Musk's comments, Wu on Friday wrote on Twitter that the Chinese Communist Party's "bullying & threats are a concern, especially for those who would rather stay free & democratic."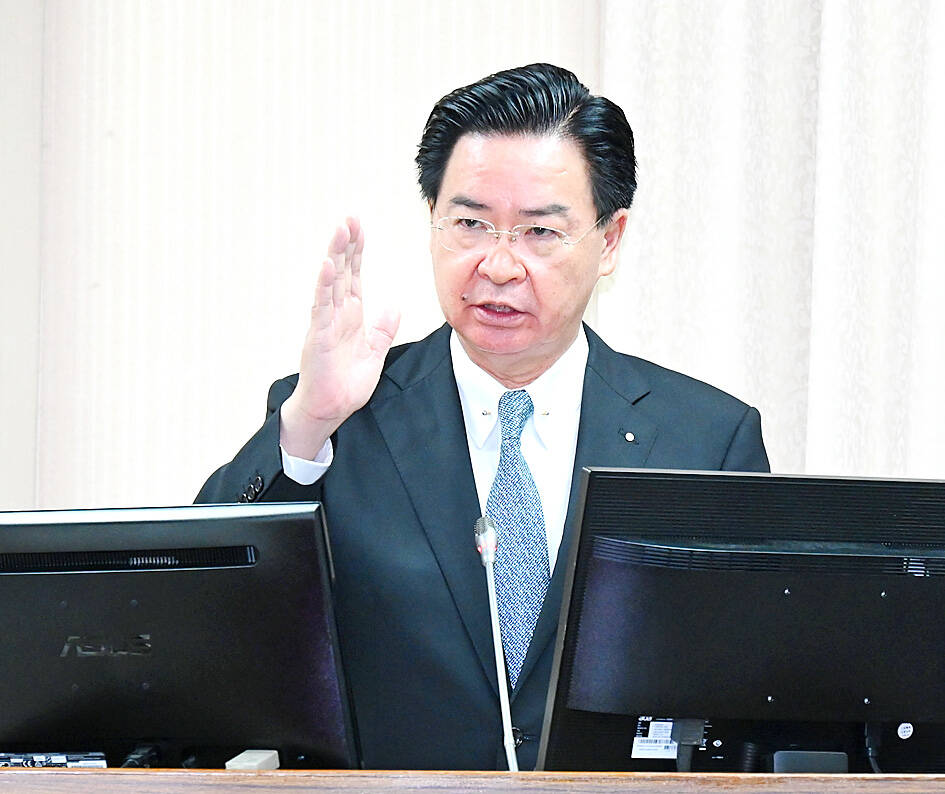 Minister of Foreign Affairs Joseph Wu speaks at a meeting of the legislature's Foreign Affairs and National Defense Committee in Taipei yesterday.
Photo: Chu Pei-hsiung, Taipei Time
Beijing's global expansion undermines the rules-based international order and "status quo," he added.
"Mr. @ElonMusk, other than money, there is something we call VALUES," he wrote on the Ministry of Foreign Affairs' Twitter account.
The post has so far received more than 130,000 views and hundreds of responses, with some commenters praising Wu for speaking out, saying they believe Musk only cares about his own interests.
Other commenters said they believed Musk was only expressing the thoughts of the business community and that Taiwan would never boycott Tesla.
Among them was Mark Simon — previously the personal assistant of Jimmy Lai (黎智英), the jailed founder of Hong Kong's Next Digital, formerly Next Media — who said that taking on Musk was a "bad fight to pick."
Separately, a report published by The Economist on Thursday said that from the perspective of China, the Starlink satellite Internet system provided to Kyiv by Musk's Space Exploration Technologies Corp (SpaceX) not only puts Russia at a disadvantage in its war with Ukraine, but also raises concerns about Taiwan.
If SpaceX gave Taiwan access to the system, it would make a Chinese invasion much more difficult, it said.
Analysts say that if China invaded Taiwan, it could start by severing the 14 undersea Internet cables that keep the country connected to the world, the report said, adding that Taiwan is adding cables and planning how to defend its landing points.
The government is also testing antennae in 700 locations, including outside Taiwan, that would be able to send and receive signals from low Earth orbit satellites, like the ones Starlink uses, The Economist said.
Although China has the capability to shoot down satellites, the Starlink network is made up of more than 4,000 satellites and aims eventually to have tens of thousands.
As such, China might have more success leaning on the SpaceX CEO to deny Taiwan access to Starlink, given that Musk's other major venture, Tesla, has a large factory in Shanghai, The Economist said.
Comments will be moderated. Keep comments relevant to the article. Remarks containing abusive and obscene language, personal attacks of any kind or promotion will be removed and the user banned. Final decision will be at the discretion of the Taipei Times.