Ko announces campaign
Taiwan People's Party (TPP) founder and Chairman Ko Wen-je (柯文哲) yesterday vowed to end political wrangling and extend goodwill to China, as he officially launched his campaign for next year's presidential election.
Ko told a news conference in New Taipei City's Tamsui District (淡水) that he was determined to run for president because he believed that the country should be united, not divided, that it should be a facilitator of dialogue, not a "chess piece" between the US and China, that it should be Ilha Formosa, a beautiful island, rather than "the most dangerous place on Earth," as described by The Economist.
The former Taipei mayor spent the majority of his speech slamming the policies of the Democratic Progressive Party (DPP), which he said has been unable to address shortages of energy, water, labor, land and professionals, which had plunged young people into despondency.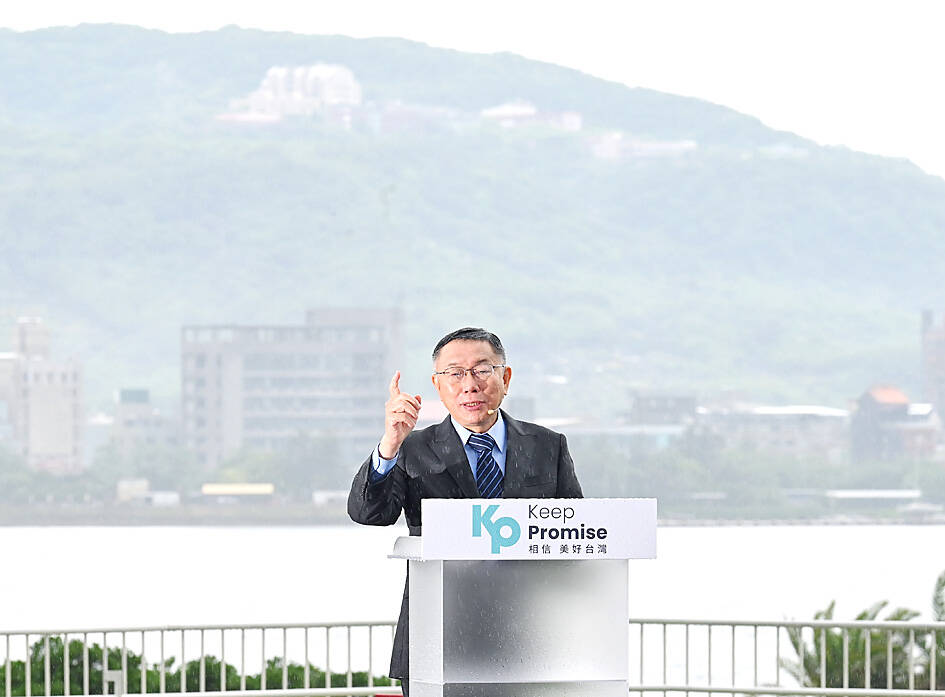 Taiwan People's Party chairman and its presidential candidate Ko Wen-je speaks at a news conference in New Taipei City's Tamsui District yesterday.
Photo: Liu Hsin-de, Taipei Times
He said there has been a lack of fiscal discipline in budgeting for the Forward-looking Infrastructure Development Program, and in bailing out businesses and people whose finances were affected by COVID-19.
There has been a lack of concrete action in pushing for judicial reform and the establishment of an "e-government," he said.
The DPP seems powerless when tackling the low birthrate and aging population, Ko said, adding that it has not put forward any plans to cushion the effects of its goal to transform Taiwan into a carbon-neutral country by 2050.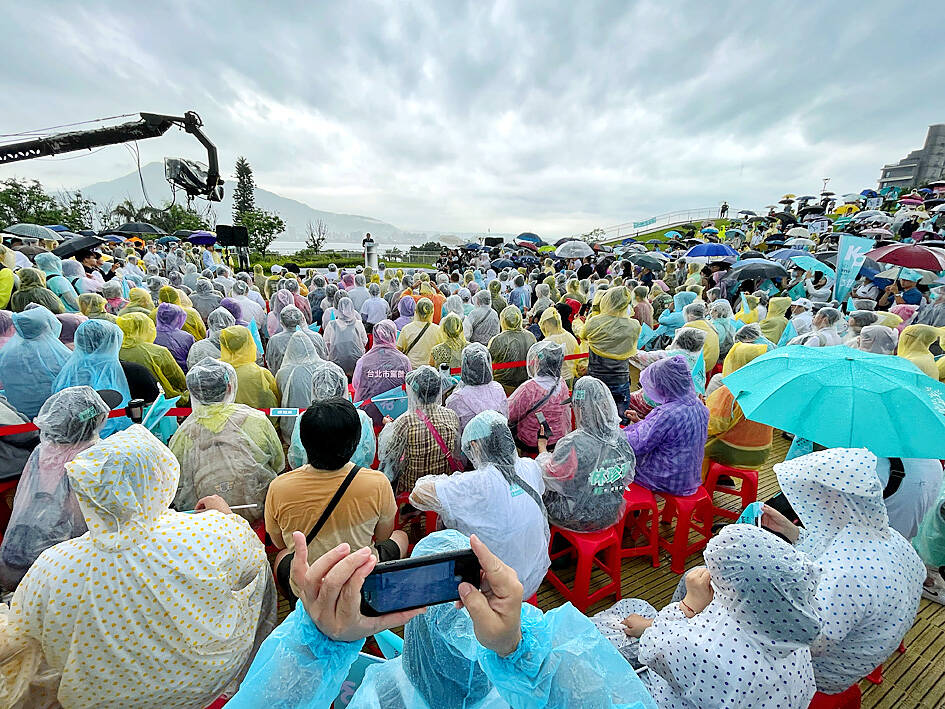 People attend an event by Taiwan People's Party chairman and presidential candidate Ko Wen-je in New Taipei City's Tamsui District yesterday.
Photo: Liu Hsin-de, Taipei Times
On cross-strait policies, Ko said he would work to restore communication channels between Taiwan and China on the condition that Taiwan's free and democratic political system and way of life are maintained.
Ko said he would extend goodwill toward China to reduce the risk of war and bring about peace in the Taiwan Strait, on the condition that this can be achieved with parity and dignity.
He said that he would ensure the armed forces are trained and capable of fighting, so that the military would not fear or court war.
Taiwan's autonomy and maintaining peace across the Taiwan Strait is crucial to ensure prosperity and stability in the Indo-Pacific region, he said.
He vowed to unite the major political parties and end long-standing bickering that has caused society to "stall," by forming a coalition government and inviting political leaders to attend a conference on pressing national affairs, so that consensus could be formed on how to move the nation forward.
If elected, he said he would abide by Article 4-3 of the Additional Articles of the Constitution (憲法增修條文) and make oral reports to the Legislative Yuan, which would end the trend of the president wielding great power without having to assume responsibility for their administration.
Taiwan, faced with challenges, is at the crossroads of destiny, he said, adding that people should trust him as he sets out to build a "new Taiwan."
Comments will be moderated. Keep comments relevant to the article. Remarks containing abusive and obscene language, personal attacks of any kind or promotion will be removed and the user banned. Final decision will be at the discretion of the Taipei Times.