Speaker meets Pelosi, McCaul in US
'DEMOCRACY WILL PREVAIL': You Si-kun and the House foreign affairs committee chair discussed bilateral ties, a tax agreement and expediting military sales to Taiwan
Visiting Legislative Speaker You Si-kun on Wednesday met with former US House of Representatives speaker Nancy Pelosi and House Committee on Foreign Affairs Chairman Michael McCaul separately in Washington to discuss relations between the two countries and issues of mutual concern.
While the details of Pelosi's meeting with You were not disclosed, a photograph posted later on Twitter showed her standing next to You wearing an enamel pin that he gave her, in solidarity with sanctioned dissidents in China.
The photo, posted by China Aid founder Bob Fu (傅希秋), who accompanied Pelosi to the meeting, also showed her holding a plaque bearing the words "Democracy will prevail" (民主必勝), which were written in Chinese by You.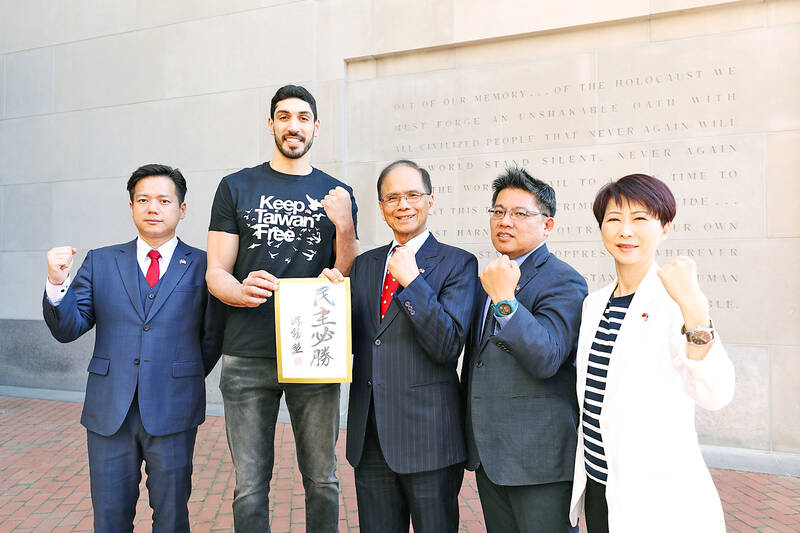 Legislative Speaker You Si-kun, center, poses with former NBA player Enes Kanter Freedom, second left, at the US Holocaust Memorial Museum in Washington on Wednesday.
Photo: CNA
Following You's meeting with McCaul alongside other members of the US House committee, McCaul's office also published a photograph of them both.
"I am grateful to have met with Mr You Si-kun this afternoon and look forward to strengthening our critical partnership and defending democracy on the world stage," McCaul said on the committee's Web site.
"We discussed the importance of US relations with Taiwan, America's support for the island's vibrant democracy, opportunities to work toward a tax agreement and expediting military sales to Taiwan," he added.
Earlier on Wednesday, You and Swiss-born, Turkish-raised former NBA player Enes Kanter Freedom visited the US Holocaust Memorial Museum, with the latter wearing a jersey that read: "Keep Taiwan Free."
Speaking to reporters at the museum, You praised Kanter for his commitment to freedom and democracy.
You said Kanter has always supported freedom for Taiwan and its people and that he has never regretted that stance, because Kanter thinks Taiwan's democracy must be safeguarded and China's saber rattling is "unacceptable."
"Democracy will prevail if everyone acts like him," You said, referring to Kanter, who had also expressed a wish to visit Taiwan and shake hands with President Tsai Ing-wen (蔡英文).
China is suppressing religious and political dissenters in Tibet, and genocide is being carried out in China's autonomous region of Xinjiang, You added.
On Monday, You met with members of the House Select Committee on Strategic Competition Between the US and the Chinese Communist Party at the Capitol to discuss common economic and security issues between the two countries.
At the invitation of the Hudson Institute, You is on a week-long visit to the US, along with a legislative delegation that includes lawmakers Chen Ting-fei (陳亭妃) of the Democratic Progressive Party, Chiu Chen-yuan (邱臣遠) of the Taiwan People's Party and Chiu Hsien-chih (邱顯智) of the New Power Party.
Comments will be moderated. Keep comments relevant to the article. Remarks containing abusive and obscene language, personal attacks of any kind or promotion will be removed and the user banned. Final decision will be at the discretion of the Taipei Times.