Tsai-Trump call was six months in the making: ex-representative Stanley Kao
A congratulatory telephone call that President Tsai Ing-wen (蔡英文) made to then-US president-elect Donald Trump in 2016 was not an impromptu act and had been planned for six months, former representative to the US Stanley Kao (高碩泰) said on Saturday.
Kao made the remarks during a launch event for his memoir. He served as representative to the US from May 2016 to July 2020 and facilitated the telephone call.
The call took place on Dec. 2, 2016, and marked the first time that a US president or president-elect had directly spoken with a Taiwanese president since the countries severed official diplomatic relations in 1979.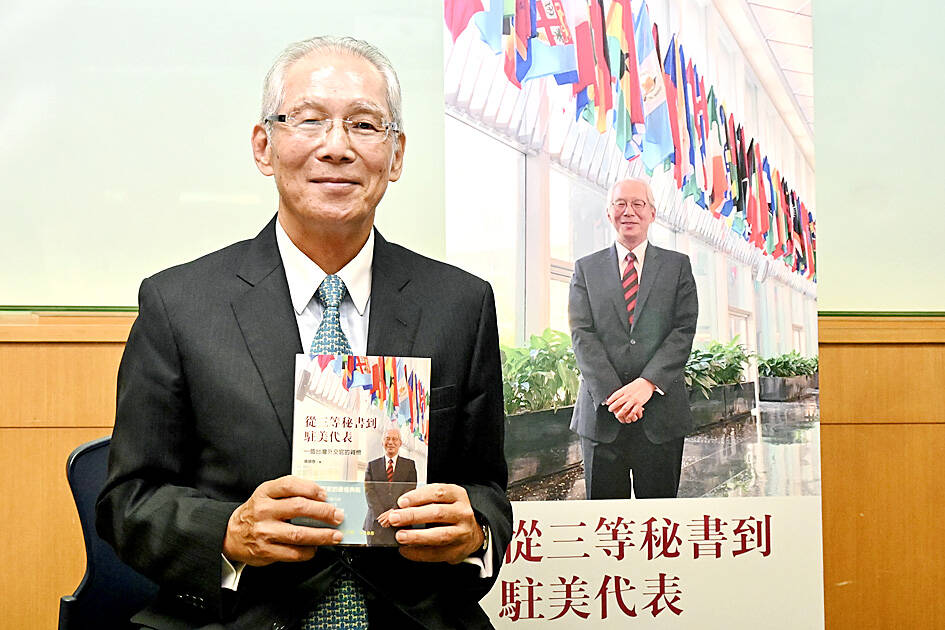 Former representative to the US Stanley Kao holds a copy of his memoir at a launch event in Taipei on Saturday.
Photo: George Tsorng, Taipei Times
Kao on Saturday said Washington Post foreign policy columnist Josh Rogin in his 2021 book Chaos Under Heaven: Trump, Xi and the Battle for the Twenty-First Century says that the phone call was an "accident" or "improvisation."
However, he said Rogin's account is just "one version of the many speculations made about the phone call," which is incomplete, because Rogin "could not see the forest for the trees."
Rogin's version of events fails to give credit to the low-profile, but intensive communications between officials in Taiwan and the US in preparation for the call, whose planning started as far back as the summer of 2016, after Tsai was inaugurated in May that year, Kao said.
Only a handful of people in Washington, himself included, knew of the call before it happened, he said.
In his book, Kao says that Taiwan's representative office in Washington contacted Trump's team immediately after learning about his election victory on Nov. 8 in 2016.
Kao said he was so nervous the night before the phone call that he could hardly sleep.
At the time, he was carrying a small piece of paper with the numbers of Trump's office at all times for fear of a sudden change of mind or schedule on Trump's part, he said.
Finally, the call went through and Tsai and Trump spoke on the phone for about 10 minutes, double the originally planned time, he said.
Kao said the call was the result of collective efforts from both sides.
Kao entered the foreign service in 1980. He was responsible for North American affairs for most of his 40-year diplomatic career and has served as the nation's deputy representative to Washington; as well as top representative to Hungary and Italy. He retired in July 2020.
Comments will be moderated. Keep comments relevant to the article. Remarks containing abusive and obscene language, personal attacks of any kind or promotion will be removed and the user banned. Final decision will be at the discretion of the Taipei Times.