Animal activists demand Leofoo park improvement
MALTREATMENT? Rights advocates said some of the park's enclosures are too small to allow animals to roam more freely and living conditions remain poor
Leofoo Village Theme Park must address several key problems with its animal enclosures and treatment of animals in its care, rights advocates said yesterday.
Animal rights groups Taiwan Animal Equity Association (TAEA) and Animal Skies made the remarks at a joint press conference following an investigation by Control Yuan members Jao Yung-ching (趙永清) and Chi Hui-jung (紀惠容) into the park's facilities.
Investigations have been ongoing since the death of a baboon that escaped from the park in March. The park has come under close scrutiny after the baboon that escaped from its facility was shot and killed by a hunter in an attempted capture.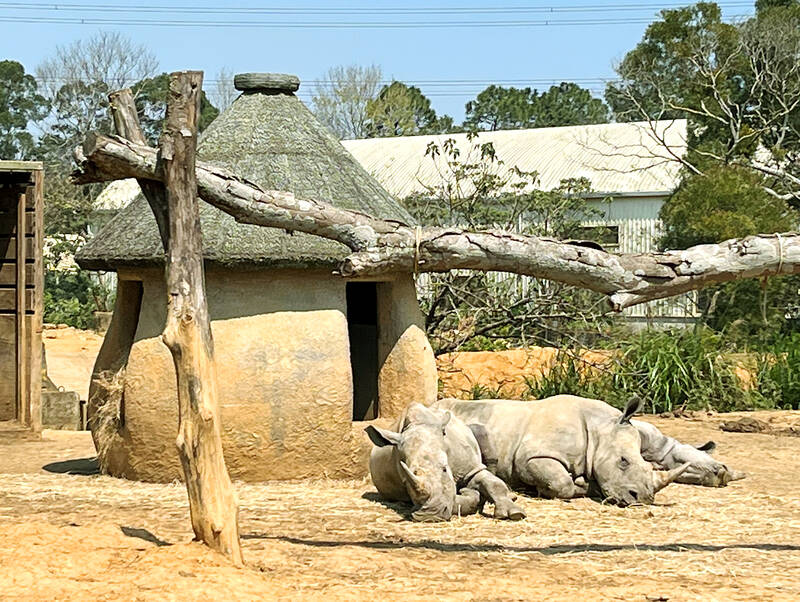 An undated photograph shows white rhinos resting in their enclosure at Leofoo Village Theme Park in Hsinchu County.
Photo: Liao Hsueh-ju, Taipei Times
The park first denied that the baboon was one of its animals, but later reversed its statement, saying it made a mistake counting its baboons. The park's failure to promptly identify and contain the baboon has raised questions over its management.
"There are more than 1,000 animals spanning 70 species at the park. We hope authorities will not only focus on the baboon's death, but look into the conditions of all of those animals," TAEA researcher Sera Lim (林婷憶) said yesterday.
Citing an issue the park should address, the groups said its white rhinoceros enclosure is too small.
"The white rhinos, which Leofoo is so proud of, have been reduced to living in an exhibit area less than 360m2 in size," they said.
"The space is too small for the rhinos' daily activities, and doesn't let them explore as they are inclined to do," they said.
The groups cited the breeding guidelines of the European Association of Zoos and Aquaria, saying that the outdoor display area of rhinos should be at least 10,000m2.
The park's safari area is also too small, and could lead to tigers and other animals killing each other, they said, adding that it also meant that only seven of the park's 19 African lions and 24 Bengal tigers could use the space at a time.
The rest are kept in a separate enclosure, which is insufficient for their needs for physical activity, they said.
Citing the deaths of eight giraffes at the park over the past 10 years, the groups said the park has not improved living conditions for giraffes, which have been vulnerable to parasites and an unsuitable climate in Taiwan.
"The white rhinos and American bison are kept in open spaces, which have only simple canopies that cannot properly shelter them from the elements in inclement weather, resulting in the death of weaker animals," the groups said.
Additional reporting by CNA
Comments will be moderated. Keep comments relevant to the article. Remarks containing abusive and obscene language, personal attacks of any kind or promotion will be removed and the user banned. Final decision will be at the discretion of the Taipei Times.