Bank to auction 'special' banknotes
Bank of Taiwan is to auction banknotes with "special" serial numbers starting on May 18, the central bank said on Thursday.
People tend to favor banknotes with certain serial numbers, particularly those with numbers that are homophones of Mandarin words related to prosperity or wealth. Some people are willing to pay large sums for them, as has been seen at 21 similar auctions held by the central bank over the past 10 years.
Among the most coveted notes are those with serial numbers containing one or more eights, such as "888" or "168," because the number eight is a homophone for "prosperity" in Mandarin, while one and six, when individually enunciated, mean "all the way."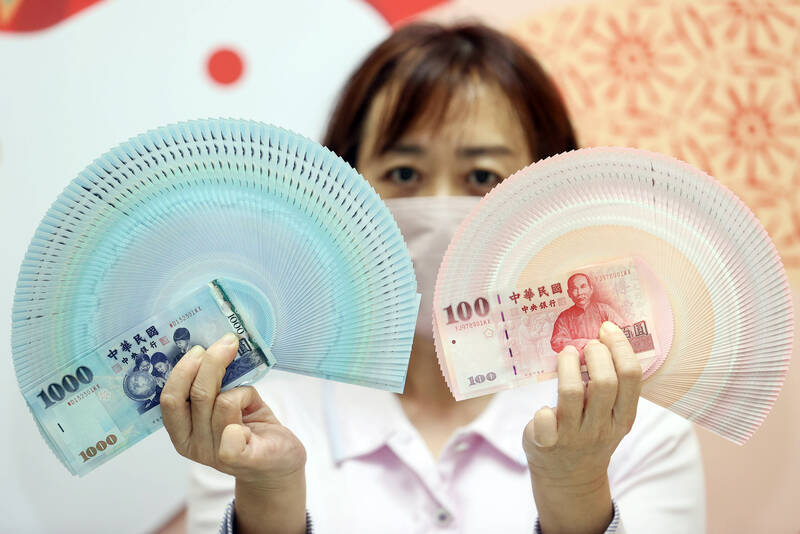 A woman holds fanned out NT$1,000 and NT$100 banknotes in Taipei on Jan. 13.
Photo: CNA
Serial numbers featuring consecutive numbers, such as 123456, are also considered collectibles.
A total of 4,395 banknotes with 121 sets of numbers are to be auctioned, each with two English letters at the beginning and end.
The central bank said that the state-owned Bank of Taiwan, the country's largest lender, is to conduct the auction online starting at 10am on May 18 and conclude at 10am on May 23.
Bank of Taiwan is to publish details about the auctions on its Web site from Monday to May 23, while the same information is also to appear in newspapers from Monday to Wednesday.
The central bank said the auctions had made NT$69.56 million (US$2.3 million) for the government since the first auction in October 2012.
The note that sold for the most over its face value was a NT$100 bill auctioned in June 2013 for NT$15,360, or 153.6 times its value, the central bank said.
The serial number for the banknote was SU888888AK.
Comments will be moderated. Keep comments relevant to the article. Remarks containing abusive and obscene language, personal attacks of any kind or promotion will be removed and the user banned. Final decision will be at the discretion of the Taipei Times.