Taiwanese, US officials meet to discuss trade
Minister Without Portfolio John Deng (鄧振中) on Tuesday visited the Office of the US Trade Representative (USTR) in Washington to discuss the next steps in bilateral trade agreement negotiations.
Taiwan's top trade negotiator is in the US to attend the SelectUSA Investment Summit, which ends today.
Accompanied by Representative to the US Hsiao Bi-khim (蕭美琴), Deng said he met with Deputy US Trade Representative Sarah Bianchi on Tuesday afternoon to exchange views on the progress of the proposed agreement, dubbed the Taiwan-US Initiative on 21st-Century Trade.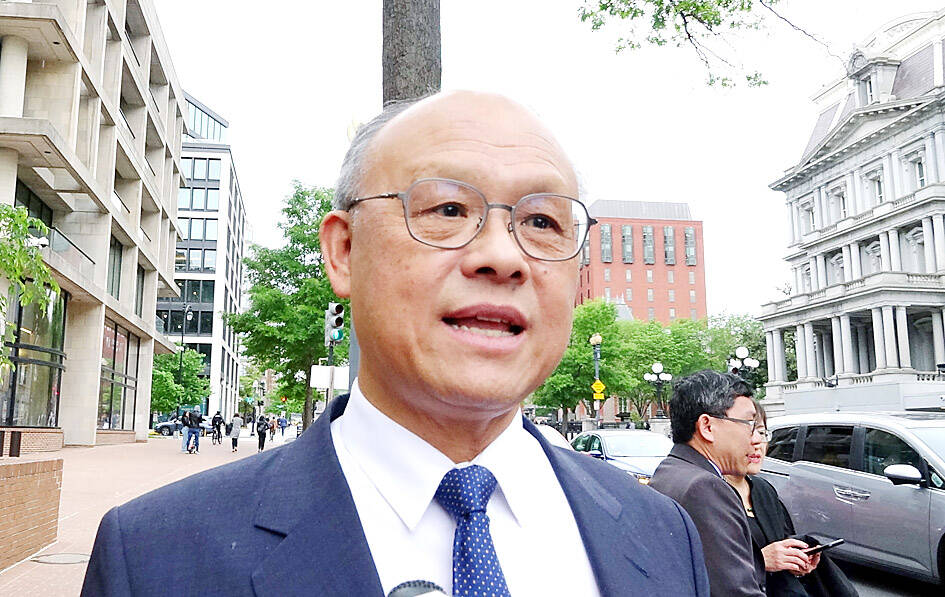 Minister Without Portfolio John Deng speaks to reporters in Washington on Tuesday.
Photo: CNA
They were at the offices for about an hour.
The purpose of the visit was to review progress on the negotiations and how to proceed with the next steps, Deng said.
Both sides were satisfied with their discussion and optimistic about the next phase, he said, adding that Tuesday's talk "was excellent preparation."
They did not discuss any dates when an agreement might be reached, Deng added.
The first phase of the agreement is structurally complete, but each side now needs to communicate within their own governments, he said.
An announcement would be made once a consensus is reached, he added.
The initiative was formally launched on June 1 last year, with the first bilateral discussions occurring in November in New York.
US trade officials led by Assistant US Trade Representative Terry McCartin came to Taipei in January for a second round of talks.
The two sides discussed customs administration and trade facilitation, good regulatory practices, services domestic regulation, anti-corruption, and small and medium-sized enterprises, according to summaries of the US proposals published by the USTR on March 16.
Deng said he hopes the next phase of negotiations could be conducted as soon as possible, and would likely be held online and in person.
Comments will be moderated. Keep comments relevant to the article. Remarks containing abusive and obscene language, personal attacks of any kind or promotion will be removed and the user banned. Final decision will be at the discretion of the Taipei Times.