US defense contractors' visit 'significant'
A defense expert on Sunday said that a visit to Taiwan by a group of US defense contractors is significant, because they would be accompanied by US government representatives.
Twenty-five defense contractors from the US are to arrive in Taiwan today to attend the Taiwan-US Defense Industry Forum tomorrow. For the first time, officials from the Washington headquarters of the American Institute in Taiwan (AIT) are to attend the forum as part of a defense delegation.
Su Tzu-yun (蘇紫雲), a research fellow at the Institute for National Defense and Security Research (INDSR), said Washington is considering whether to integrate Taiwan in the US defense industry's supply chain and that is why the AIT is sending representatives to the forum.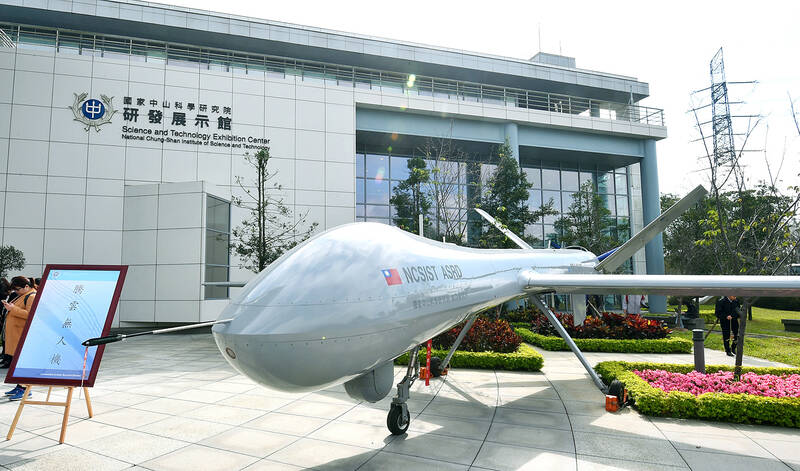 A Tengyun uncrewed aerial vehicle is displayed at the Chungshan Institute of Science and Technology's Science and Technology Exhibition Center in Taoyuan in an undated photograph.
Photo: Liu Hsin-de, Taipei Times
The representatives' attendance can be seen as "a major breakthrough," Su said.
Their participation in this year's forum means they might give advance assessment of proposed agreements and joint projects between the Taiwanese and US defense industries, which could help expedite clearance in the US executive branch, Su said.
Shu Hsiao-huang (舒孝煌), another expert at the INDSR, said that during the delegation's four-day stay in Taipei, its members might evaluate whether some US weapons systems and drones could be produced in Taiwan, amid concerns over supplying the nation with arms in the event of a cross-strait war.
However, a military source said that the significance of the AIT officials' visit is more symbolic than practical, although it could pave the way for bilateral cooperation through regular defense channels.
It is unlikely that any agreement will be signed during the visit, the source said, speaking on condition of anonymity.
A separate military source last week said the delegation would also visit the Ministry of National Defense and the Chungshan Institute of Science and Technology, and meet with representatives of civilian drone companies.
The half-day forum, to be held at the Taipei International Convention Center, is to feature addresses by US-Taiwan Business Council president Rupert Hammond-Chambers, defense experts and representatives of defense companies, the organizers said.
The participants would discuss how defense businesses can collaborate to help support Taiwan's national security needs in the face of geopolitical risks, said the US-Taiwan Business Council, one of the main organizers.
Comments will be moderated. Keep comments relevant to the article. Remarks containing abusive and obscene language, personal attacks of any kind or promotion will be removed and the user banned. Final decision will be at the discretion of the Taipei Times.