New reserve brigades to bolster nation's defenses
READY TO MOBILIZE: Each brigade can independently provide refresher training, and organize the mobilization of reserve forces at the tactical level, a source said
New reserve brigades are to be formed to bolster the nation's defense, a source familiar with military affairs said yesterday.
Following the establishment of new reserve brigades in Taichung, Kaohsiung, New Taipei City and Hsinchu County, four more brigades are to be established in the second half of this year, and 10 more next year, the source said.
President Tsai Ing-wen (蔡英文) in December last year announced a plan to reinstate one year of mandatory military service next year and to form a number of reserve brigades.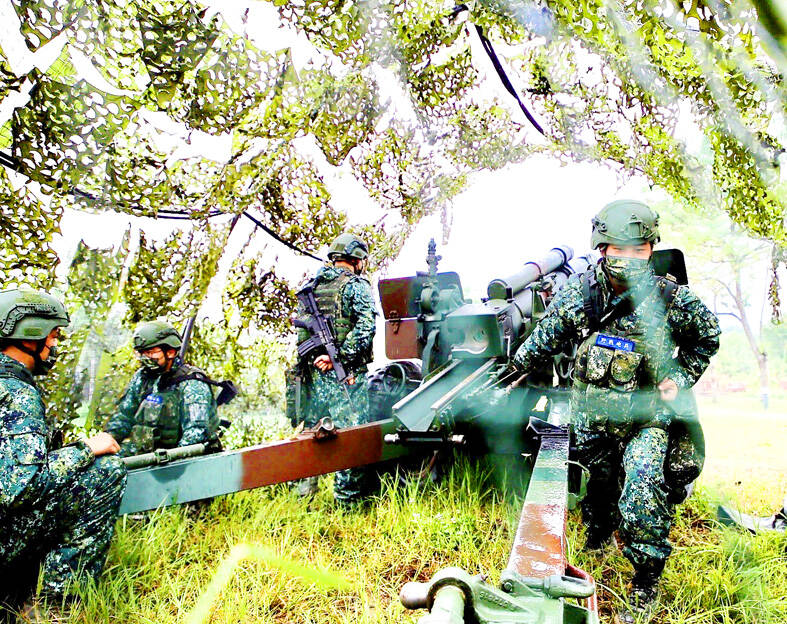 Reservists participate in a two-week reservist program in Tainan on March 30 last year.
Photo courtesy of the Eighth Field Army
The brigades would be responsible for mobilizing reserve forces during wartime and supporting the main battle force, as well as garrison operations, the source said.
The Ministry of National Defense has been reinforcing local brigades since February by forming new reserve brigades, they said.
Army General Hsu Yen-pu (徐衍璞) attended the formation ceremonies of the four new brigades that have been established, indicating the importance of their formation, they added.
New reserve brigades would consist of about 200 soldiers each, with active-duty soldiers serving as brigadiers, battalion commanders and other senior staff, while 15 retired military officers would serve as instructors, the source said.
Each brigade can independently provide refresher training, and organize the mobilization and formation of reserve forces at the tactical level, instead of reserve force training centers, they said.
Chen Wen-jia (陳文甲), a senior consultant for the Institute for National Policy Research, said that forming 18 new reserve brigades would help improve the mobilization of reservists, but added that the regulations for mobilization should be flexible.
Rigid regulations would increase the risk of complications if an emergency order of mobilization is issued, he said.
The new brigades, which would consist entirely of infantry units, should be prepared for multidomain operations in terms of equipment and formation to face Chinese troops that might land in Taiwan, he said.
The traditional infantry organization of platoons, companies and battalions is not suitable for modern warfare, he added.
Comments will be moderated. Keep comments relevant to the article. Remarks containing abusive and obscene language, personal attacks of any kind or promotion will be removed and the user banned. Final decision will be at the discretion of the Taipei Times.